Deli Macaroni Salad is a Sweet and Sour Macaroni Salad with Fresh Vegetables.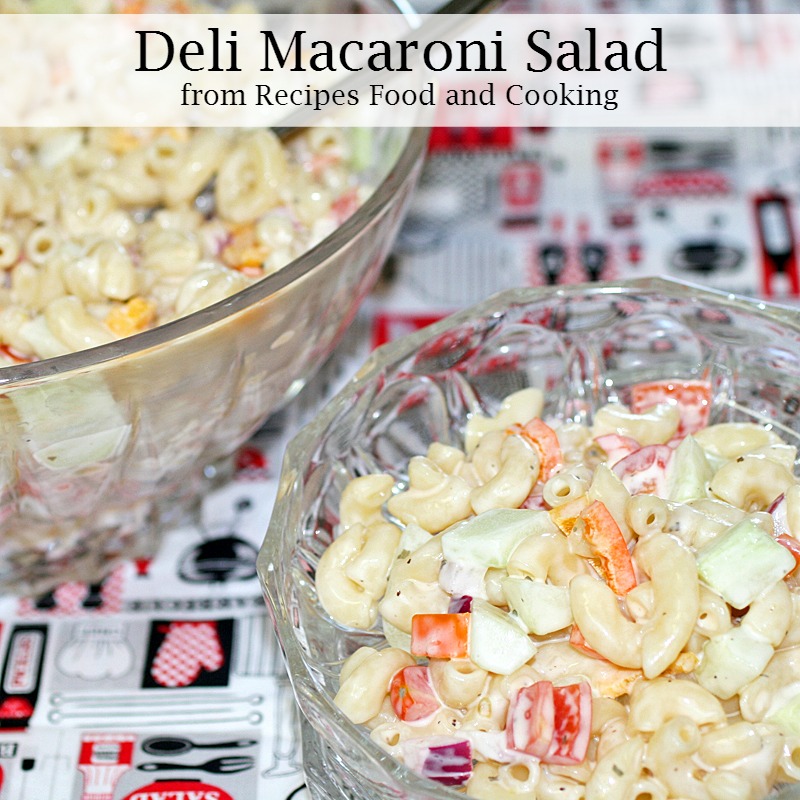 Deli Macaroni Salad
This is one of my favorite summer salads. I got it over 30 years ago when I went white water rafting with Class 6 River Rafters out of West Virginia. It was an overnight trip and they did all of the cooking and it was fabulous! This salad was served at lunch. When we got back to the gift shop the next day I discovered they had published a cookbook and this recipe was in it.
It is an interesting salad in that after you cook the macaroni you put it in a cider vinegar and sugar brine for overnight or a little longer. It is perfect for a picnic because you don't add the mayonnaise until just before you serve it. I mix everything else up and have it ready except for the mayo. As you can see it doesn't have a lot of it in either. The one thing you have to be careful of is that the pasta is cooked just past ala dente. If the pasta isn't cooked enough when it goes into the brine the pasta gets tough. You can ask me how I know this but I am guessing you know, yep I did that once. You don't want to overcook it either.
You can add more, less or different vegetables, this is just the way I have always made it. I love it so much I never change it either. The recipe calls for cucumbers in it, be sure to cut out the seeds before you chop them up, they are so much better without them. I almost always take the seeds out of the cucumbers before I put them in salads. Sometimes the seeds can be a little bitter so I think it improves the flavor of the cucumbers.
Deli Macaroni Salad
Prep time:
Cook time:
Total time:
Sweet and Sour Macaroni Salad with Fresh Vegetables
Ingredients
Brine
2 C. cider vinegar
3 C. sugar
Salad
2 medium tomatoes diced
1 green pepper diced
1 cucumber diced
1/2 cup red onion chopped
1 cup mayonnaise
1/2 teaspoon basil
salt and pepper to taste
Instructions
Cook pasta until just past ala dente. Drain and rinse well with cold water.
Bring vinegar and sugar to a simmer in a saucepan. Stir until sugar dissolves. Remove from heat and allow to cool. Place macaroni in a bowl and pour the brine over it. Refrigerate for at least 24 hours.
To serve:
Drain the macaroni from the brine. Do not rinse. Mix the mayonnaise, basil, salt and pepper together. Add pasta, tomatoes, green peppers, cucumber and red onion. Toss to combine. Serve.
modified from Class 6 River Rafters www.thatsmyhome.com
Notes
Total time includes brining time.
Cucumbers with Sour Cream and Dill