Cheesy Chicken Cutlets are great for using those giant chicken breasts. Chicken breasts are pounded thin and coated with a cheesy coating.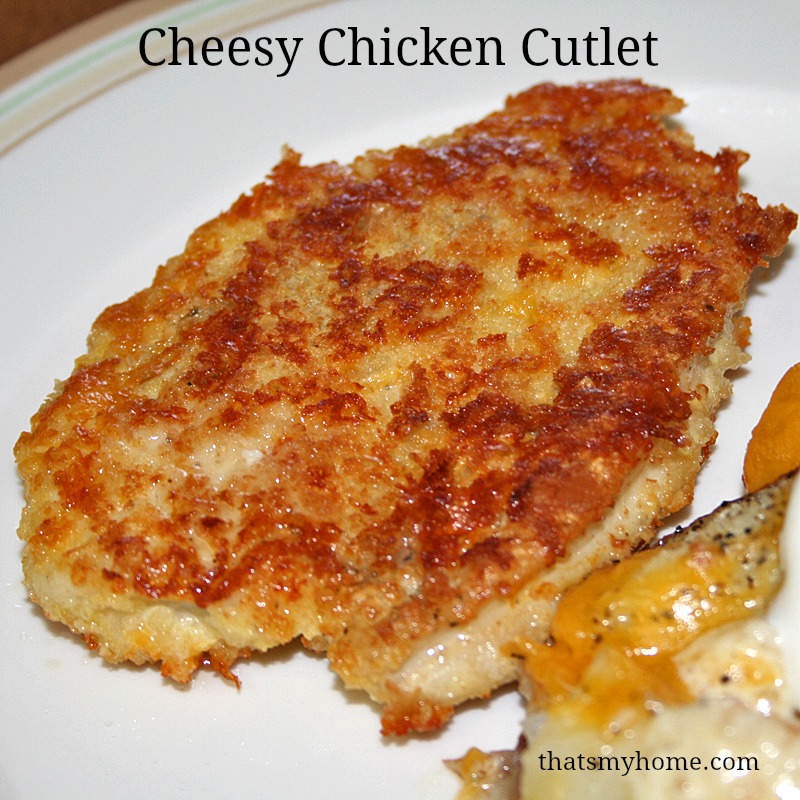 Cheesy Chicken Cutlets
Cheesy Chicken Cutlets were on the menu the other day. Cutlets are a great way to use giant chicken breasts. As seen in the pan below, this was 1 chicken breast. The easiest way to do this is to cut into the chicken breast at the thickest part and butterfly it. Then I pound the heck out of it until I get the breast about the same thickness overall. Then cut into serving size pieces.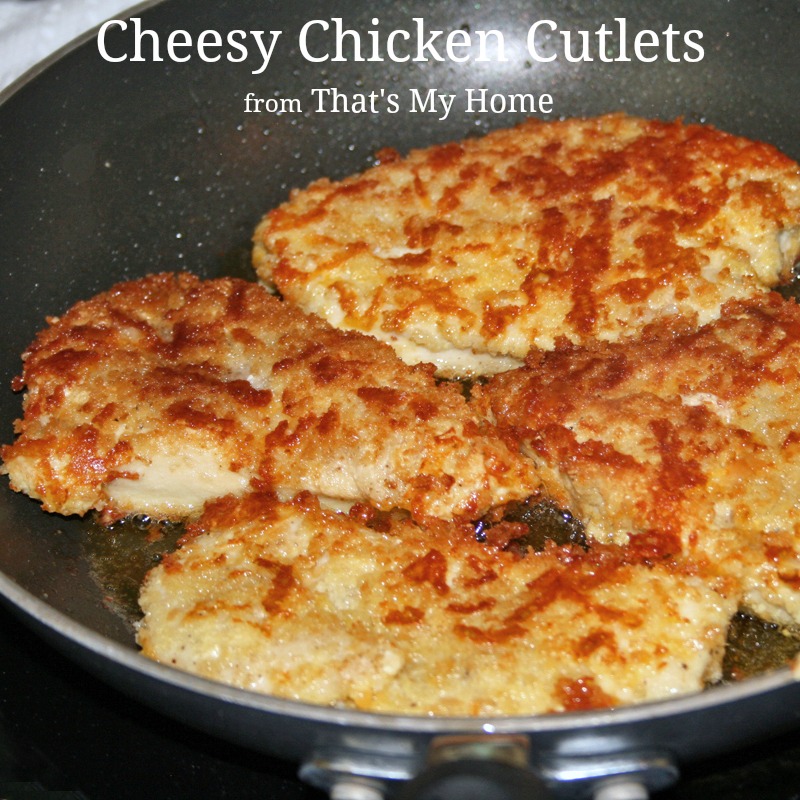 I use a three step process to bread the chicken, flour, egg and then breadcrumbs. I also put it in the refrigerator for at least 15 minutes before frying. This helps your coating mixture to adhere to the chicken better so you don't leave that crispy crust in the pan.
Cheesy Chicken Cutlets
Prep time:
Cook time:
Total time:
Chicken breasts with a crispy cheesy coating. Great use of those giant chicken breasts.
Ingredients
1 Giant chicken breast
flour
1 egg
1 tablespoon water
breadcrumbs - Panko works great
1/2 cup cheddar cheese
salt and pepper
oil for frying
Instructions
Butterfly your chicken breast. Pound it until it is about an even thickness. Mine was about 1/2 thick. Salt and pepper.
Beat the egg with the water. Put flour and breadcrumbs on pieces of wax paper. Mix the cheese into the breadcrumbs. Dip your chicken into the flour, then the egg and then the breadcrumbs. Press mixture down to make sure it is adheres well. Place on a cookie sheet. Repeat with other pieces. Refrigerate for at least 15 minutes.
Place a few tablespoons of oil in a frying pan. Fry cutlets, turning once until browned. If you are doing a bunch of these, I would get them brown and put them in the oven to finish cooking thru. Otherwise it takes about 8 minutes on the stove. If you are putting them in the oven, heat to 350 and bake for about 10 minutes after browning.
That's My Home
Notes
Prep time includes resting time.
Maybe you'd like to try