Cinnamon Sugar Bread is an easy to make quick bread recipe.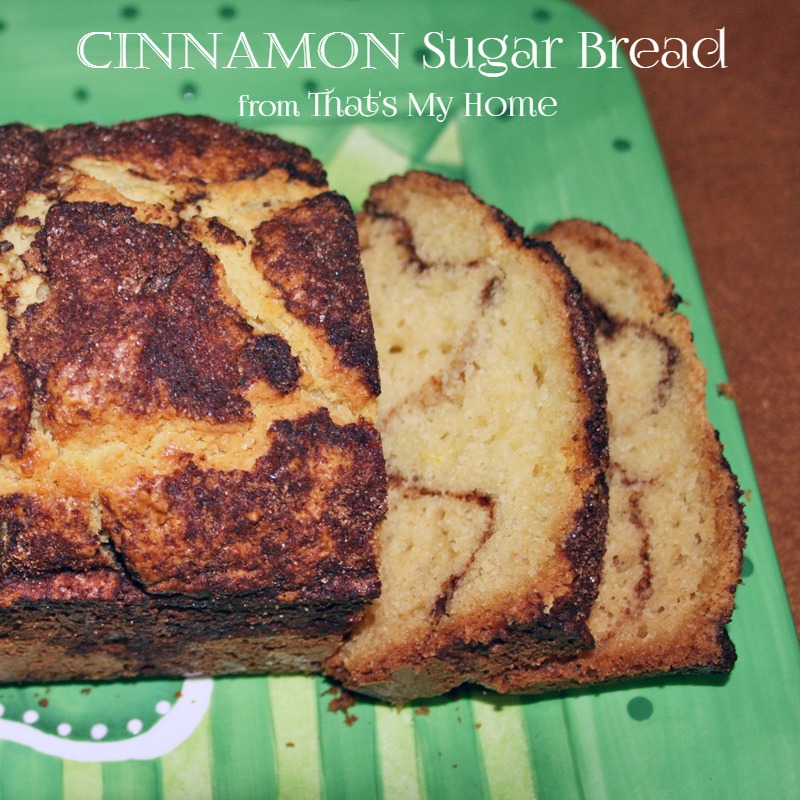 Cinnamon Sugar Bread
Loved this bread and I used Truvia in it in place of the sugar. Because Truvia is a sugar blend of half sugar and half stevia, it doesn't present some of the problems you can have with other sugar substitutes when baking. I have been experimenting a lot lately using sugar substitutes and redoing many of my recipes. This bread did take a little longer to bake and I am not sure if it was because of the Truvia or not but it did take just over an hour to bake.
Cinnamon Sugar Bread
Prep time:
Cook time:
Total time:
Cinnamon Sugar Bread is an easy to make quick bread recipe.
Ingredients
Batter
1 cup butter, softened
2 cups sugar
2 eggs
2 cups buttermilk or 2 cups milk plus 2 tablespoons vinegar or lemon juice
4 cups flour
2 teaspoons baking soda
Cinnamon/sugar mixture
2/3 cups sugar
2 teaspoons cinnamon
Instructions
Cream together butter, 2 cups of sugar, and eggs. Add milk, flour, and baking soda. Put 1/2 of batter (or a little less) into greased loaf pans (1/4 in each pan). Mix in separate bowl the 2/3 cup sugar and cinnamon.
Sprinkle 3/4 of cinnamon mixture on top of the 1/2 batter in each pan. Add remaining batter to pans; sprinkle with last of cinnamon topping. Swirl with a knife.
Bake at 350 degrees for 45-60 min. or until toothpick tester come clean. Cool in pan for 20 minutes before removing from pan.
Note: I used Truvia in place of the sugar and it worked great!