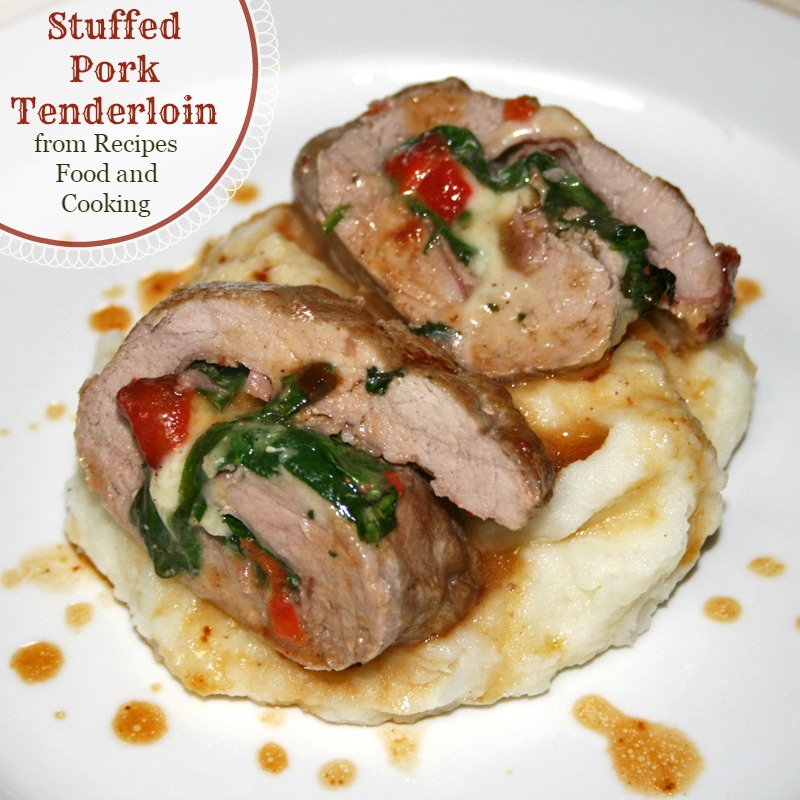 Stuffed Pork Tenderloin
Mmmmmm…. yes it is that good. This looks fancy but is so easy to put together. You can assemble it in the morning if you want and then just have to finish it that evening.
So lets get started!
Trim the tenderloin of all of the silver skin on the outside. Then cut down the center of the tenderloin almost all of the way thru. Then make another slice from the center cut out on each side. Then you are going to pound the tenderloin out like the picture below.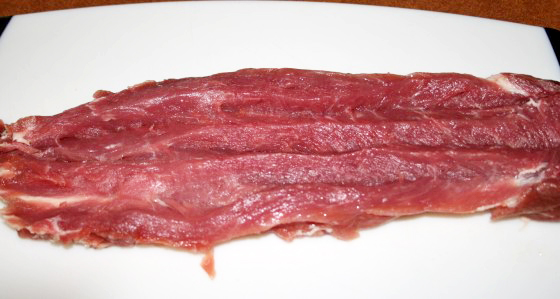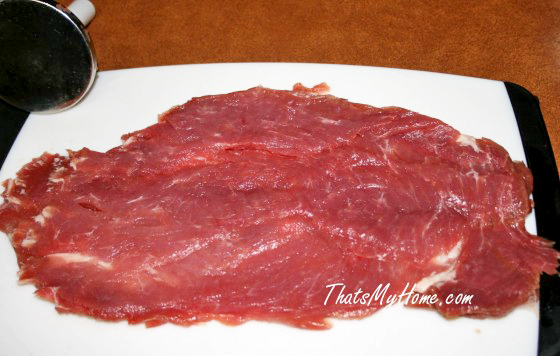 Salt and pepper the tenderloin. Sprinkle with the crushed garlic. Next you are going to layer on the proscuitto, spinach, cheese and roasted red peppers.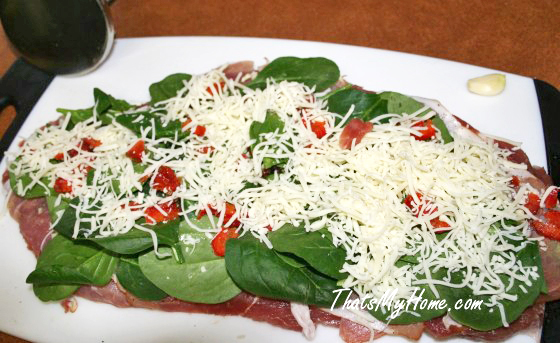 Isn't it pretty? Next you are going to roll up the tenderloin and tie it off with string.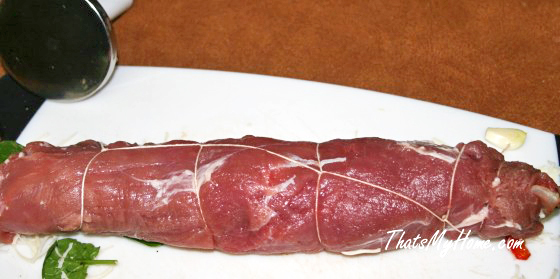 Brown the tenderloin quickly in olive oil. Preheat oven to 450 F. Place the tenderloin in a baking dish. Bake for 20 – 25 minutes or until inside temp in 150 F. Let the Stuffed Pork Tenderloin rest 10 minutes before cutting.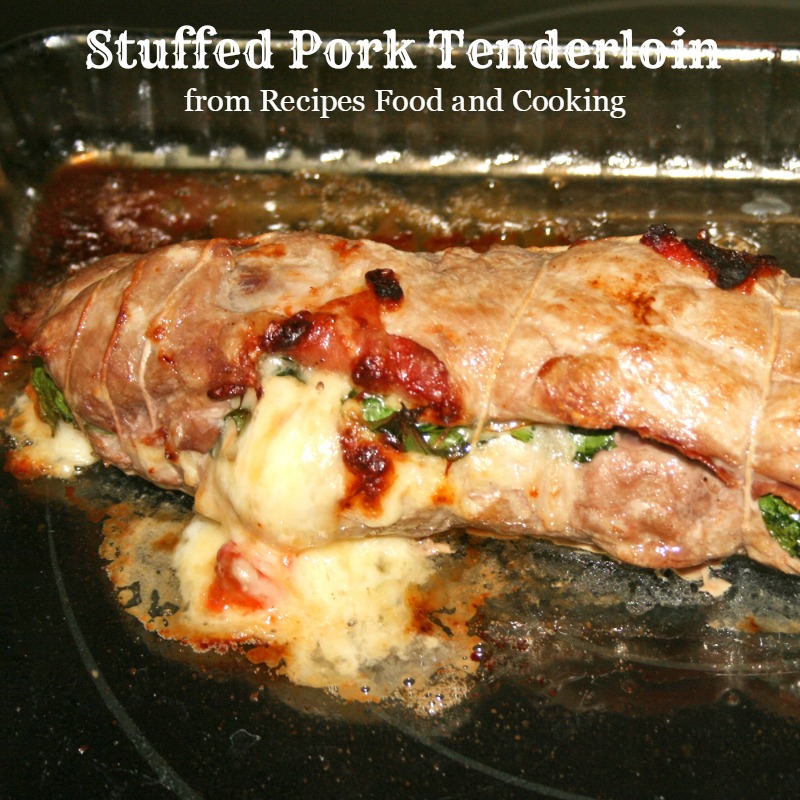 Resting will allow the cheese to firm up a bit so it won't all ooze out when you cut it. It also keeps the juices from the meat from running out.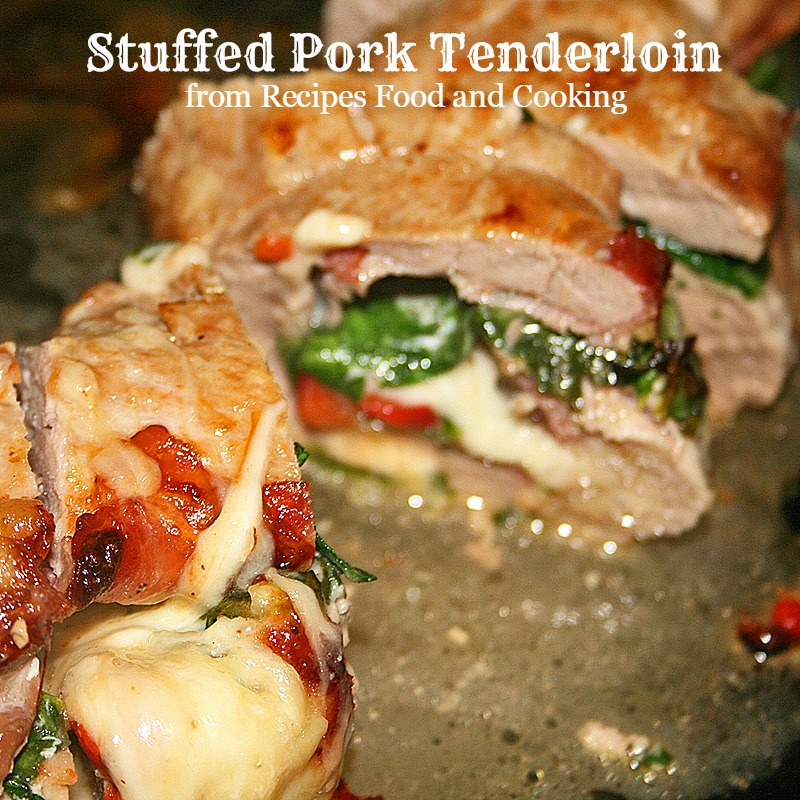 Want to make this ahead? Prepare the tenderloin up to the browning part. Refrigerate until ready to brown.
I served mine with garlic mashed potatoes.

Stuffed Pork Tenderloin
Prep time:
Cook time:
Total time:
Stuffed Pork Tenderloin is filled with spinach, red roasted peppers, garlic and Italian cheese.
Ingredients
1 pork tenderloin
salt and pepper
3 garlic cloves
3 oz. proscuitto - sliced thinly
2 cups spinach leaves
1/4 cup roasted red pepper
1/2 cup Italian cheese
Instructions
Trim the tenderloin of all of the silver skin on the outside. Then cut down the center of the tenderloin almost all of the way thru. Then make another slice from the center cut out on each side. Pound the tenderloin out to an even thickness.
Salt and pepper the tenderloin. Sprinkle with the crushed garlic. Next you are going to layer on the proscuitto, spinach, cheese and roasted red peppers. Roll up the tenderloin and tie it off with string.
Brown the tenderloin quickly in olive oil. Preheat oven to 450 F. Place the tenderloin in a baking dish. Bake for 20 - 25 minutes or until inside temp in 150 F. Let rest 10 minutes before cutting.
That's My Home
Here are a few more of our Pork Recipes