Tender loin of pork with mashed potatoes, gravy and baby carrots.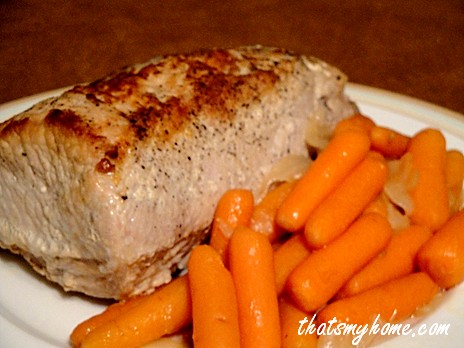 Sunday Dinner Pork Loin Roast
Growing up we always had a big Sunday dinner, sometimes at grandma's a few blocks away. You never knew who would be there and because I had a large family it was always fun. I learned a lot watching my grandmother cook, it's a good thing too because so many recipes were never written down. She always used just a little bit of this and a dab of that.
Thankfully my mom was able to preserve her roll recipe, much to my grandmothers dismay when my mom made her measure everything before she could proceed with making the rolls that day. Luckily it was a real good day for grandma's bread and mom got the recipe so we are still able to have my grandmothers rolls today.
So today I have for you an easy pork loin roast with baby carrots cooked in the juices from the roast. The carrots add a good flavor to the gravy also. I served mine with mashed potatoes and fresh broccoli. Everything but the broccoli would of been typical of what grandma served.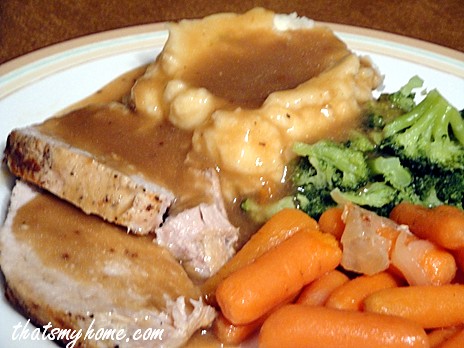 Sunday Dinner Pork Loin Roast
Prep time:
Cook time:
Total time:
Tender loin of pork with mashed potatoes, gravy and baby carrots.
Ingredients
3 - 3 1/2 lbs. pork loin
4 garlic cloves - minced
1 teaspoon rosemary
salt and pepper
1 medium onion
1 cup chicken stock
oil
1 lb. baby carrots
Instructions
Preheat oven to 350 degrees.
Mix garlic, rosemary, salt and pepper together. Rub mixture over roast.
Heat a small amount of oil in a dutch oven. Add roast to pan and brown well on all sides. Add onion and cook until it begins to soften and gets a little brown. Add chicken stock. Cover.
Bake for about 2 hours or until roast reaches 145 degrees. Halfway thru the cooking time add the carrots.
Let roast rest 10 minutes before slicing.
Make gravy using 3-4 tablespoons flour mixed with water. Bring the pan juices to a boil. Stir in the flour mixture. Taste for seasonings add salt and pepper as necessary.
Maybe you'd like to try our recipe for?