Cuban Pork Tenderloin is marinated in orange, lemon and limes juices, garlic and cilantro. So good!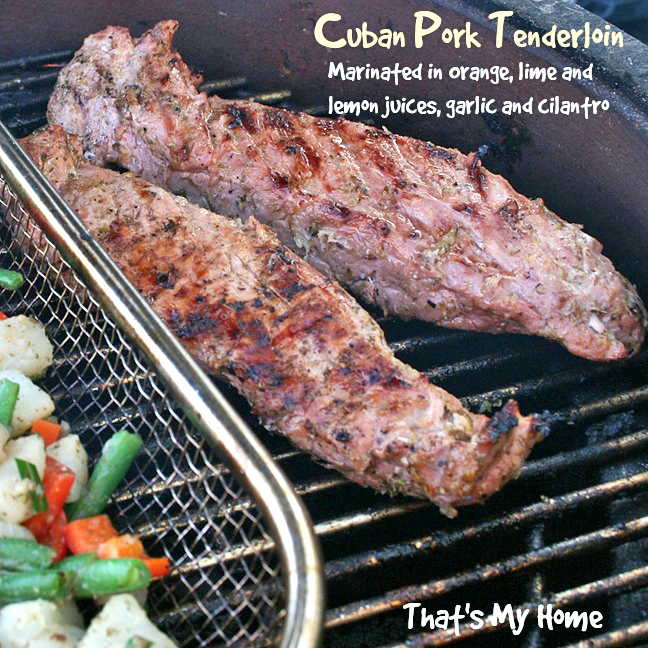 Cuban Pork Tenderloin
We had Cuban Pork Tenderloin for our 4th of July barbecue. Since moving to Florida I have really learned to appreciate the bold flavors of a Cuban marinade with all of it citrus overtones. It packs a lot of flavor and also has loads of garlic and cilantro… you just can't go wrong with this marinade.
I am so loving grilling on my Kamado grill, I know I tell you this every time I post, I just can't help it. It is the best way to grill in my opinion. I also got the best cookbook to review the other day that is brand new to the cookbook world, The Kamado Smoker and Grill Cookbook. It was written by Chris Grove. The day I got it I immediately sat down and read it from cover to cover. Love the book!
This marinade goes together quickly and you can marinade the pork a hour or up to 4 hours. If I was using the marinade on a Boston Butt Roast I would do it overnight. Pork tenderloin just doesn't need that long of marinating time. I used both the juice and zest and it is a zingy, fruity marinade. Next time I may add a level of heat with some Sriracha added to it.
Follow me on Facebook, Google+ , Instagram or Pinterest to see when I post or share something new!
I served the tenderloins with the best pesto potatoes loaded with veggies.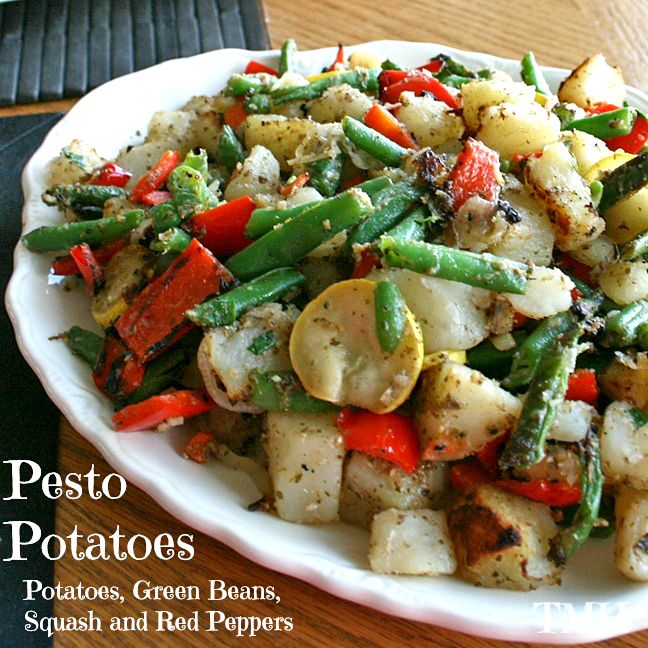 You are going to love how easy these potatoes are to make and you can make them earlier in the day and have ready to just put on the grill when you are ready to cook. You could even buy the already cooked potatoes from the dairy case at the store to save even more time if you are in a hurry.
Cuban Pork Tenderloin
Prep time:
Cook time:
Total time:
Cuban Pork Tenderloin is marinated in orange, lemon and limes juices, garlic and cilantro. So good!
Ingredients
2 limes, juice and zest
1 lemon, juice and zest
1/2 cup orange juice
1/4 cup oil
6 - 8 garlic cloves, minced
handful cilantro
salt and pepper
1 tablespoon Trader Joe's Everyday Seasoning
Instructions
Combine all of the marinade ingredients in a large bowl. Add the tenderloins and make sure the marinade is all over the tenderloins. Turn them halfway thru the marinade time.
Start the grill. You want a medium high heat around 350 degrees. Place the tenderloins on the grill directly over the coals. Cook for about 15 minutes or until pork reaches 145 degrees. Rest for at least 5 minutes before cutting. I left the top up while cooking these.
Maybe you'd like to try?