Delicious loaf of whole wheat bread full of pecans, sunflower seeds, raisins, apricots and dried cherries.
So as I told you a few posts ago I had gotten the new Healthy Eating Cookbook by America's Test Kitchen. When I saw this recipe for Trail Mix Bread I knew I had to make it. It is delicious and is my new favorite bread for toast for breakfast.
This bread is chock full of all kind of goodies, sunflower seeds, pecans and dried fruits. If you haven't bought this cookbook yet it is worth buying, now if they will just do a low sugar cookbook, I would be in heaven. I am such a fan of America's Test Kitchen in case you can't tell. All of their recipes are full of such useful information and their recipes work. There are 2 pages of info on making this bread in the book so if you want more information you'll have to get the cookbook.
One of my favorite things for measuring yeast is a spoon you can get from King Arthur Flour that measures exactly a package of yeast. I am not sure if anyone else sells one but for sure you can get one there. I buy my yeast in bulk from Sam's or Costco and keep it in the freezer until I need it. So economical that way!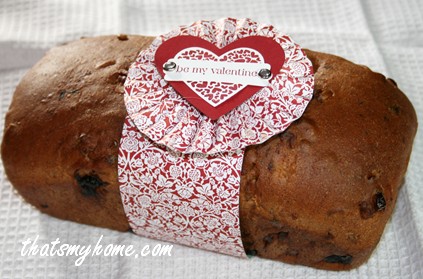 Trail Mix Bread
Prep time:
Cook time:
Total time:
Delicious loaf of whole wheat bread full of pecans, sunflower seeds , raisins, apricots and dried cherries.
Ingredients
1 cup whole milk (110 degrees)
1/3 cup water (110 degrees)
1/4 cup light molasses
3 1/2 tablespoons melted butter - cooled
1 3/4 - 2 1/4 cups bread flour
1 1/2 cups whole wheat flour
1 envelope instant yeast (2 1/4 teaspoons)
2 teaspoons salt
3/4 cup pecans - toasted
1/4 cup sunflower seeds - toasted
1/4 cup raisins
1/4 cup apricots, coarsely chopped (I omitted these because I didn't have any and added raisins instead)
1/4 cup dried cherries
vegetable oil spray
Instructions
Whisk together the milk, molasses and 3 tablespoons butter in a stand mixer with a dough hook.
Add the yeast to the water and let set for a few minutes to make sure the yeast proofs. Add to milk mixture.
Mix together the 1 3/4 cups bread flour, wheat flour and salt. Add to the milk mixture and with the dough hook mix together on low speed, about 2 minutes. Continue to mix the dough on medium-low for about 8 minutes. If after 4 minutes you need to add more flour do it a 2 tablespoons at a time until the dough clears the sides of the bowl but still sticks to the bottom.
Add the nuts and dried fruits and mix for another 2 minutes until they are incorporated.
Turn the dough out into a greased bowl and let rise for 1 1/2 - 2 hours until the dough has doubled.
Spray a 9 x 5 inch bread pan with spray. Shape the dough into a loaf and cover in the bread pan.
Preheat the oven to 350 degrees.
Brush the loaf with the remaining butter. Bake the bread for 50 - 60 minutes or until center of bread is 200 degrees. Cool loaf in pan for 15 minutes after baking. Remove to a wire rack to cool.
Note: One of things I do when I use rasins in a bread like this is to heat the water and add my raisins to it. I let it sit for 15 minutes and then use that water to proof my yeast.
/2 inch slice 200 calories
America's Test Kitchen
Maybe you'd like to try our recipe for?