Spanish rice in sweet green peppers.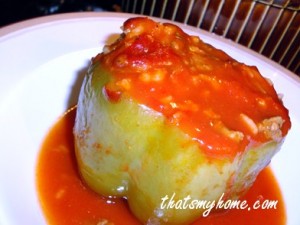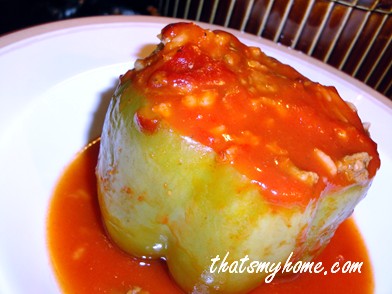 Stuffed Green Peppers
When we were growing up it seemed like spanish rice was something we ate all the time. I'm sure we didn't but I grew to think I didn't like it and would not eat it for years. A few years ago when I was home taking care of my mom she asked me to make some for her and since then it has been back on my menu.
I've updated it some from that instant rice I am sure she used because it was fast and easy (who wouldn't want fast and easy with 6 kids to feed) to Uncle Ben's rice and added garlic, something mom would of never used. This is one of those a little of this and a lot of that recipes, adjust it to suit your tastes.
Stuffed Green Peppers
Prep time:
Cook time:
Total time:
Spanish rice in sweet green peppers.
Ingredients
4 - 6 green peppers - depending on size
1 lb. ground chuck
1 medium onion
2 cloves garlic - minced
1 cup Uncle Ben's rice
1 - 15 oz. can tomato sauce
1 - 14.5 oz, can diced tomatoes
1 cup water
salt and pepper
1/2 teaspoon Italian seasoning
1 can tomato soup
Instructions
Brown ground beef. Add onions and garlic and cook until almost translucent. Add remaining ingredients (except tomato soup) and cook for about 25 minutes until rice is cooked. Stir often and make sure it does not dry out, if it does add a little more water.
While rice is cooking cut the tops off of your peppers and clean out the seeds from the inside of the peppers. Place peppers in a casserole dish that has been sprayed with oil.
Put the spanish rice mixture into the peppers, pushing down lightly to make sure they are filled well. Put a spoonful of the soup on top of the rice mixture and spread it around. Add a little water to the remaining soup and pour it in the bottom of the pan. Cover pan.
Bake at 350 degrees for 45 minutes or until peppers are tender.