Creamy quiche filled with broccoli and cheese. Good hot or cold!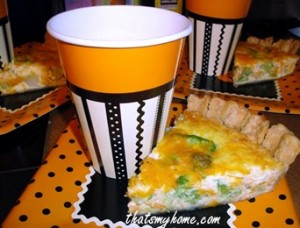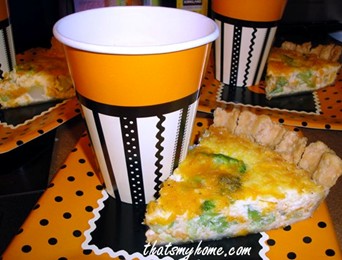 Broccoli Quiche
A couple of days ago I had a stamping class here and we made the 25 and Counting frame that was previewed in the Stampin' Up! mini catalog. I knew this was going to take quite a bit of time to assemble so I decided to make a light lunch for the ladies. We had this quiche that I have made for years and a creamy butternut soup.
This is an easy quiche to make and comes out perfect every time. You can use any filling you like, I have done ham and cheese, sausage and topped it with country gravy (great when you want something over the top) and about any vegetable you can think of. Just make sure you pre-bake the crust especially if you use a store bought one so it doesn't get soggy.
Broccoli Quiche
Prep time:
Cook time:
Total time:
Creamy quiche filled with broccoli and cheese. Good hot or cold!
Ingredients
5 large eggs
1 cup whipping cream
1 cup sharp cheddar cheese
1/2 lb. broccoli (I used frozen)
salt, pepper to taste
pinch nutmeg
prebake a pie crust (I used Pillsbury for convenience today)
Instructions
Preheat oven to 350 degrees.
Whip eggs in blender. Stir in whipping cream and seasonings.
Pour frozen broccoli into pie shell. Salt a little. Top with cheese. Pour egg mixture into pie pie shell.
Place on a baking sheet.
Bake for 35-40 minutes until center is set.
Note: I also use fat free half and half in place of whipping cream. If I do I only use fresh blanched broccoli that has been dried with paper towels. This quiche tends to sometimes be a little watery if you don't eat it fresh from the oven. It tastes good and I think it is worth the difference in calories. It also takes a little longer baking time.