Asian Peanut Noodles with Chicken in a delicious peanut sauce with chicken and stir fried vegetables.

Asian Peanut Noodles with Chicken
This is a quick and easy weeknight dinner that can be made in 30 minutes or less. I still remember the first time I saw a noodle dish with a peanut sauce on it. I have to admit it intrigued me. It did seem a little strange to me but decided to try it and fell in love with it with right away. I was out at the time and every time I went to that restaurant I ordered it. Then a friend sent me this recipe and I tried it right away. I was amazed at how easy and quick it was to make.
Don't let the long list of ingredients stop you from making this. If you notice many of the ingredients that are in the sauce are with the chicken also. When you make dishes like this you should assemble all of the ingredients first before starting to make your dish. It will then come all together in about 10 minutes.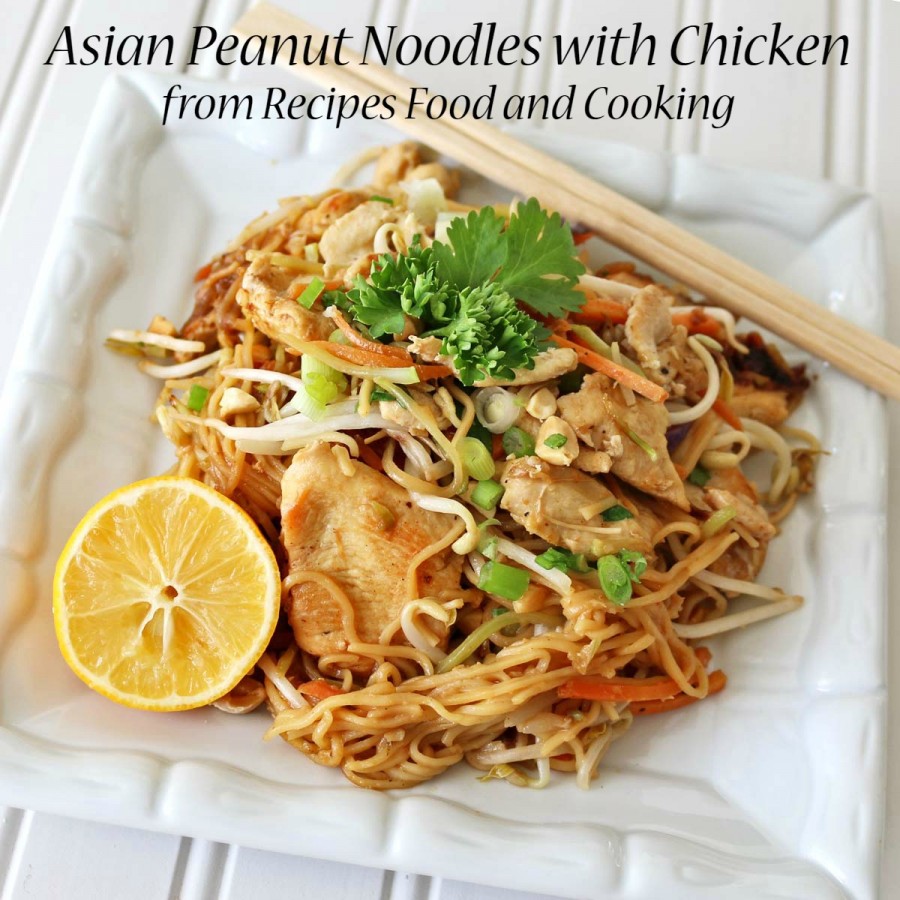 Asian Peanut Noodles with Chicken
Prep time:
Cook time:
Total time:
Asian Peanut Noodles with Chicken in a delicious peanut sauce with chicken and stir fried vegetables.
Ingredients
For the Peanut Sauce
1 1/2 cups chicken broth
5 tablespoons peanut butter
1 tablespoon Sriracha sauce
2 tablespoons honey
2 tablespoons soy sauce
1 tablespoons freshly grated ginger
2 cloves garlic, minced
Chicken
16 oz chicken breast, cut into thin strips
salt and pepper
1 tablespoon Sriracha sauce
juice and zest of 1/2 lime
5 cloves garlic, crushed
1 tablespoon fresh ginger, grated
1 tablespoon soy sauce
1/2 tablespoon sesame oil
8 oz. noodles
Stir Fry
1/4 cup green onion, chopped
1 1/4 cups shredded carrots
1 1/4 cups shredded broccoli slaw
1 cup bean sprouts
3 tablespoons chopped peanuts
1 lime, sliced
handful cilantro - chopped
Instructions
Bring a large pot of water to a boil to cook the noodles. When it comes to a boil cook the noodles according to package directions. When cooked drain well.
Mix together all of the sauce ingredients in a small pan. Cook, stirring often until it thickens. Set aside when it does..
Season chicken with salt and pepper, sriracha, lime, garlic, ginger and soy sauce.
Heat a large skillet until hot. Add oil and sauté chicken on high heat until cooked through, about 3 minutes. Remove from heat and to the noodles with the peanut sauce. Toss to combine. When the chicken is done add it.
Add to the pan 2 cloves crushed garlic, scallions, carrots, broccoli slaw and/or bean sprouts and salt, sauté until tender crisp, about 1-2 minutes. Add to the chicken and noodles.
Serve with limes on the side.
Don't forget to check out the other Weekday Supper suggestions for this week! These are all delicious options that can be on the table within thirty minutes and a great way to shake up your Weekday Supper routine!
Monday – Asian Peanut Noodles with Chicken by Recipes Food and Cooking
Tuesday – Sanma Teriyaki by A Mama, Baby & Shar-pei in the Kitchen
Wednesday – Turkey Reuben by Feed Me, Seymour
Thursday – Chicken with Lemon and Olives by eating in instead
Friday – Milk Poached Cod with Winter Greens by Nik Snacks