Mahi Mahi in Parchment topped with frozen vegetables and baked in parchment paper.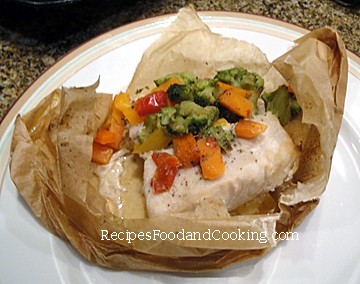 Mahi Mahi in Parchment
I love this technique for cooking fish, is stays so moist!.
I served Sweet Potato Fries with this just because I love them. Roasting them in the oven is quick and easy!
Mahi Mahi in Parchment
Ingredients
2 pieces of mahi mahi
Green Giant Immunity Blend frozen vegetables - thawed
salt and pepper
Instructions
Cut a large heart out of parchment paper.
Place fish on the bottom half of heart. Top with half of the vegetables, salt and pepper.
Start at the top of the heart and fold small pleats down the edge of heart to seal. Place on a baking sheet.
Bake at 400 degreese for about 10 minutes or until fish is done. Cut an X in top to serve.
WW points
Serves 2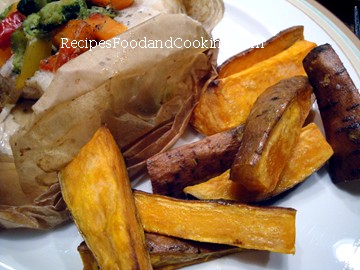 Sweet Potato Fries
2 large sweet potato(es), washed and patted dry
1 tsp olive oil
1/4 tsp table salt
Preheat oven to 425 F.
Cut each potato into 8 lengthwise wedges and place on a nonstick baking sheet. Drizzle with oil; sprinkle with salt. Roast for 15 minutes; toss and roast until potatoes are tender, about 15 to 20 minutes more.
Yields 4 wedges per serving.
POINTS® Value: 2
Servings: 4
Dessert tonight was a WW Double Chocolate Muffin which to my surprise I really enjoyed. It was only 3 points also! I still have points left for the day and I am not hungry. Yeah!