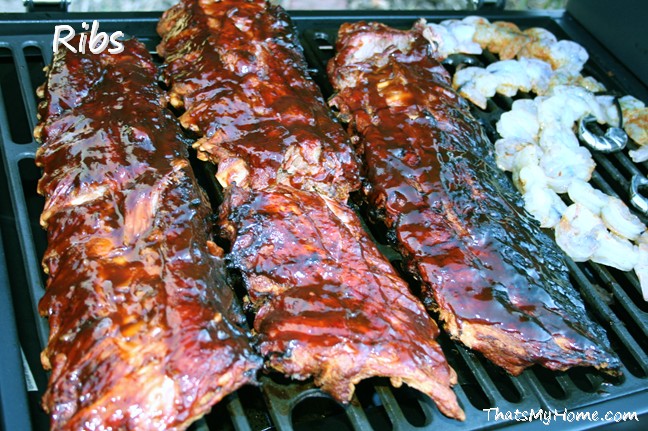 Succulent Easy Ribs
This has to be the easiest way to make ribs ever. I will never ever again wash a pan I boiled ribs in. Not only do you loose flavor but it makes a terrible mess!
I started doing ribs this way last summer and now make them at least once a month. I use baby back ribs that I get at Costco. Usually I cook all three slabs. I do use a rib rack, the one in the picture is made by Steven Raichlen and it is very heavy and coated well. I found a cheap one last summer and it changed the way I cook ribs for forever! I salt and pepper both sides of the ribs well. I also use Penzey's BBQ seasoning on them liberally. If I feel like it a little garlic powder is good also. It really is up to you.
I place the ribs in the rack that has been sprayed with Pam. My grill has 3 burners on it and I don't lite one. I keep the grill at about 300 degrees. I place the rack over the unlit area of the grill. As usual I forgot to take a picture until after they started cooking. In the picture above you can see some shrimp on round skewers, I think those skewers are the worst skewers in the world! They are hard to flip and not much fun trying to get the food off of them either. You've been warned, now I know why I see them often in garage sales.
In this picture below the ribs had been on the grill about 45 minutes.
It is up to you if you want to add wood chips for smoke or not. Today it was still raining out so I decided to skip this step. The ribs were on the grill for almost 3 hours before I added the barbecue sauce, in this case it was Sweet Baby Ray's Honey Chipotle. I brush the sauce on the last 15 minutes of cooking on both sides. Here they are all finished. Don't they look fabulous?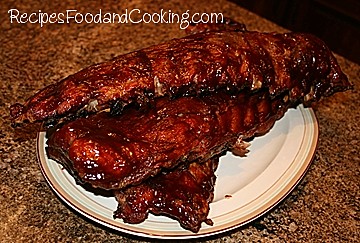 Succulent Easy Ribs
Prep time:
Cook time:
Total time:
Ingredients
Slab of ribs
Barbecue of the America's from Penzey's
Salt
Pepper
BBQ sauce
Instructions
Liberally put Barbecue of the America's all over the ribs. Add salt and pepper. Let sit in the refrigerator at least 2 hours.
Preheat the grill to 300 degrees. To smoke, put about 4 cups of wood chips in water and let soak for 15 minutes. I have a cast iron box I put the wood chips in but you can do it with heavy duty foil also. Be sure to poke a few holes in it for the smoke to escape if you do it this way. Set the box over the elements just before you put the ribs in.
Spray the rib rack with cooking spray. Put the ribs in the rack. Put the ribs in the grill over the burner that is not lit and close the cover. Check about every 30 minutes and adjust heat if necessary. Rotate the ribs every hour. Ribs should cook in about 3 hours. Bones will move easily when done.
Remove ribs from rack and place over the heat. Cover with BBQ sauce. Watch the ribs closely at this point. In about 5 minutes turn over and cover that side with sauce. 5 more minutes on the grill. Remove, let set for 5 minutes and serve.
www.thatsmyhome.com
Cuban Pork Tenderloin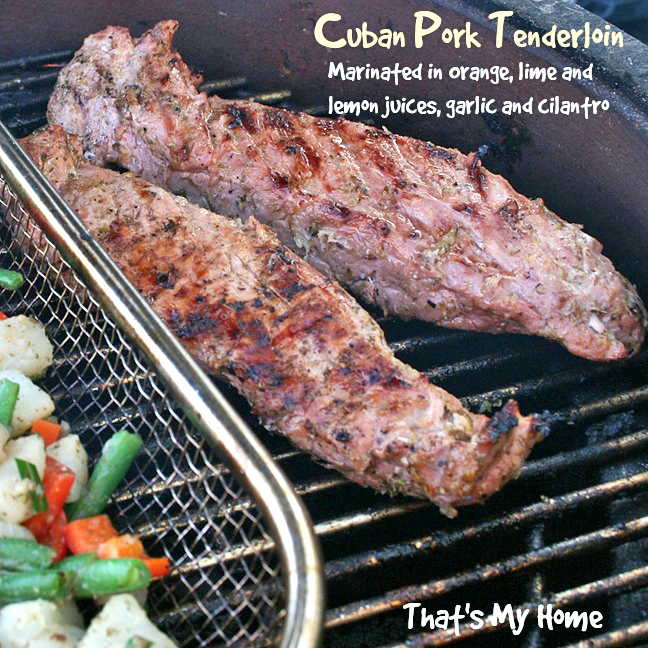 Enjoy!