Boston Butt Pork Roast is seasoned with bbq seasoning and cooked on a Kamado grill. Best roast ever!

Boston Butt Pork Roast for the Kamado Grill
I took the plunge the other day and bought a Kamodo Grill over the weekend. I have cooked on it twice now, the first time just hamburgers to break it in and this delicious Boston Butt Pork Roast. I am surprised how easy it was to cook on. I expected to have all kind of issues keeping it at temperature doing the Boston butt roast but I did not. It did cook a little hotter than I would liked a couple of times but for the most part I was able to keep it between 200 – 275 degrees most of the day.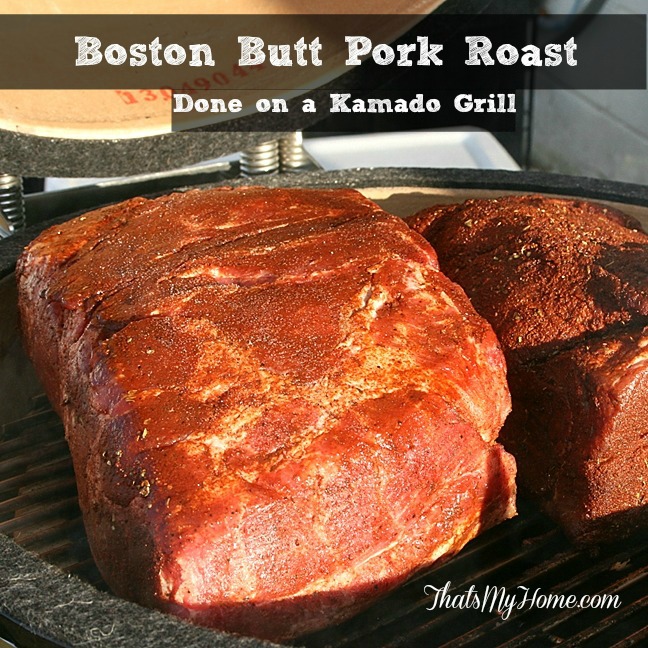 Here the roast is all seasoned and ready to go on the grill. It is best to be seasoned in the refrigerator at least 12 hours in advance to get the best flavors out of the seasoning.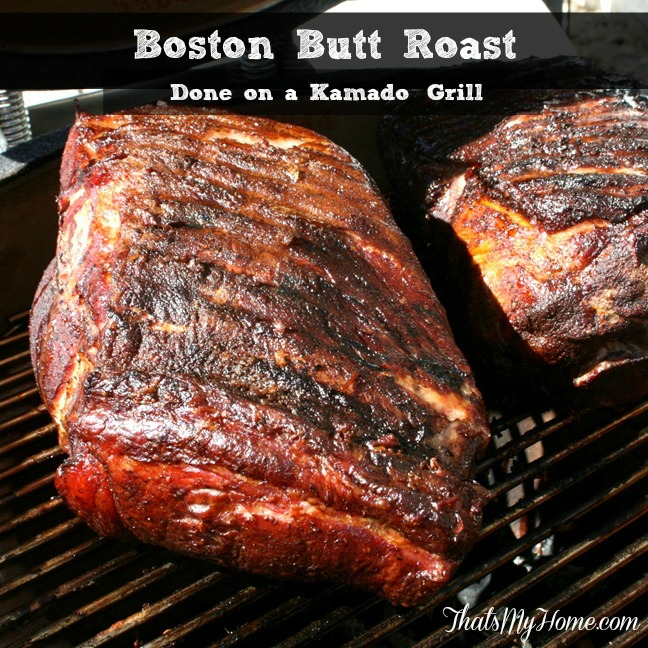 I opened the grill to get this picture about half way thru the cooking. I also wanted to see how it and the charcoal were doing. Every time I opened it I thought of a statement I read somewhere "if you're looking, you're not cooking" so I quickly would close it. You should always use hardwood charcoal in your Kamado grill. You also should always use an electric starter or starters specifically for a Kamado grill. Anything will chemicals in it should NOT be used.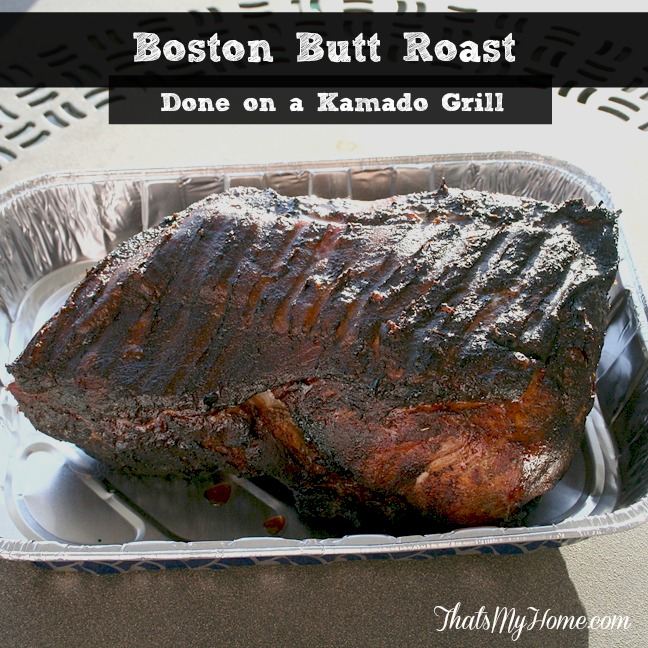 Here is one of the roasts right off of the grill. Doesn't it look delicious?
I used Hickory Wood chips added with the charcoal to do this roast. I used about 4 cups of chips that had been soaked overnight in water. This will slow down the burn rate on the chips so that you get the smoke benefits even longer. The smoking is what helps to develop that nice pink ring on the meat.
Boston Butt Pork Roast on a Kamado Grill
Prep time:
Cook time:
Total time:
Boston Butt Pork Roast is seasoned with bbq seasoning and cooked on a Kamado grill. Best roast ever!
Ingredients
boston butt pork roast
1/2 cup bbq seasoning - I used Penzey's BBQ of the Americas
salt and pepper
Instructions
The night before cover your roast with the seasonings. Cover and put in the refrigerator.
Start your Kamado grill using the manufactures instructions. On mine I set the vents to one. 30 minutes after you get it started add the roast and put lid down. Watch your temp throughout the day and resist the urge to open the grill. I kept mine between 200 and 275 all day. I cooked mine for 10 hours and the center was not pullable so I should of done it another hour. It was still delicious!