Kamado Grill BBQ Ribs are so easy to do on this grill, they are fall apart tender after 10 – 11 hours

Kamado Grill BBQ Ribs
The kids were here last week and it was time to take the Kamado grill out for a spin with some bbq ribs. It did them perfectly with so little effort. I don't think I have ever used and easier grill. Once you get the temperature adjusted to where you want it, in this case about 200 – 225 degrees, just let it go. I go back several times throughout the cooking process and check the temperature and sometimes sneak a peek. I read somewhere though that "if you're looking, you're not cooking". I just love that phrase! LOL
Use the seasoning rub of your choice, I love Penzey's Barbecue of the Americas so I use it. Sprinkle it liberally on the ribs and rub it in. Add salt and pepper. Cover and refrigerate for at least an hour. Depending on how much room I have in the refrigerator I leave it overnight sometimes.
Next build your fire in the grill. Be sure to use hardwood charcoal. I find it at Wal-Mart for a reasonable price. If you are using a charcoal starter, fill it up. That will be a perfect amount and you shouldn't have to add any more charcoal, but if you do make sure when you start the grill to put the grill grate with the opening side towards the front of the grill. I put my charcoal on the front side of the grill. Adjust the vents on the grill so that the heat is at about 200 degrees, long and slow cooking is what we want here. Add some soaked wood chips if using.
I use a rib rack when cooking ribs. Spray it well with cooking spray for easy cleanup. Place the ribs in the rack. Place them at the back of the grill. Close the lid.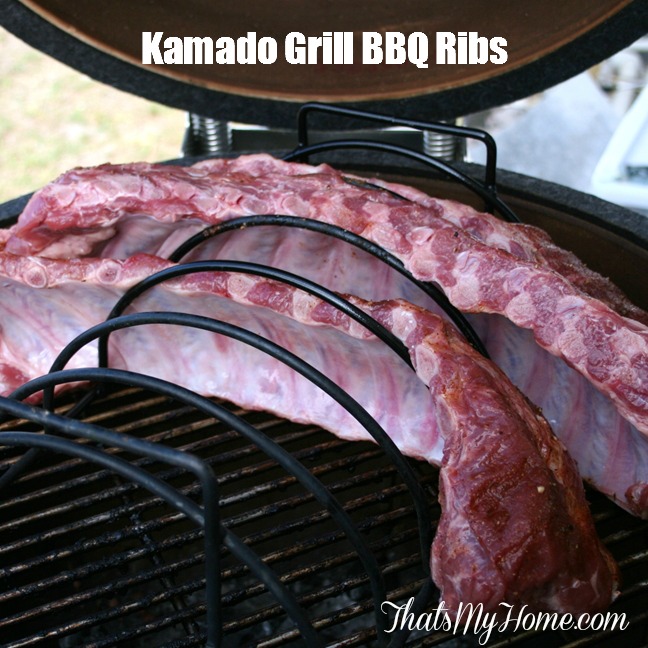 You'll notice I don't remove the silver skin on the back of the ribs, I like to leave it because it help to keep the ribs together when they get to the tender fall apart stage right before they come off of the grill.

Kamado Grill BBQ Ribs
Prep time:
Cook time:
Total time:
Kamado Grill BBQ Ribs are so easy to do on this grill, they are fall apart tender after 10 - 11 hours
Ingredients
baby back ribs
Penzey's Barbecue of the Americas
salt and pepper
Bottle of barbecue sauce
water
Instructions
Season the ribs with the rub liberally. Cover and let set for at least an hour.
Start the fire at least 30 minutes before it is time to start the ribs. Place the charcoal on one side of the bottom, I put the charcoal towards the front of the grill. Stand the ribs up in a rib rack. Place the ribs at the back of the grill. Adjust grill vents so that the grill is between 200 - 225 degrees. Close the lid.
Check the temperature about once a hour. After 4 hours I put 2 cups of barbecue sauce in a bowl with 1 1/2 cups of water. Brush liberally on the ribs several times during the cooking time.
When the rib bones start to move freely the ribs are done. The ribs should be done in about 11 hours if you cooked them at 200 degrees. I put barbecue sauce on the ribs 30 minutes before taking off the grill. I serve sauce on the side also.