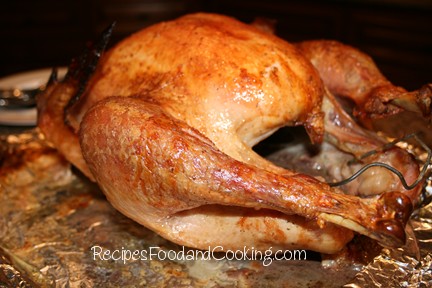 I have a turkey on the grill right now and decided I may as well take pictures of the process. First I brined the turkey for 6 hours in salt, brown sugar and water. I used 2 cups of kosher salt, 1 cup brown sugar and water to cover the turkey. I also add some ice to the water to get it cold faster. Refrigerate until ready to grill. I brined this one about 6 hours.
When you are ready to grill, remove the turkey from the brine and rinse. Place the turkey on a cookie sheet or aluminum pan that has been lined with foil.
Heat your grill. My grill has 3 burners so I turn the middle burner down low, the end one off and the one where I keep the smoking chips on high. My grill stays around 375 degrees doing it this way.
I soaked some oak and mesquite wood chips for 15 minutes before grilling, I added 1/3 to my wood chip tray over the high burner. You will add the rest of the chips during the cooking at any point while you are checking in on the turkey. I can't help it I have to open the grill and adding the chips give me a reason too! This is what my turkey looked like when I first checked it after a hour.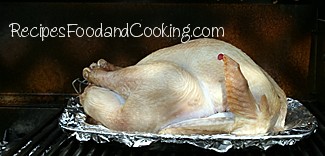 I also add a butter herb mop to the turkey with a brush.
This is what my turkey looked like at a little over 2 hours.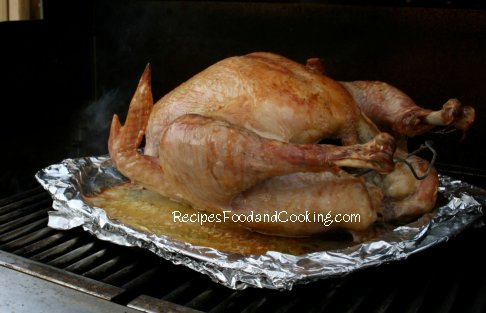 This was a 12 lb. Honeysuckle White turkey. This guy is one of a couple turkey still left from last holiday season. I learned when I first moved here that turkeys are not really stocked year around so they can be really pricey in the summer. I always stock up so I have turkey for summer grilling.
Turkey on the Grill
Ingredients
1/2 cup butter
1 cup chicken stock
2 cloves garlic - crushed or 1 teaspoon garlic powder
4 tablespoons assorted fresh herbs
Instructions
Melt butter with chicken stock. Add fresh herbs and garlic, cook for a few minutes and remove from heat. Brush on turkey several times while grilling.
Note: This time instead of the fresh herbs I normally use, I used Penzey's Mural of Flavor. If you haven't tried this mixture yet from Penzey's, sample it next time. I love it and use it as a seasoning mixture on everything from burgers to chicken.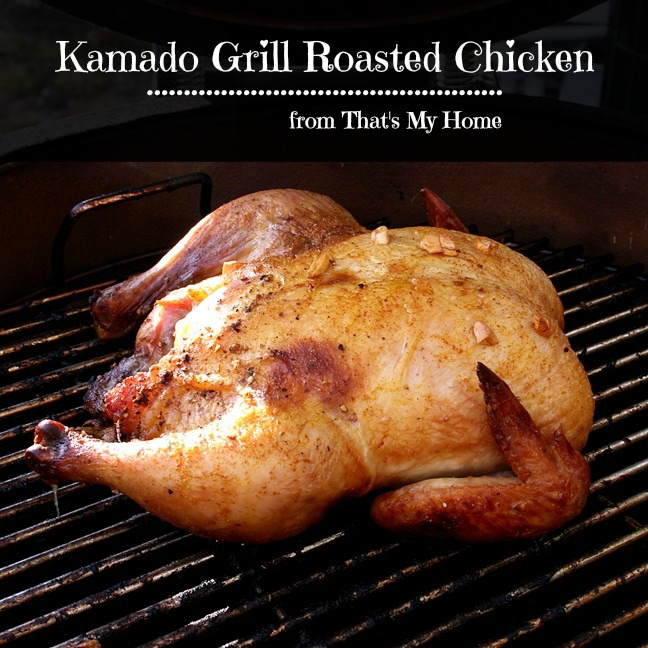 Enjoy!