Kamado Grill Roasted Chicken is tender and moist with a hint of garlic.

Kamado Grill Roasted Chicken
Yesterday I decided to roast a whole chicken in my Kamado grill. I am loving this grill so much. It has never been easier to grill since I bought my Kamado grill a few months ago. It was so easy that after I marinated it, that I just had to put it on the grill and leave it alone (well, kind of)  for 3 hours other than turning it one time. I built a little warmer fire than I had been doing, about 275 degrees. I placed the chicken directly across from the charcoal and that's it. I had a perfectly cooked, roasted chicken.
It is easy  to regulate the temperature of a Kamado Grill. You can adjust the bottom vent in the case here I kept it at about half. There is also a vent at the top, I kept it at about 2. About half way thru I needed to add a few briquettes of charcoal to the grill. Make sure the grill grid is facing toward the center when you start. Drop a few pieces in and I leave the lid cracked for about 15 minutes which should get those pieces of charcoal started. I didn't add additional charcoal to the grill when I started this chicken. I was pretty sure I had enough left from the previous bbq. I was wrong but adding additional charcoal is easy and that way I don't waste a lot of it. I was concerned at first about the price of the charcoal which starts at about $16.00 and up to $32.00 for a bag. I am still using that first bag of charcoal and I have used it at least 10 times now and still have a third left. These grills do not use regular charcoal, you should only use hardwood charcoal in them.
I can honestly tell you that this chicken was the best roasted chicken I have ever made. I am doing a turkey in it this weekend and I can't wait.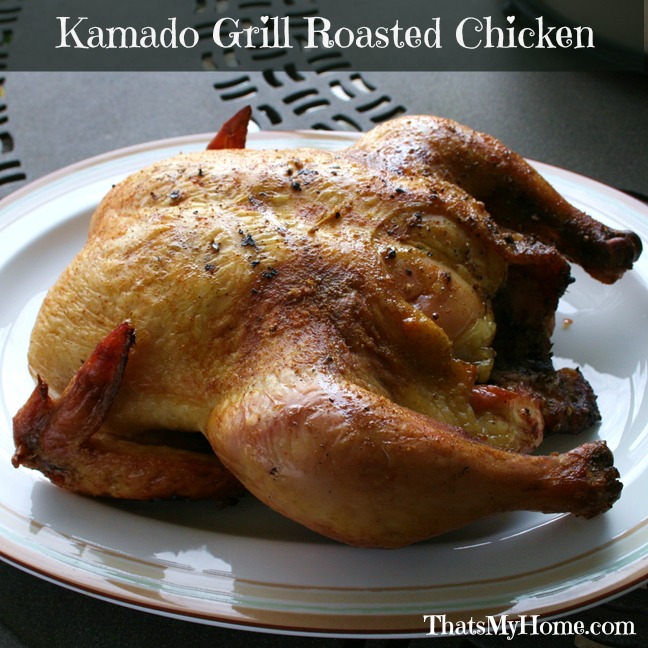 Kamado Grill Roast Chicken
Kamado Grill Roasted Chicken is tender and moist with a hint of garlic.
Ingredients
1 chicken
2 tablespoons olive oil
1 teaspoon seasoning salt
1 teaspoon fresh cracked pepper
5 garlic cloves sliced
Instructions
Rinse the chicken off with cold water. Pat dry with a paper towel. Rub with the olive oil, seasoning salt and pepper. Place in a plastic bag for 2 hours with the garlic.
Build a fire in the grill that will stay at about 275 degrees. Make sure the charcoal is only covering half of the grill. Place the chicken on the half of the grill that does not have the charcoal under it. Close the lid. In 1 hour check on the chicken and turn it around. If you fire has gone under 275 add a few more pieces of charcoal. Check the chicken in about an hour, turn again. Cook one more hour or until chicken reaches 165 degrees. Let set for 15 minutes before cutting.