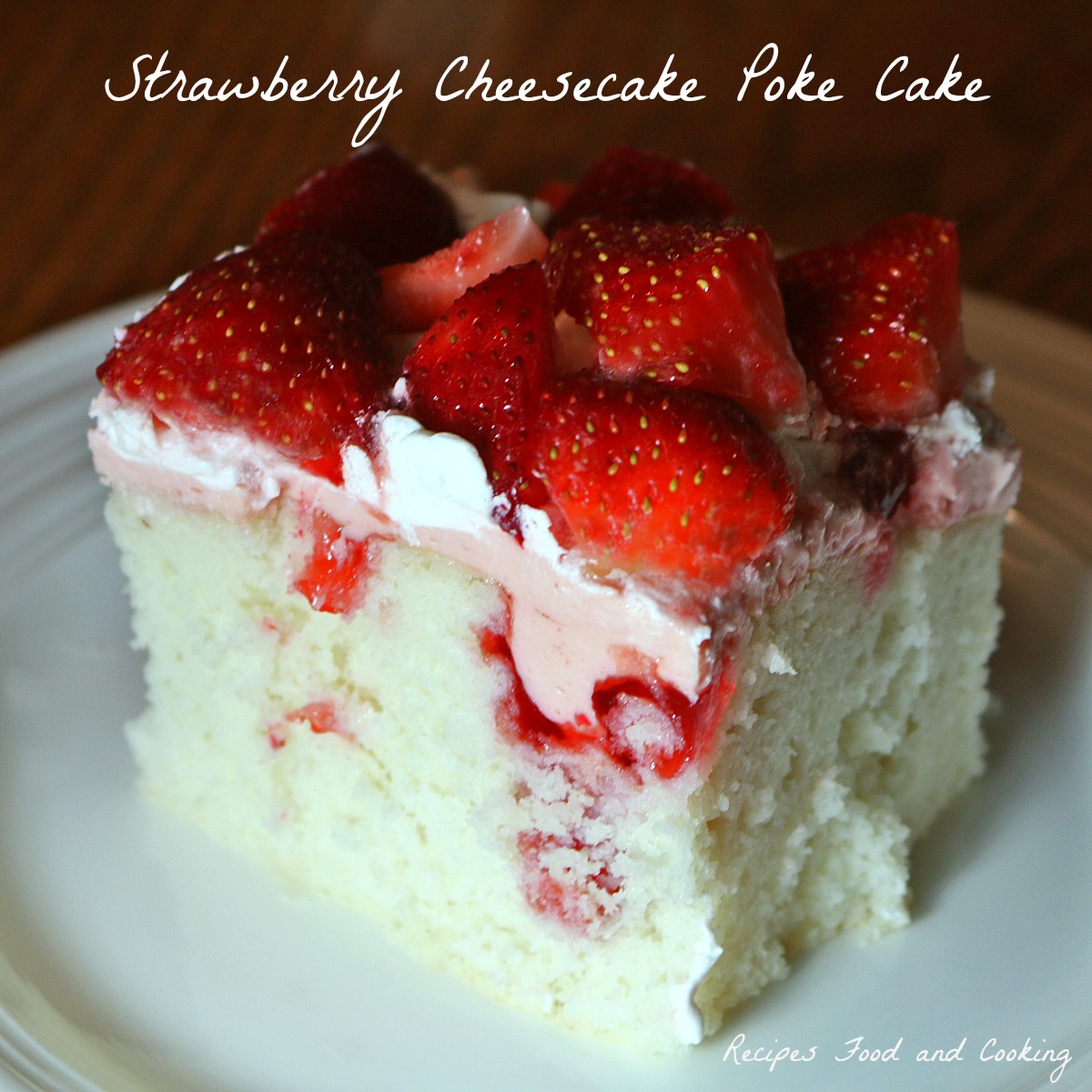 Strawberry Cheesecake Poke Cake
Yep, I have another strawberry dessert for you. We loved this Strawberry Cheesecake Poke Cake. We just can't stop eating these delicious Florida strawberries! I decided to add a cheesecake layer to this poke cake. I still did a little of the traditional jello but used half of it in the creamy cheesecake layer.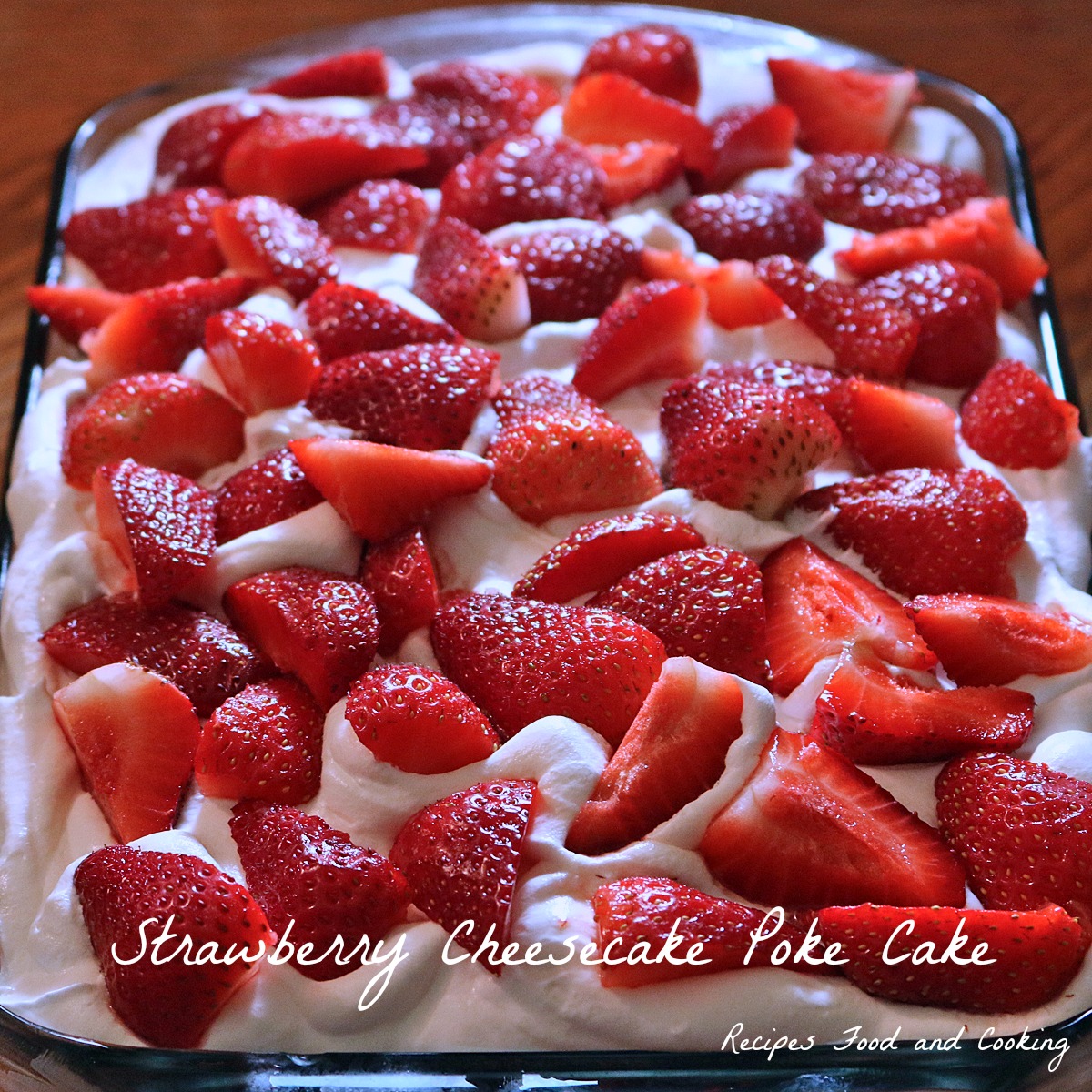 To start you make your favorite white cake. I used a box mix and the egg white version. Then I made my jello and only used 1 cup of water in it. Half goes over the cake and  the other half into the cheesecake filling. When it comes out of the oven poke holes all over the top of the cake. Pour half of the jello over it then spread the cheesecake layer over that when cake has cooled.
Then I topped the cake with a tub of whipped topping and a quart of strawberries. Easy, peasy and so good!
Strawberry Cheesecake Poke Cake
Author:
Mary Ellen @ Recipes Food and Cooking
Recipe type:
Cake, Dessert, Easy
Prep time:
Cook time:
Total time:
A vanilla boxed cake, strawberry jello, a strawberry cheesecake layer all topped with a whipped topping and strawberries.
Ingredients
1 box vanilla cake mix made according to package directions
1 3 oz package strawberry jello
1 cup water
1 8 oz. package cream cheese - at room temperature
1/2 cup sugar
1 teaspoon vanilla
1 carton whipped topping
1 quart strawberries
Instructions
Make and bake cake according to package directions.
While cake is baking mix up the jello. Add 1 cup boiling water to the jello. Set aside to cool.
When cake comes out of oven, poke hole with a wooden spoon over the top of cake. Pour 1/2 of the jello mixture into holes. Let cool.
Add the cream cheese to a mixing bowl. Add the sugar and vanilla and beat until sugar is dissolved. Add the remaining jello and mix until combined. When cake is cool, spread over the top of cake evenly.
Top with the whipped topping.
Wash and clean the strawberries. Cut into halves or quarters. Put on top of the cake. Refrigerate until ready to serve.
Maybe you'd like to try?
Strawberries and Cream Angel Food Cake Roll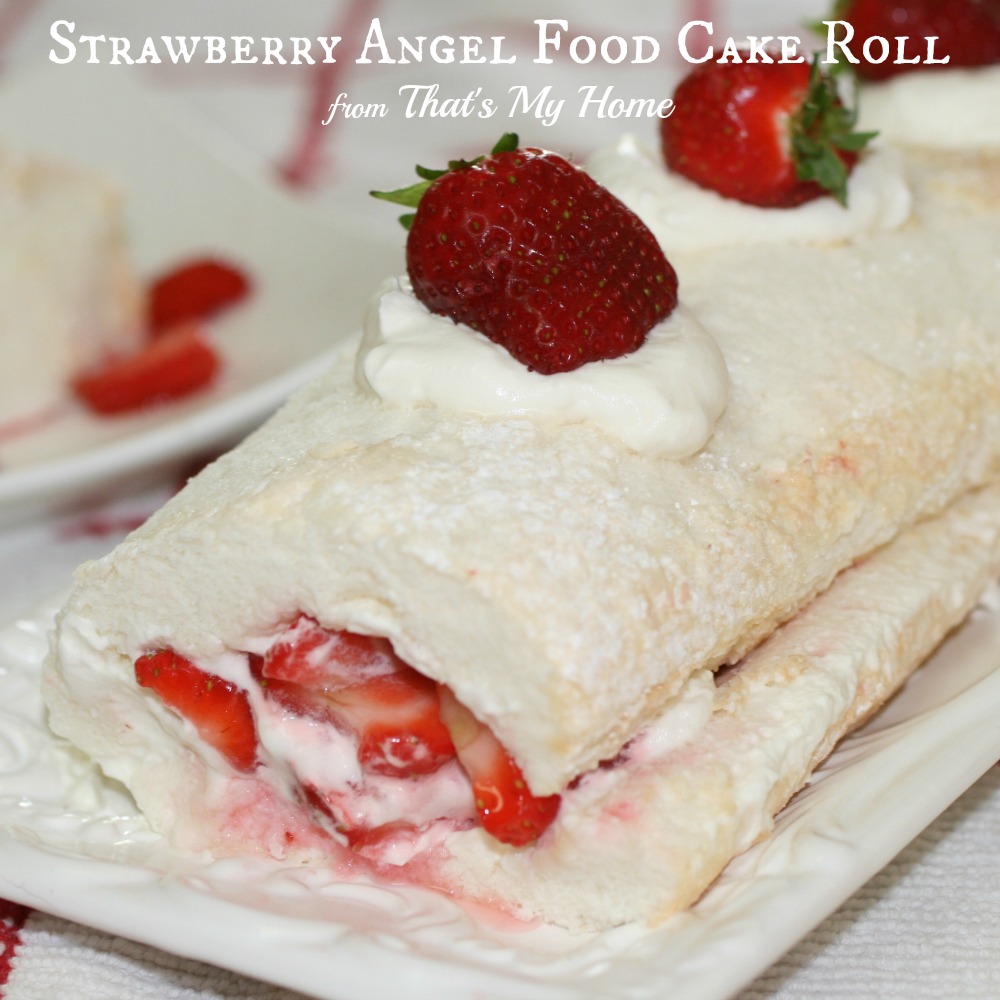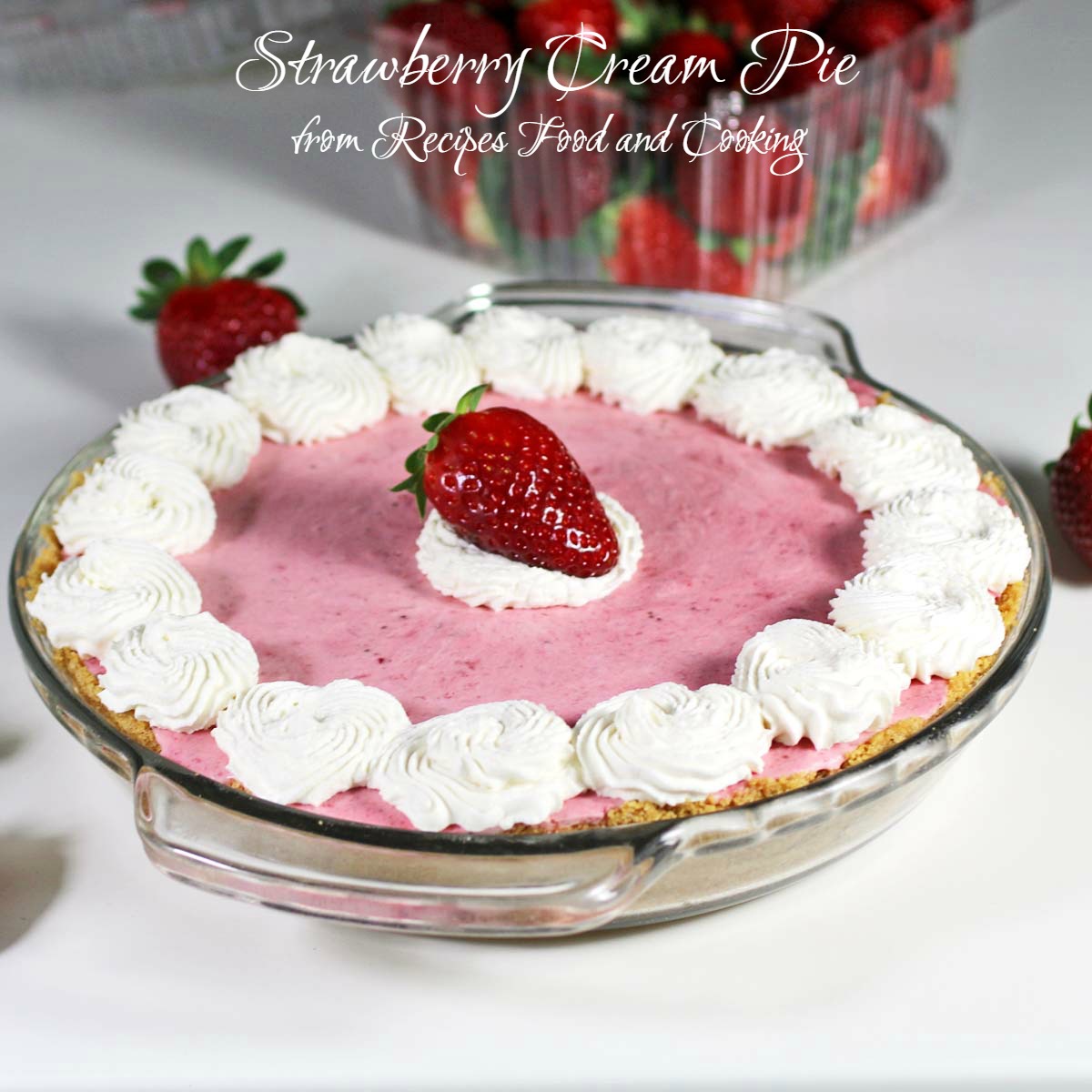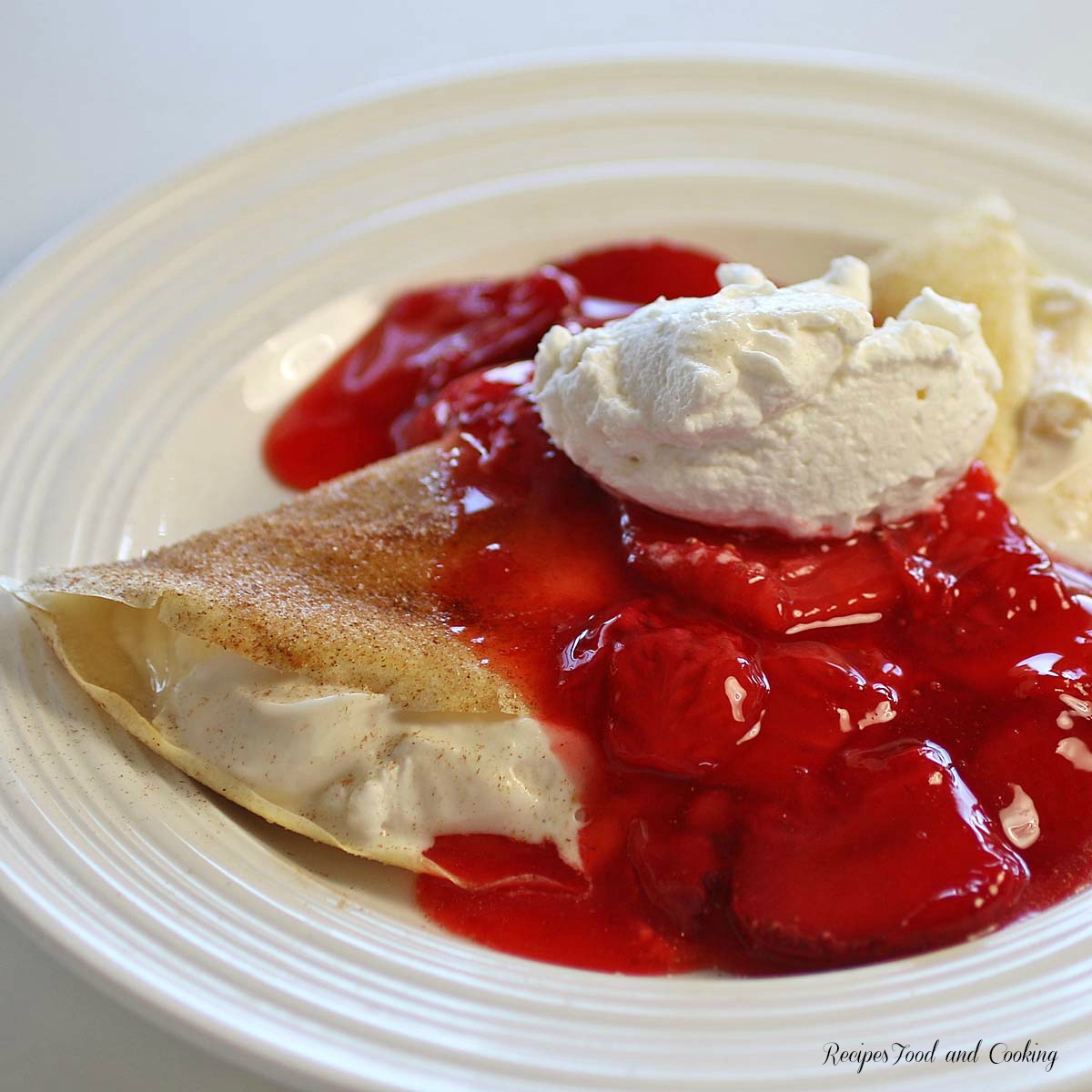 Pin It!