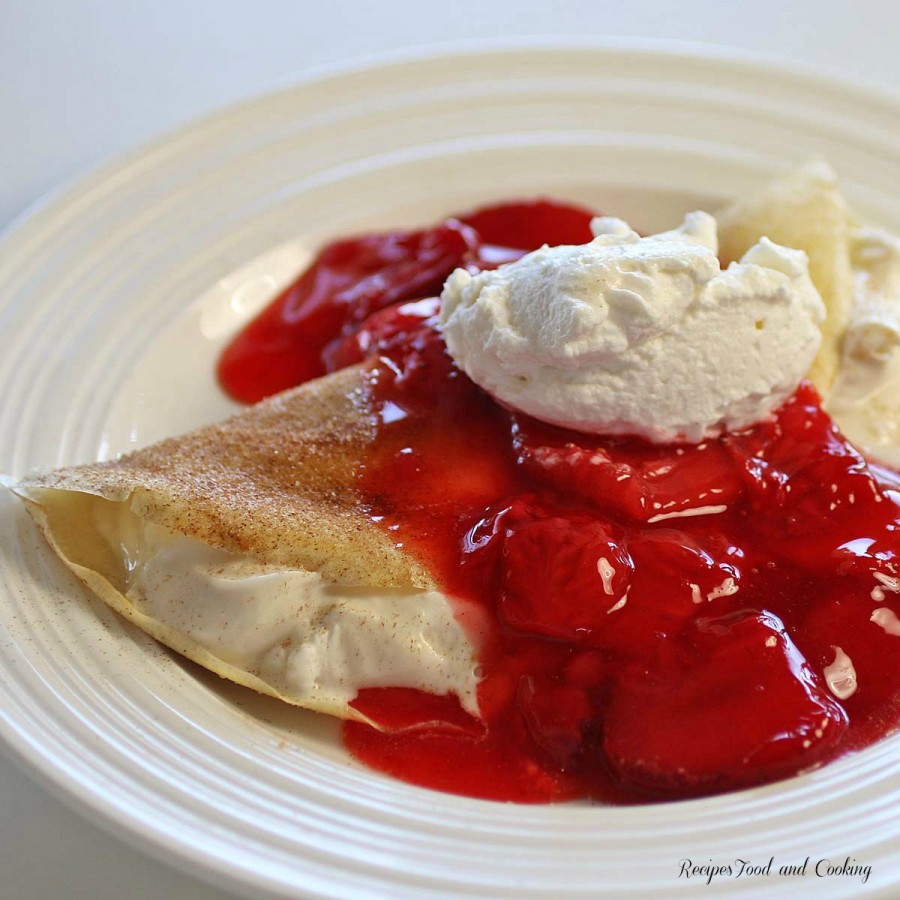 Strawberry Cheesecake Crepes
I've been all about strawberries for the last couple of months because they are in season now in Florida and I can't seem to get enough of them! How lucky for us that strawberry season starts at Thanksgiving and goes until about Easter. Look for the Fresh From Florida label on the container to know you are getting the best. This is a perfect make ahead dessert. Just assemble before serving.
When you buy strawberries refrigerate them immediately without washing them.
You will have extra crepes with this recipe but if not able to use immediately then freeze them. They freeze beautifully. You can fill any of the extra crepes for anything from savory to sweet. They are so good filled with scrambled eggs and topped with cheese sauce or filled with vegetables. They aren't just for desserts.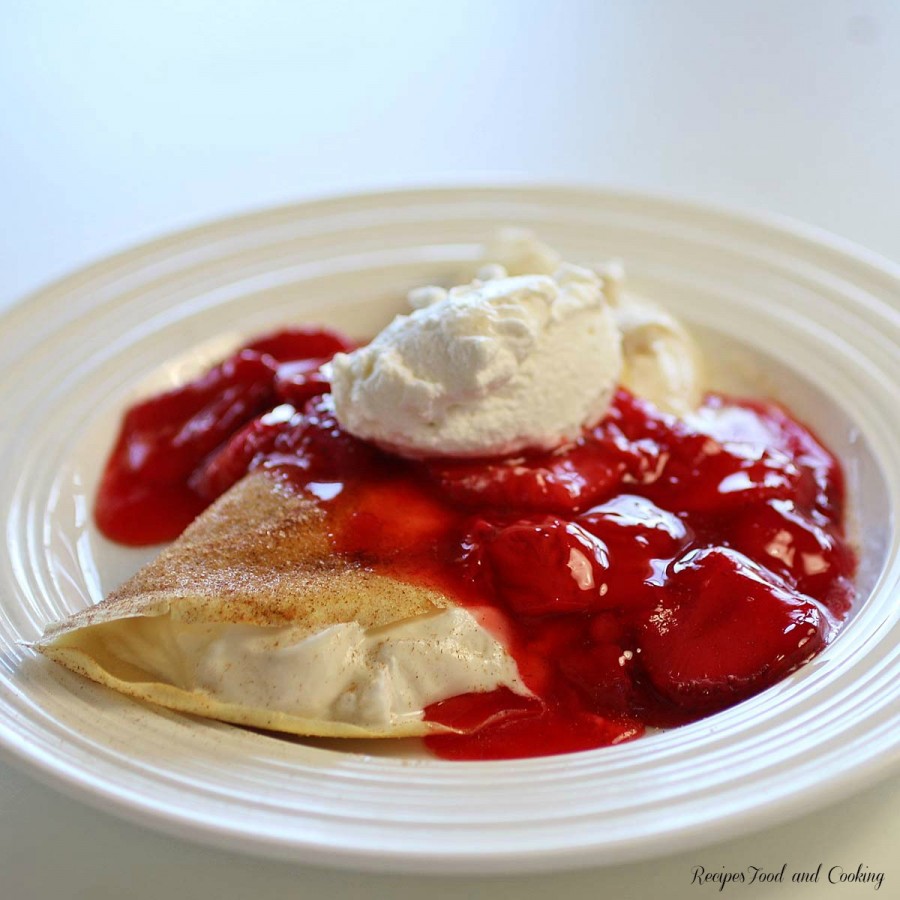 Strawberry Cheesecake Crepes
Prep time:
Cook time:
Total time:
Sugar and Cinnamon Crepes filled with a creamy cheesecake filling and topped with fresh strawberries.
Ingredients
Crepes
1 1/2 cups flour
3 eggs
1 1/2 cups milk
1/2 teaspoon salt
1 tablespoon butter, melted
oil for pan
Cheesecake Filling
8 oz. cream cheese at room temperature
1/2 cup sugar
1 teaspoon vanilla
3/4 cup whipping cream
Strawberry Topping
1 pound strawberries, sliced
1/4 cup sugar
1/2 cup water
2 tablespoons cornstarch
red food coloring - optional
To assemble
butter
1 teaspoon cinnamon
1/4 cup sugar
Instructions
To make the crepes put all of the ingredients except oil into a blender. Mix until thoroughly combined. Refrigerate for 30 minutes covered.
Heat a 7 inch saute pan. Add a little oil to the pan. Add a little less than 1/3 cup of the batter to the pan. Swirl the batter in the bottom of the pan. Cook on one side for one minute. Turn over the crepe. Cook for another 30 seconds. Place on a paper towel to cool. Repeat until all of the batter is used.
Cheesecake Filling
Add the whipping cream to a mixer bowl. Beat until soft peaks form. Remove to a smaller bowl. Add the cream cheese to the bowl. Beat for several minutes with the sugar and vanilla until it is light and fluffy. Fold in the whipped cream.
Strawberry Topping
Wash the strawberries. Slice into a small saucepan. Add half of the water and the sugar. You may need a little more or less depending on the sweetness of your strawberries. Stir the cornstarch into the remaining water. Bring the strawberries to a boil. Cook for 2 minutes over medium heat. Stir in the cornstarch water mixture. Cook until thickened. Add the food coloring if using. I used a couple of drops.
To assemble
Mix the cinnamon and sugar together. Add a little bit of butter to a saute pan. Add the crepe and lightly brown it. Sprinkle it with the cinnamon and sugar. Put on a plate and add about 1/4 cup of the cheesecake filling. Fold over the crepe and top with the strawberries.
Pin It!