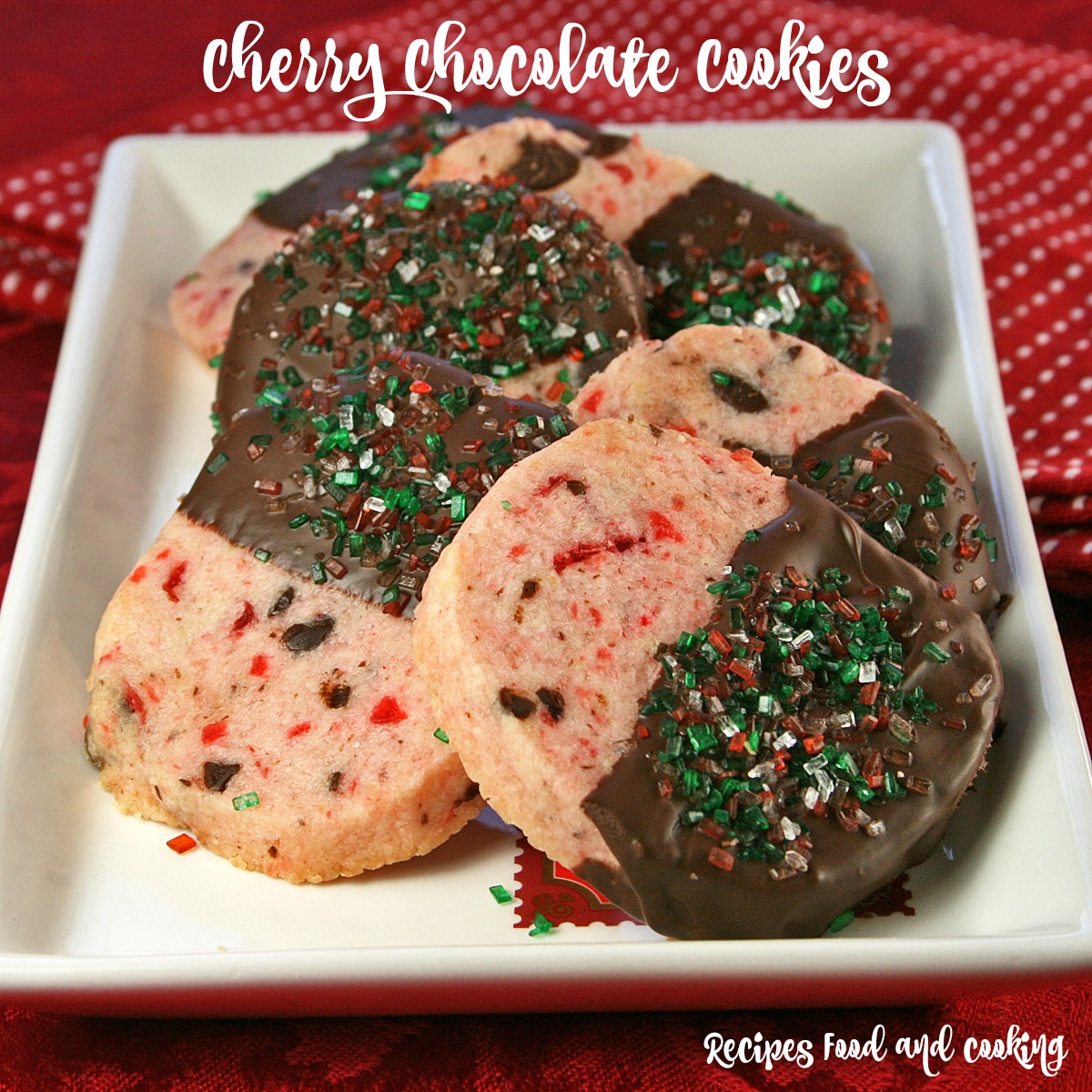 Cherry Chocolate Cookies
I am always looking for new favorite Christmas Cookie recipes to add to my cookie tray. Aren't you? This is a delicious little cookie and when I make them again I will make them a little smaller, I wasn't thinking when I rolled them into the log that they were bigger than I usually like to do my Christmas cookies. I like to do cookies that you get about 3 bites from, that way you don't have to feel so guilty if you try more than one.
This is a perfect make ahead cookie because it is a refrigerated cookie. Make the dough one day and bake it the next or even freeze is so you have something on hand when unexpected company drops by. You don't need to do the chocolate but if you don't I would sprinkle some confectioners sugar over them before serving.
Some tips for making these cookies are to have your butter cool but not cold. You can use any kind of chocolate you want, I just happen to love semi sweet and cherries together. Pecans if toasted would be a great addition to this cookie, use 1/2 cup.
When melting chocolate be careful not to overheat it. If you do your finished cookies will get what they call bloom on them, that's those white streaks in the chocolate you sometimes see. It doesn't effect the flavor, just the way it looks.
Cherry Chocolate Cookies
Author:
Mary Ellen @ Recipes Food and Cooking
Recipe type:
Cookies, Christmas
Prep time:
Cook time:
Total time:
Cherries and chocolate in this buttery almond flavored cookie dipped in chocolate with sprinkles make the perfect Christmas cookie for the cookie tray.
Ingredients
1/2 cup maraschino cherries, drained and finely chopped
2 1/2 cups all-purpose flour
1/2 cup sugar
1 cup cold butter
12 ounces semi sweet chocolate, finely chopped
1/2 teaspoon almond extract
1/2 teaspoon vanilla
2 drops red food coloring (optional)
2 teaspoons oil
Instructions
Cookies
Dry your cherries on a piece of paper towel. Chop finely on a cutting board. Chop the chocolate and set aside 8 oz. for the dipping chocolate.
Combine the butter and sugar in a mixing bowl. Cream together until combined. Add almond extract, vanilla and food coloring. Mix in. Add the flour and mix until combined. Stir in 4 oz. of the chopped chocolate and cherries.
Spread the dough out on a piece of saran wrap to form a cylinder about 1 1/2 inches around. (I would actually do it twice diving the dough if you are going to make these a little smaller. The ones in the picture were around 2 inches around) Refrigerate dough at least 2 hours.
Cut the cookies about 1/3 inch thick. Place on a greased cookie sheet, parchment or silpat. Bake at 350 degrees for 10 - 12 minutes. Cookies should just be beginning to lightly brown around the edges. Let set on cookie sheet to cool about 5 minutes before removing to a wire rack to cool.
Chocolate
Put the chocolate and oil in microwave safe container. Microwave for 30 seconds, stir and let sit to make sure all of the chocolate has melted a few minutes. if not, put back in microwave for 10 second intervals
Dip the cookie into the chocolate, run the bottom of the cookie across the top edge of the bowl the chocolate is in to get most of it off the bottom. Put the cookies on parchment and sprinkle with Christmas sprinkles.
Maybe you'd like to try another of our cookie recipes?
Chocolate Pecan Jam Thumbprint Cookies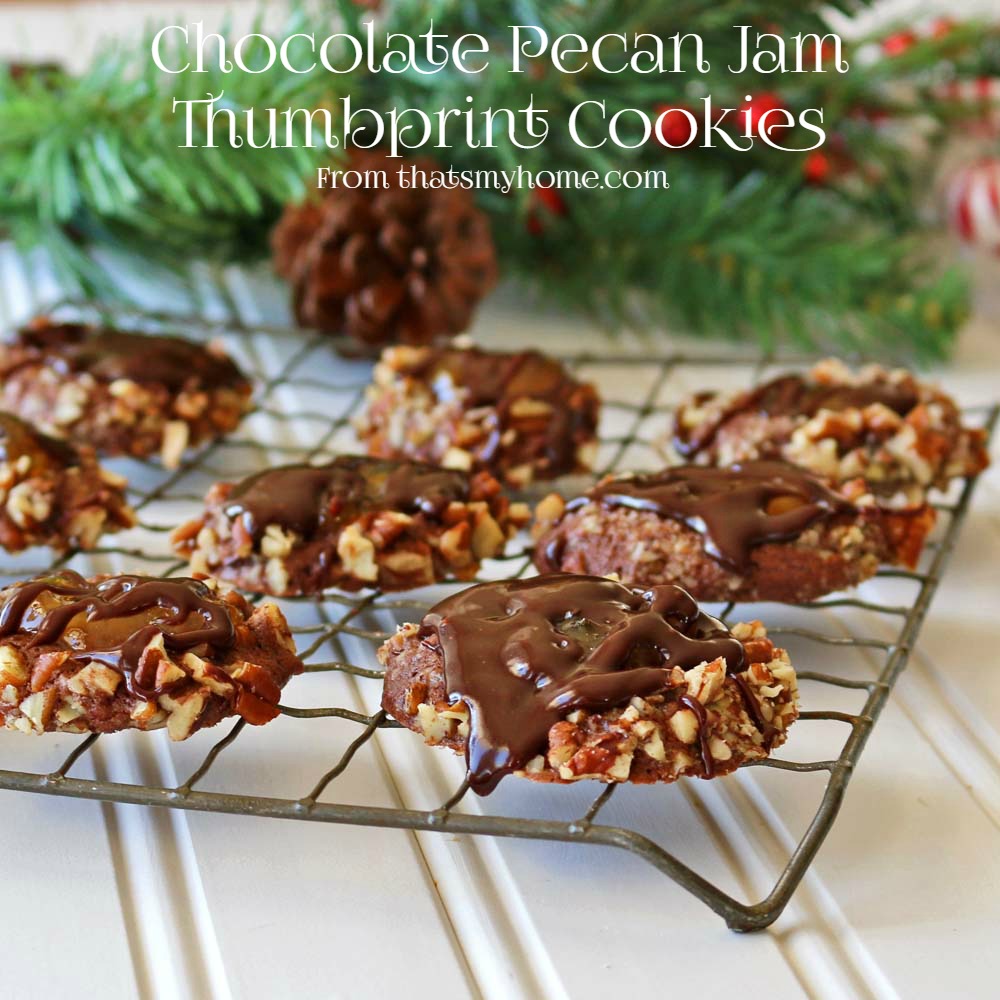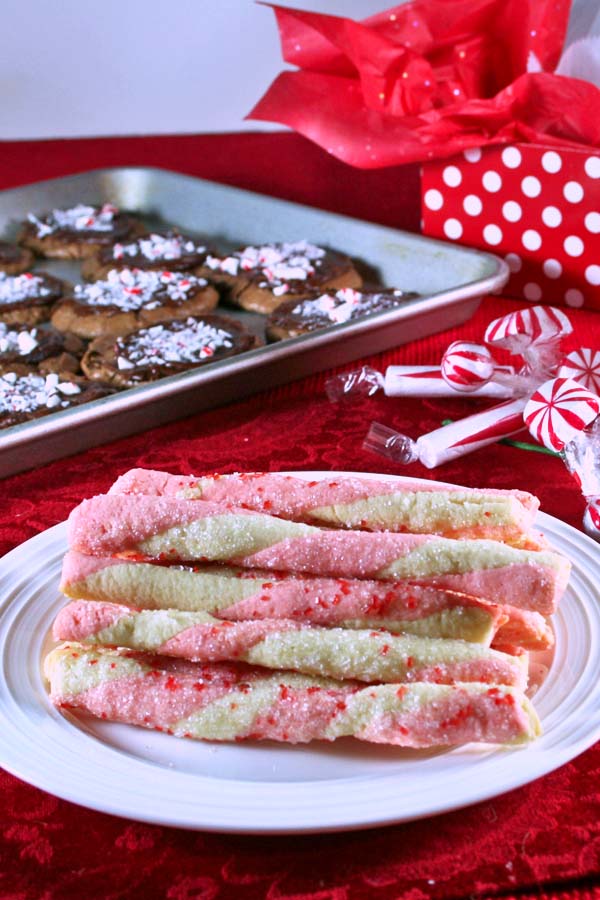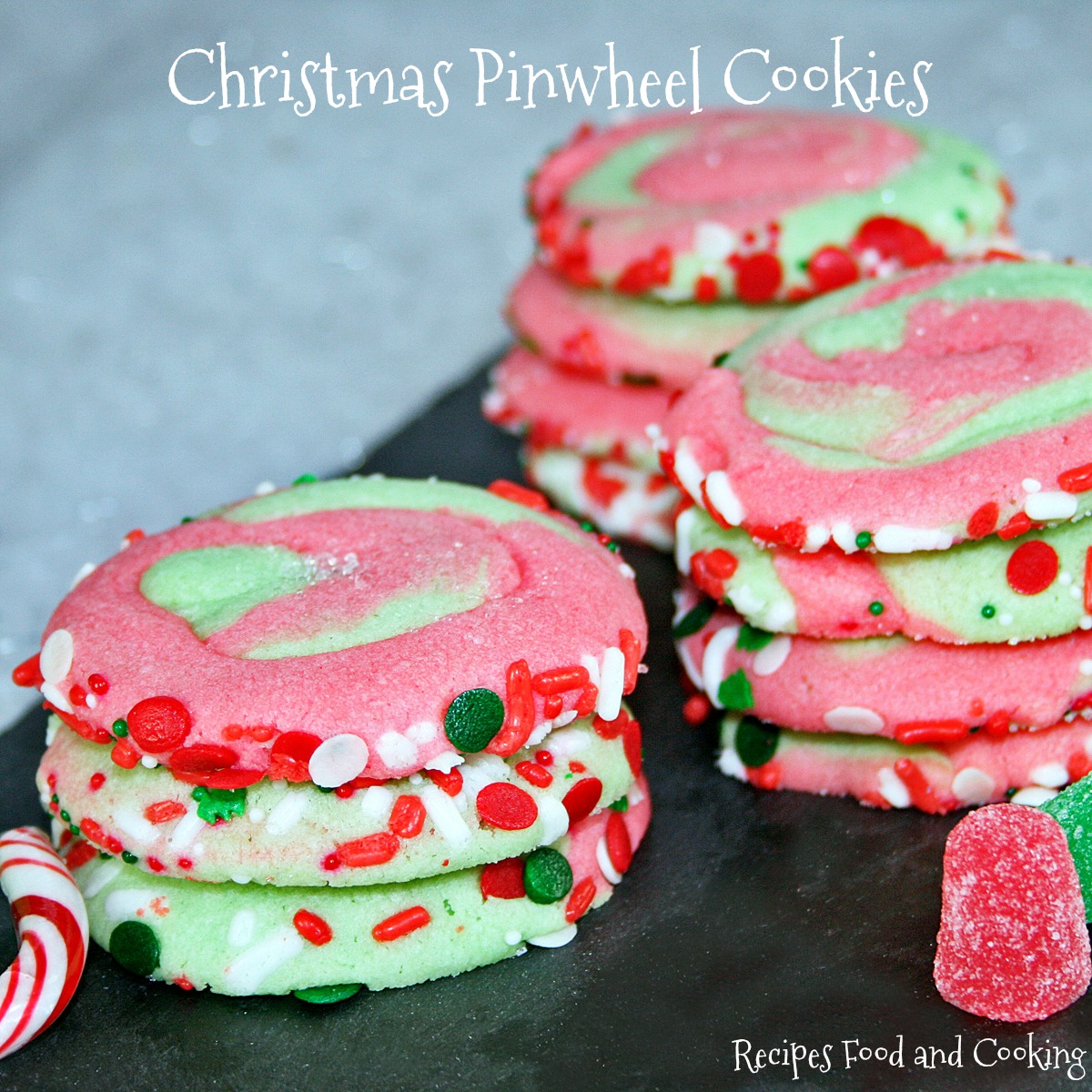 Pin It!