Egg bread that is rolled into balls, dipped in garlic butter and coated with herbs to make this savory Herbed Monkey Bread.

Herbed Monkey Bread
I saw this bread in the Food Network's magazine this month and they used frozen bread dough for it. I loved the idea but wanted to make my own bread to truly make this special. I got out my mom's recipe for Egg Bread and made a few modifications to it. I used about half of the dough, 1 1/2 lbs. to be exact and made the remaining dough into a loaf of bread. I think this would be a perfect bread for Thanksgiving and it's so pretty. If you make this for Thanksgiving dinner this way you have hot rolls and a loaf of delicious bread for sandwiches the next day.
I made a garlic butter using fresh garlic to dip the bread balls in. I chopped up some fresh dill and parsley. I added some poppy seeds and sesame seeds to a couple of small bowls and I was ready to do this. I only dipped one side of the balls into the herb or seeds, then put that side facing up.
I would think you could make it ahead and let the dough rise in the refrigerator but need to try it first before I can be sure of the times. Because there is 1 1/2 packages of yeast in this bread it rose pretty quickly. I think if I was going to refrigerate it I would cut it back to 1 package of yeast. I used just over 5 1/4 cups of flour.
Here's a tip for you when working with fresh parsley. Chop your parsley into whatever size you want it to be. Take a couple pieces of strong paper towels and put your parsley in the center. Twist up the paper towel to enclose the parsley. Run it under cold water until you see the green stop coming out. Now squeeze the paper towels to get out as much water as you can. Dump your parsley into a bowl, it is now light and fluffy. It won't discolor anything and will actually last a day or more like this if refrigerated.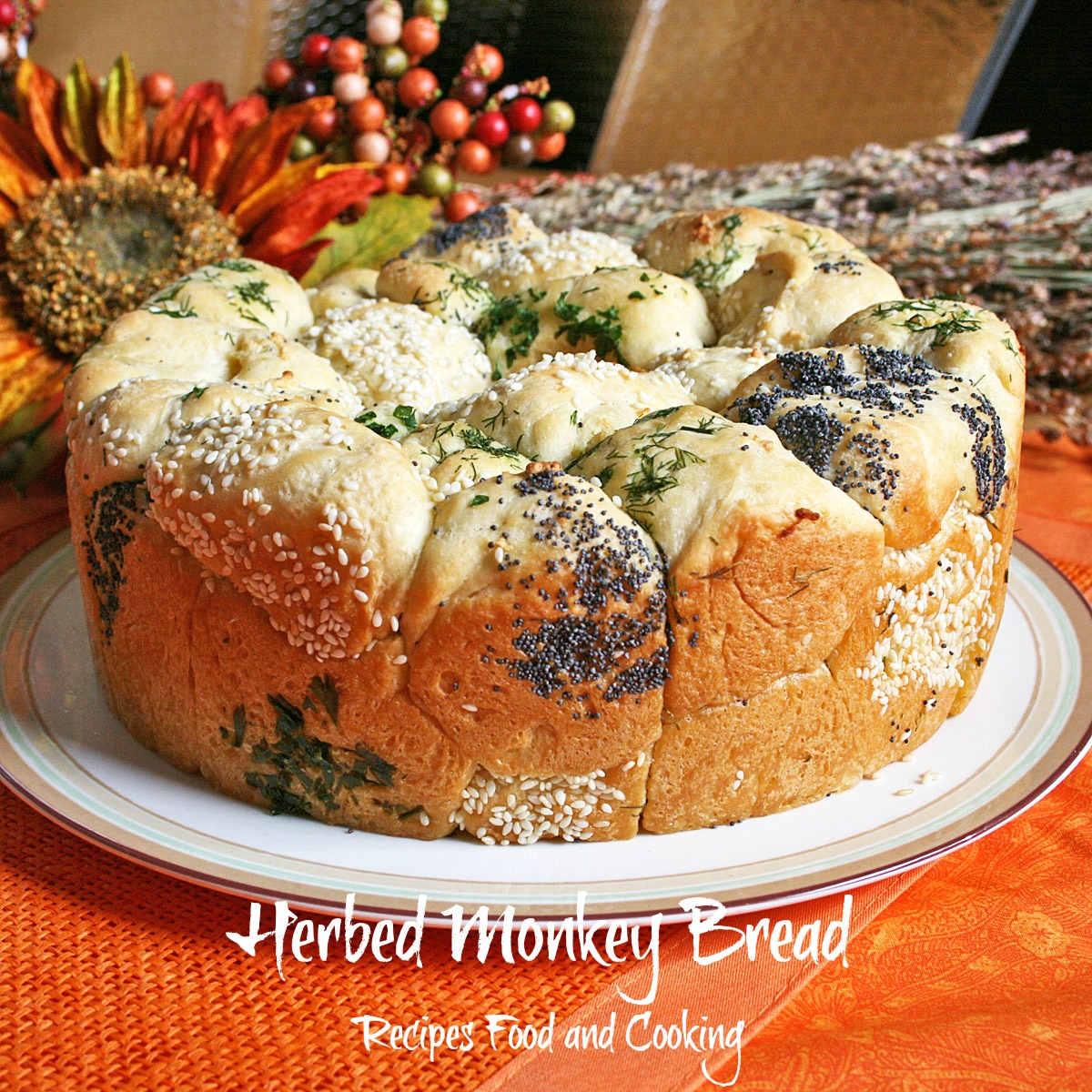 Herbed Monkey Bread
Prep time:
Cook time:
Total time:
Egg bread that is rolled into balls, dipped in garlic butter and coated with herbs to make this savory Herbed Monkey Bread
Ingredients
Bread
1 1/2 packages yeast
1/2 cups warm water
2 tablespoons sugar
3 eggs
1/2 cups butter - melted
1 1/2 cups milk
1 1/2 teaspoons salt
5 – 6 cups flour
Garlic Butter Dip
1/2 butter
2 - 4 garlic cloves - minced
Toppings
Sesame seeds
Poppy seeds
Parsley
Dill
Instructions
Dissolve yeast in 1/2 cup warm water.
Beat eggs in a bowl and add the sugar and beat well. Add melted butter, milk, hot water and salt. Mix well and add yeast.
Stir in 1 cup flour and beat until smooth. Add remaining flour to make a soft dough. Knead until smooth. Cover and let rise until doubled.
Melt butter in a saucepan. Add minced garlic. Remove from heat.
Chop parsley and dill. Put the sesame seeds and poppy seeds in bowls.
Grease an angel food pan with cooking spray. Weigh out 1 1/2 lbs. of dough. This is slightly more than half if you don't have a way to weigh it. Cut the dough into walnut sized balls, dip into the butter and then one of the toppings. Put them in the pan. I did 2 rolls of the dough balls. Pour a little of the garlic butter over the top of the rolls. Cover and let rise until doubled.
Preheat oven to 350 degrees. Bake for about 30 - 35 minutes or until lightly browned. Let set a few minutes after you take it out of the oven. Then very carefully remove the outside rim. I left the bottom on and put it on a wire rack to slightly cool. Remove to your serving dish when read to serve.
Want to try our recipe for?
Pumpkin Cinnamon Swirl Bread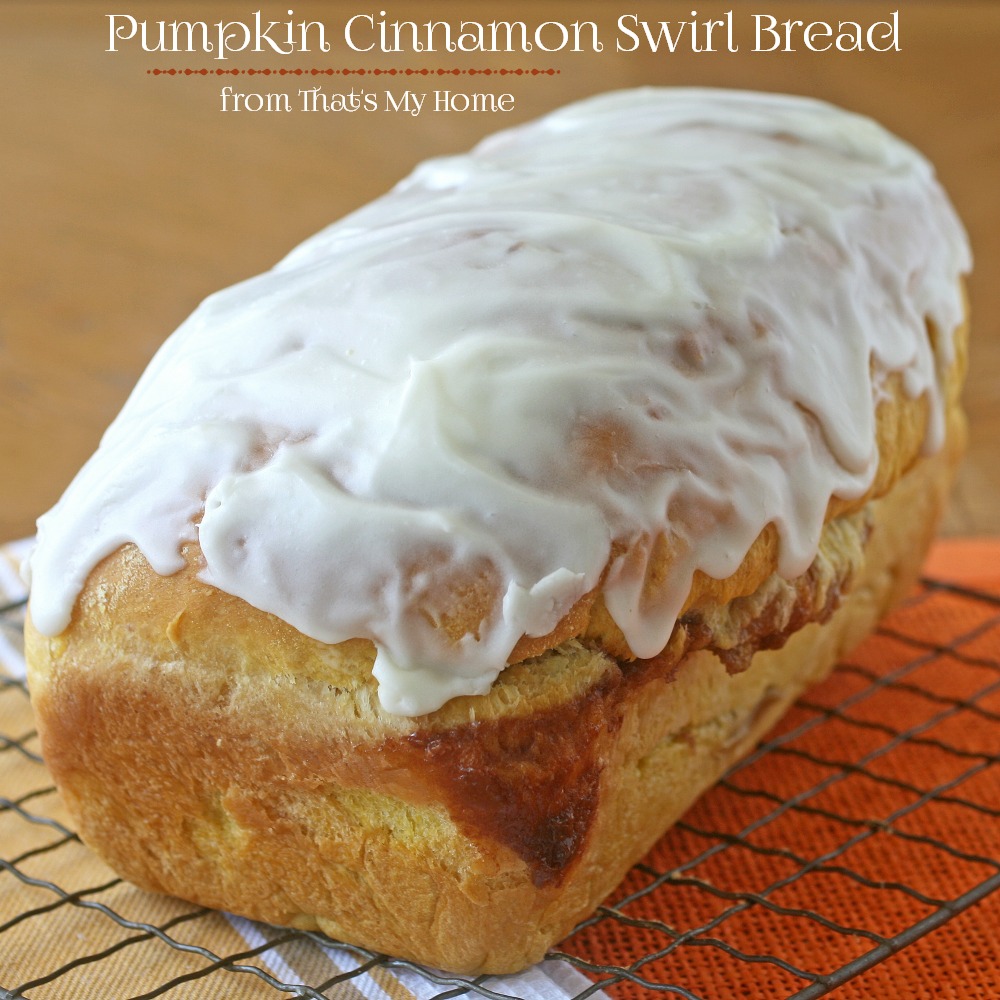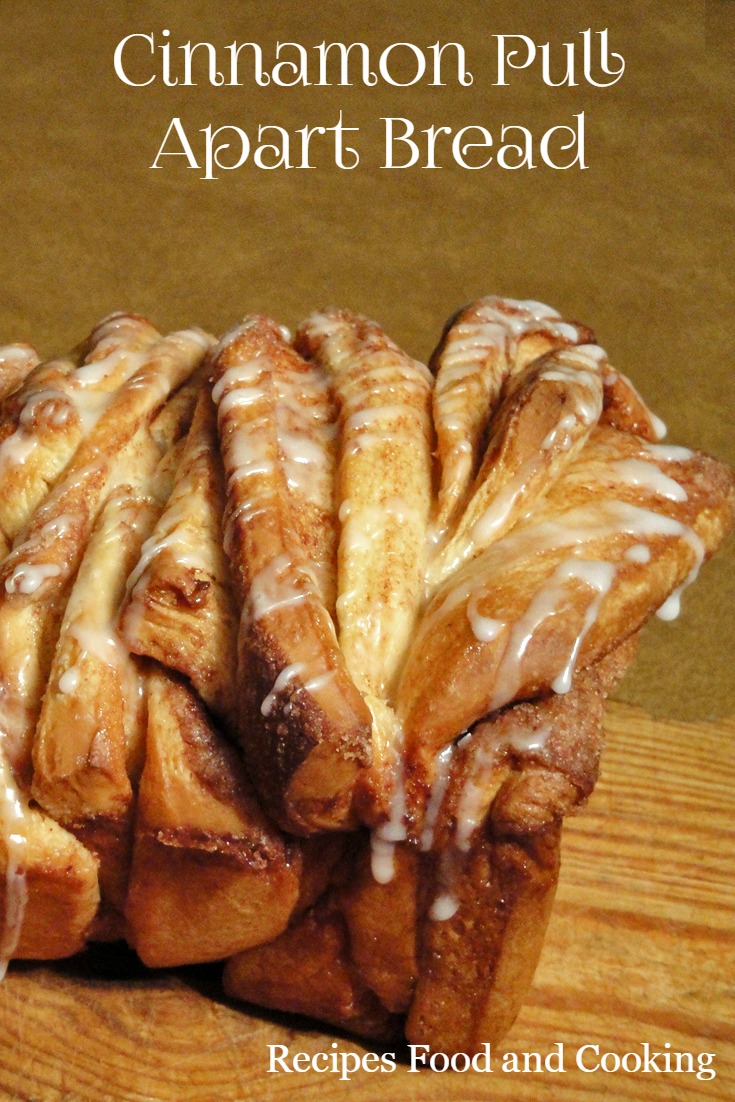 Pumpkin Stuffing Bread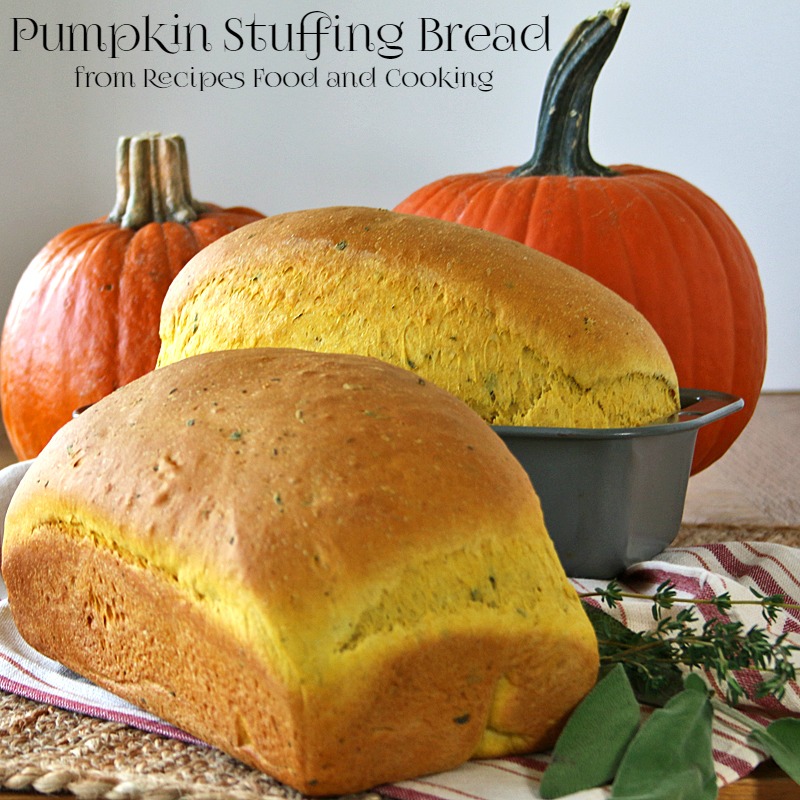 Pin It!