Layers of light bread sandwiched with cinnamon and butter makes this Cinnamon Pull Apart Bread to die for!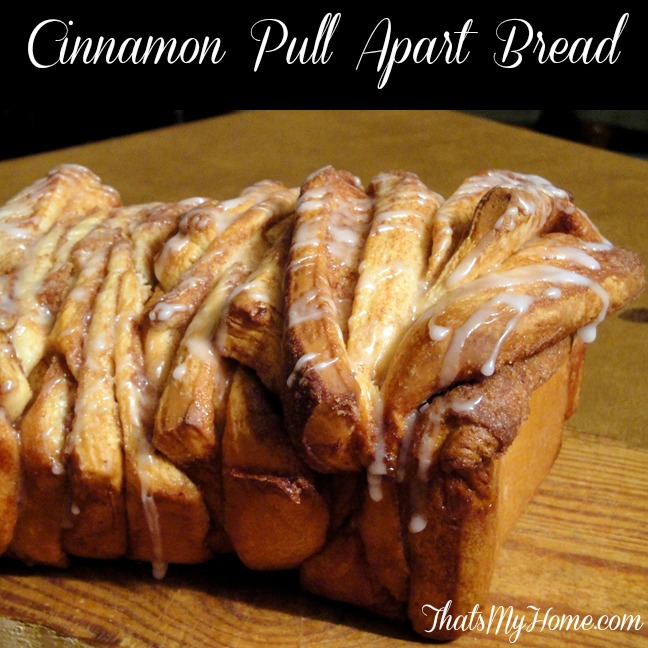 Cinnamon Pull Apart Bread
Why you ask? I just made the best bread that I know you are going to want to try. You can make the dough a day ahead of the time you need it and it works great. If the idea of all the layering seems like too much work rolls balls of dough instead and place them in the bread pan after rolling it in the butter and cinnamon mixture.
Baking bread to me is one of the most relaxing things to bake. I can hear about half of you saying "no way". There is just something that happens when you mix up the dough and knead it that can make all of your worries go away. When you take that big blob of dough and shape it into something lovely you feel a real sense of accomplishment. Then one of the best smells in the world fills your house especially if you are making this recipe with the cinnamon in it and you eagerly wait for it to come out of the oven. You know you can't wait! LOL
I hear from a lot of you that making anything with yeast scares you. It doesn't need to. If you first proof the yeast, that is adding yeast, warm water and a little sugar to a small bowl you can watch the magic begin. 5 minutes later the yeast should be growing (for lack of a better word) and you will see the yeast bubbling in the bowl. The temperature of the water is the most important step in bread baking, too hot and it will kill the yeast. You want the temperature to be about the temperature of a baby's bottle, between 105 and 110 degrees is optimal for dry yeast.
When you proof yeast at a cooler temperature it doesn't wake it up like it should and it also won't let the gluten develop as it should. When you use fresh yeast which is hard to come by these day the optimal temperature is 95-100 degrees. When I first started baking I only used fresh yeast. I can remember going with my grandmother to our downtown bakery and she would buy a big chunk of yeast there for her baking.
Run, Don't Walk to Your Kitchen Now – Cinnamon Pull Apart Bread
Prep time:
Cook time:
Total time:
Serves:
makes one 9x5x3-inch loaf
Layers of light bread sandwiched with cinnamon and butter makes this Cinnamon Pull Apart Bread to die for!
Ingredients
For the Dough
2 3/4 cups plus 2 tablespoons all-purpose flour
1/4 cup granulated sugar
2 1/4 teaspoons (1 envelope) active dry yeast
1/2 teaspoon salt
4 ounces butter
2/3 cup whole milk
2 large eggs
1 teaspoon pure vanilla extract
For the Filling
2/3 cup granulated sugar
2 teaspoons ground cinnamon
4 ounces butter - melted
Glaze
2 heaping tablespoons confectioners sugar
1 tablespoon water
Instructions
Add flour, sugar, yeast and salt to your mixer bowl. Stir to combine.
Melt butter in a small bowl in the microwave. Add milk, vanilla and eggs. Add to mixer bowl and using the dough hook mix to combine. Mix dough adding flour if necessary until dough is well combined. Beat for about 5 minutes until dough comes together. Add dough to a greased bowl and cover with a towel. Let raise until doubled, about a hour.
While dough is raising combine sugar and cinnamon. Melt butter and set aside.
Grease and flour a 9 x 5 x 3-inch loaf pan.
On a lightly floured surface roll out the dough into a 12 x 20 rectangle. Spread butter over surface of dough. Sprinkle cinnamon mixture on top. Cut into 3 strips lenghtwise. Stack the strips on top of each other. Cut the strips into 3 inch pieces and stand them up in the bread pan. Cover and let raise until doubled.
Bake at 350 degrees for 30 - 35 minutes. Let set in pan for 5 minutes and then turn it out of pan onto a cooling rack. Mix together glaze ingredients and put on top of bread.
Note: After I let the dough raise about 30 minutes I covered it and put it in the refrigerator. When ready to proceed start with the rolling out of the dough and go from there.
Modified from the internet