I participated in the National Pork Board Porksgiving program as a member of One2One Network. I received compensation but all opinions are my own.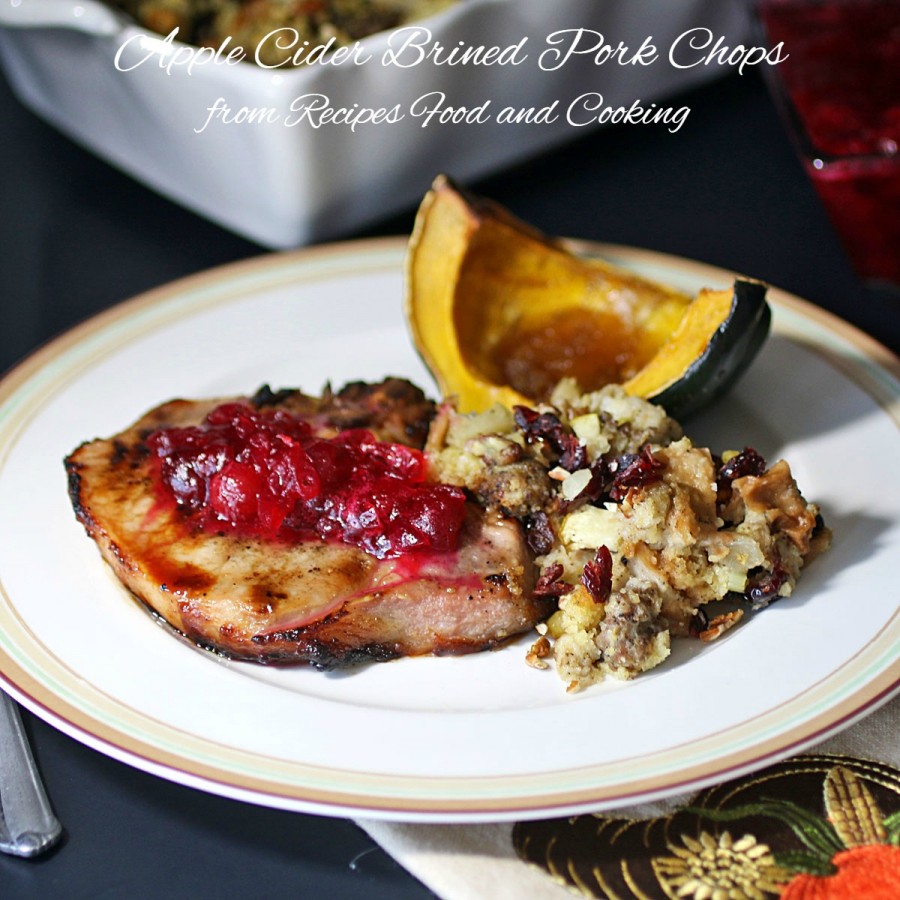 Apple Cider Brined Pork Chops
It's Porksgiving! What's this you ask? It is simply a time to show and give thanks to anyone who gives back. The neighbor that goes the extra mile, a friend who is always doing something nice for everyone or someone who is always volunteering in the community. Porksgiving is a time to give back to that person by preparing a delicious dinner made with pork. Now thru the end of the year you can find all kinds of delicious pork recipes over at the National Pork Board.

This is one of my favorite ways to cook pork chops in the fall. As soon as I can buy apple cider these pork chops go on the menu. The brine is so flavorful and easy to make. You can marinate the pork chops for up to a hour. Pork tenderloin also is great made this way.
I made this for my friend Brenda, who is always doing something special for me. I love making something for her on the days she works so she doesn't have to go home and cook. Besides that, being able to give something homemade shows how much you appreciate them and there is no better homemade meal, than one with pork. You can show your appreciation for someone you care about this Porksgiving season by trying a new recipe from the National Pork Board's website or over on their Facebook page.
Get inspired to give back with juicy, tender pork all season by visiting www.PorkBeInspired.com/Porksgiving. There, the National Pork Board will share inspiration via stories that feature how Americans are giving back and the fans who are saying thanks with the gift of pork. You'll also find some helpful information about identifying cut of pork here and Pork cooking times and temperatures here. Pork today is very lean and shouldn't be overcooked. To check doneness, use a digital cooking thermometer. The National Pork Board follows the guidance of the U.S. Department of Agriculture.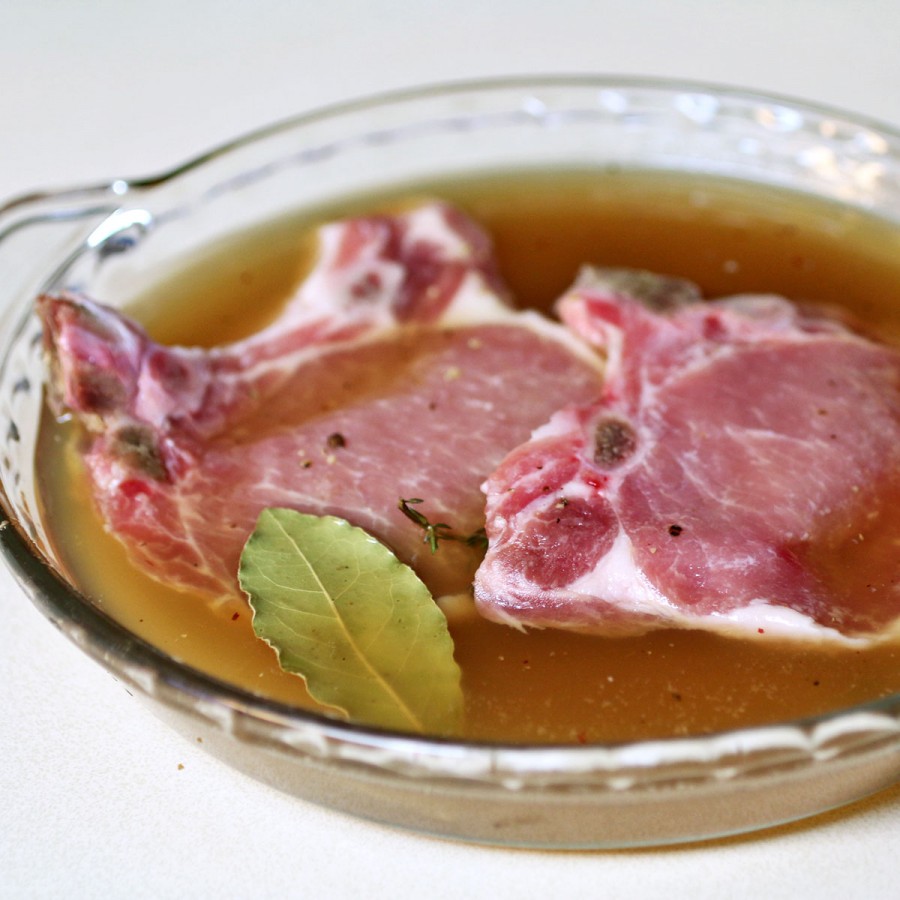 I served this with some Sage Sausage Dressing made with pecans and cranberries. I also made some fresh cranberry sauce, they are perfect together! I use the recipe on the bag, it couldn't be simpler. Water, sugar and cranberries, that's all. Cook for 10 minutes. You'll never buy canned again. This is almost like Thanksgiving on a plate. In fact if you're only cooking for one or two that day, this is a perfect alternative to serve.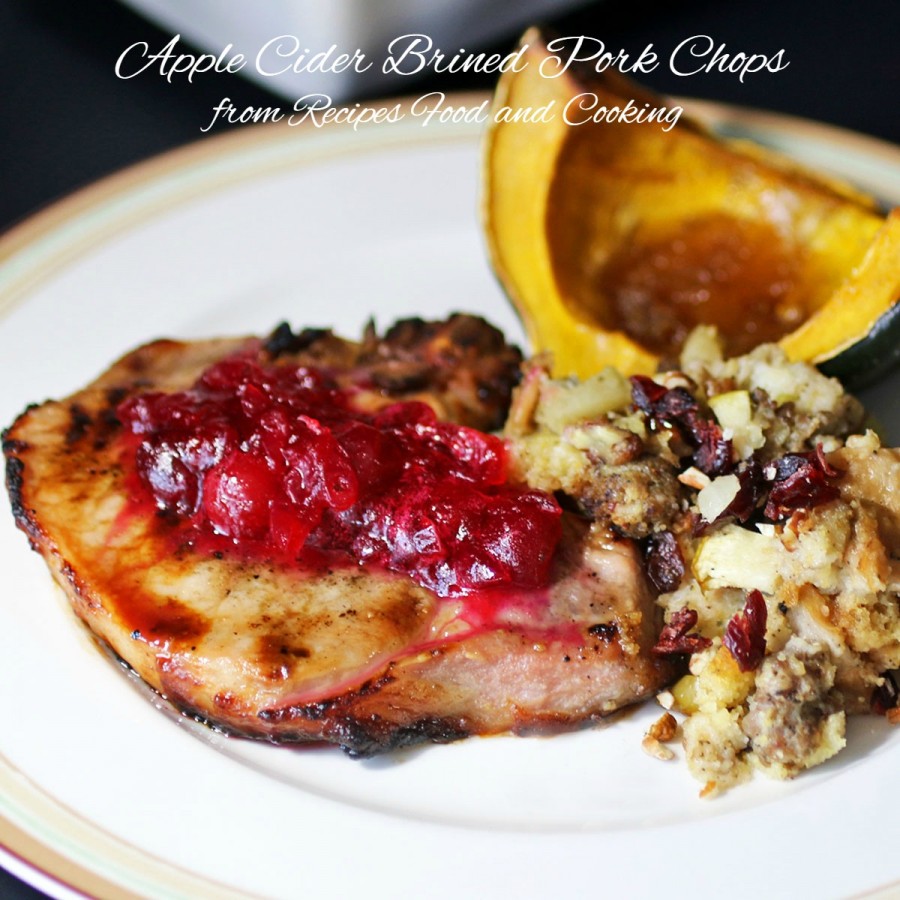 Apple Cider Brined Pork Chops
Recipe type:
Pork, Dinner
Prep time:
Cook time:
Total time:
Get your grill out and try these savory apple cider brined pork chops. Served with thanks and cranberry sauce, they are the perfect taste of fall.
Ingredients
4 New York Pork Chops (center cut)
Brine
1/4 cup honey
1/4 cup kosher salt
1 - 2 bay leaves
2 sprigs fresh thyme
1 teaspoon freshly ground pepper
2 cups apple cider
Instructions
Mix all of the brine ingredients together. Stir until it is all combined. Put half of the brine in a pan to marinate the pork chops. Add pork chops and pour remaining brine over them. Marinate for 30 minutes to 1 hour.
Heat grill to medium heat.
Remove pork chops from the brine. Pat the pork chops dry with a paper towel. I like to add a little more freshly ground pepper at this time.
Cook over medium heat for 5 minutes. Turn pork chops over and cook until done, about 3 - 5 minutes depending on the thickness of your pork chops. (pork chops should have an internal temperature between 145°F (medium rare) and 160°F (medium).) Let rest for 3 minutes before serving.
Be sure to follow the National Pork Board on Facebook, Twitter, Pinterest and Instagram.
Pin It!