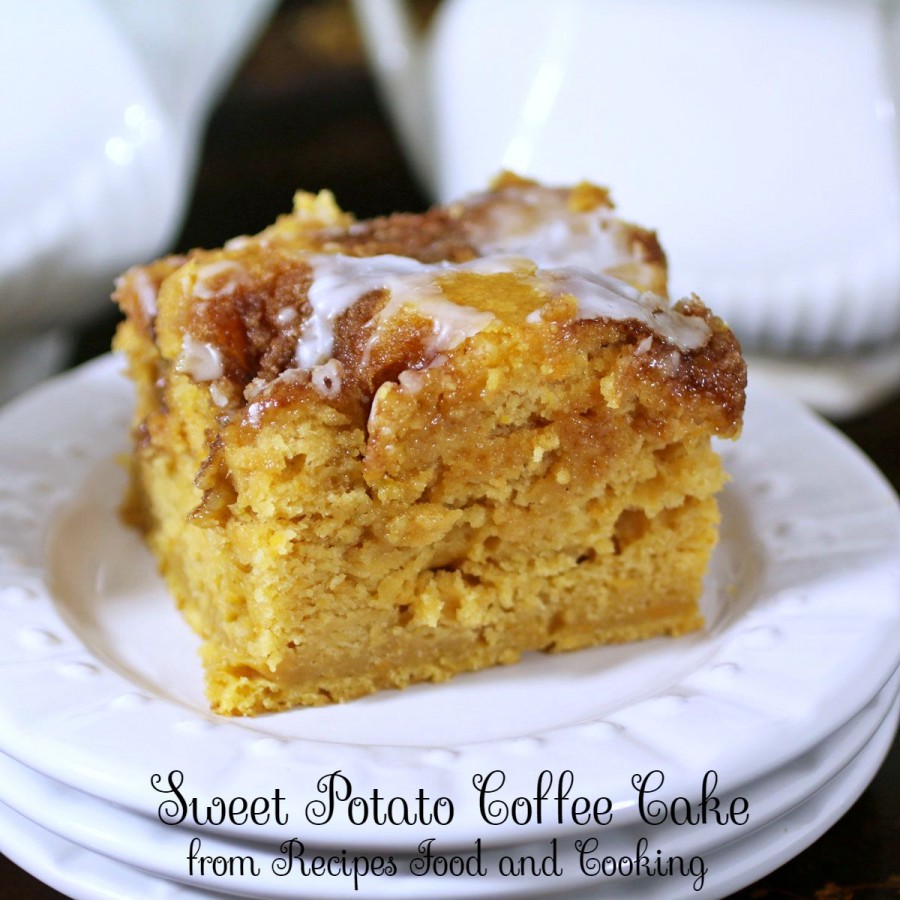 Sweet Potato Coffee Cake
Do you see all of the cracks and crevices in this delicious coffee cake?  They are full of brown sugar and cinnamon goodness! I'm hoping this coffee cake lasts until tomorrow because I have a feeling that tomorrow it is even going to be better than it is right now.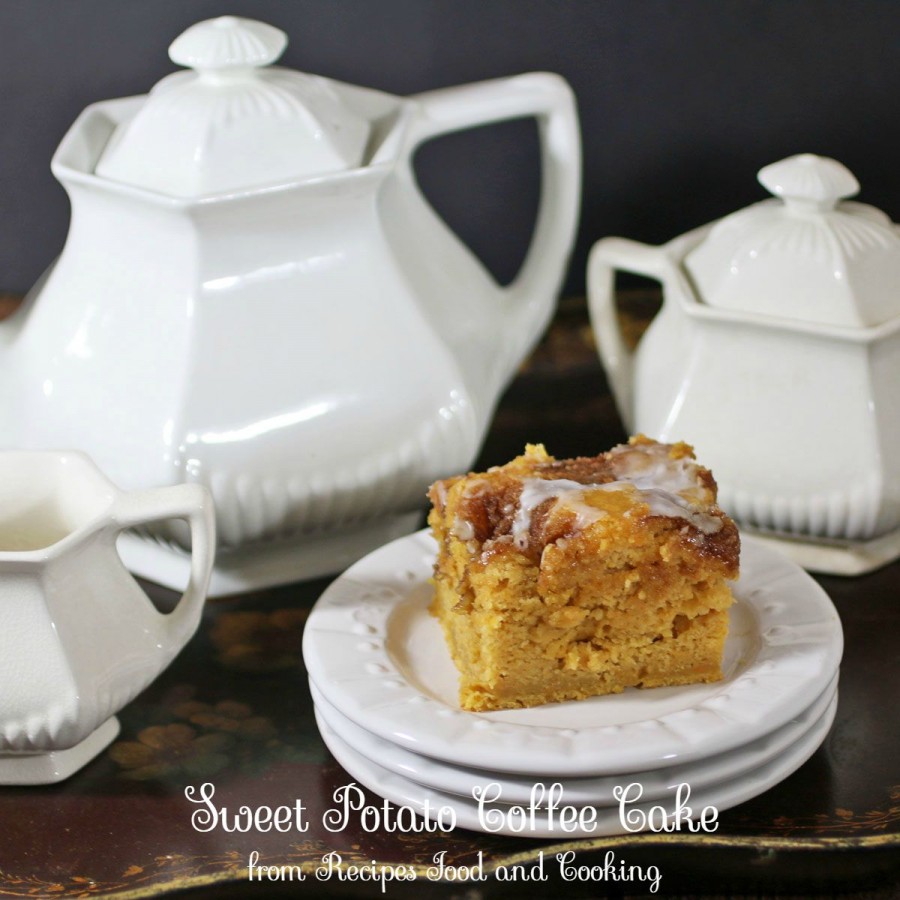 I got to thinking as I was editing these pictures tonight about what a different time this is compared to when I grew up. The coffee set in the background of these pictures belonged to my grandmother. I can remember seeing her use them growing up at special occasions or if a neighbor stopped by. It was always in her dining room on the buffet with her pretty teacups. She always kept something sweet on hand just in case someone visited. She'd of loved this coffee cake. People made time to visit when I was growing up. Today I rarely talk on the phone and everyone texts me who has something to say or messages me on Facebook. So if you're in my neighborhood stop on by. I miss those days.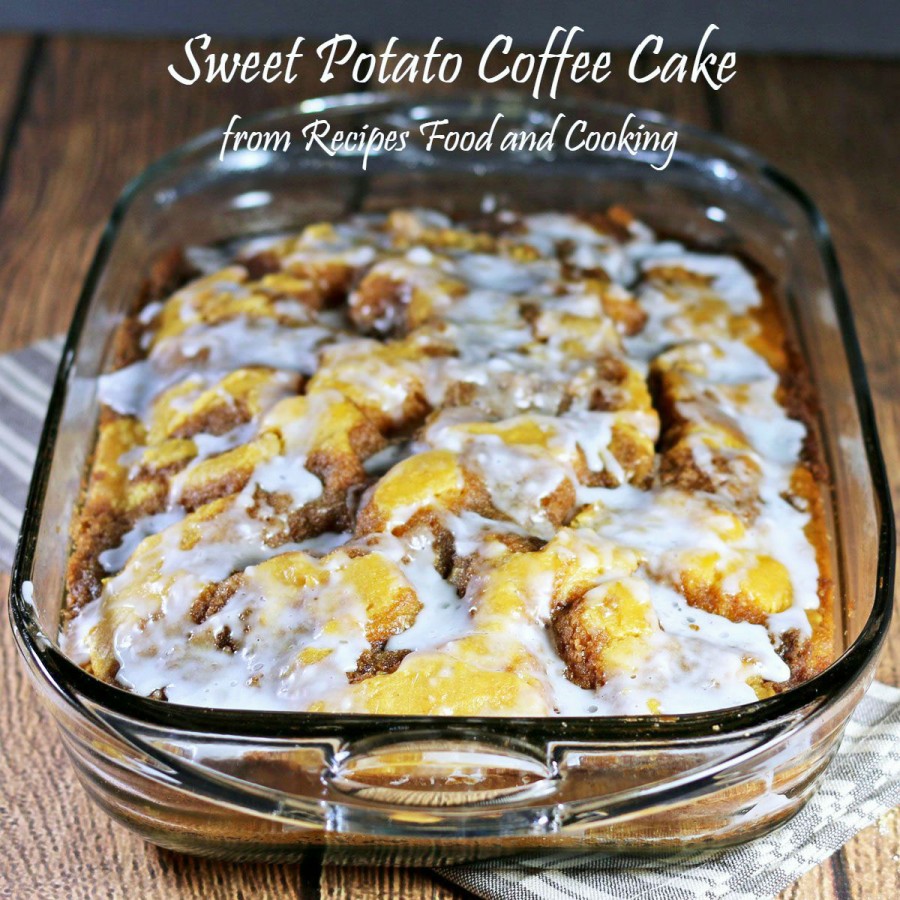 This cake is so moist and those cracks and crevices are amazing. The brown sugar cinnamon mixture just oozes down into the sweet potato coffee cake. When it comes out of the oven the butter is bubbling all around the edges. As it cools you're going to see it turn into delicious caramel edges. Then you are going to add an easy vanilla glaze over the top when it cools. I absolutely love the sweet potatoes in this but you could use pumpkin also.
Roast the sweet potatoes in the oven until they are tender. Don't try to cook the sweet potato on the stove, they will get it to wet. I wouldn't use canned sweet potatoes in this either.

Sweet Potato Coffee Cake
Recipe type:
Coffee Cake, Breakfast, Brunch
Prep time:
Cook time:
Total time:
Roasted sweet potatoes transformed into a delicious coffee cake with a cinnamon and brown sugar topping.
Ingredients
Cake
2 cups cooked sweet potatoes
1 cup sugar
2 eggs, beaten
2 teaspoons vanilla
1/2 cup butter, melted and cooled
11/2 cups milk
3 cups flour
1 teaspoon cinnamon
4 teaspoons baking powder
1/2 teaspoon nutmeg
1/2 teaspoon salt
Topping
1/2 cup butter softened
1 cup brown sugar
2 teaspoons cinnamon
pinch of salt
Glaze
1 1/2 cups confectionery sugar
2 - 3 tablespoons water
1/2 teaspoon vanilla
Instructions
Roast the sweet potatoes until tender in a 400 degree oven. Poke them with a fork before baking. The time will depend on the size of the potatoes. I used 2 large ones. They took 45 minutes. Cool.
Preheat oven to 350 degrees or 325 degrees for a glass pan. Spray the pan with cooking spray.
Remove the skins from the potatoes and put them in a mixer bowl. Mash them well. Add the sugar, eggs, butter and vanilla. Mix together until incorporated. Add the eggs. Mix well.
Mix together the flour, salt, baking powder, cinnamon and nutmeg. Add half of the mixture to the sweet potato mixture with half of the milk. Mix thoroughly. Add remaining flour and milk. Mix thoroughly. Pour the batter into the prepared 9 x 13 pan.
Mix together the topping ingredients. Spoon in teaspoons all over the top of the dough. Take a knife and lightly run thru the cinnamon mixture.
Bake for 45 - 55 minutes until a tester pulls out clean. Cool.
Mix together glaze ingredients. You want it to be a little runny. Glaze randomly over top of coffee cake.
Maybe you'd like to try our recipe for?
Apple Pecan Ooey Gooey Butter Coffee Cake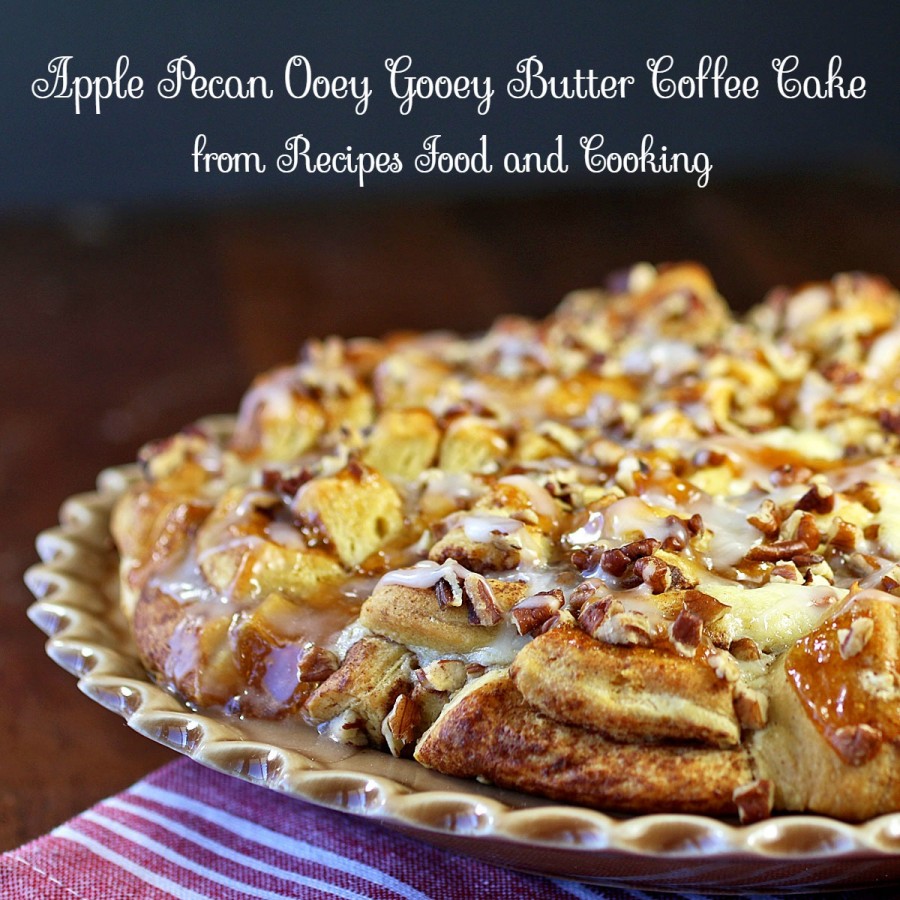 Pin It!