Copycat Spaghetti Sauce is made using only tomato paste as the main ingredient. This is supposed to be a copycat recipe of Italia Gardens.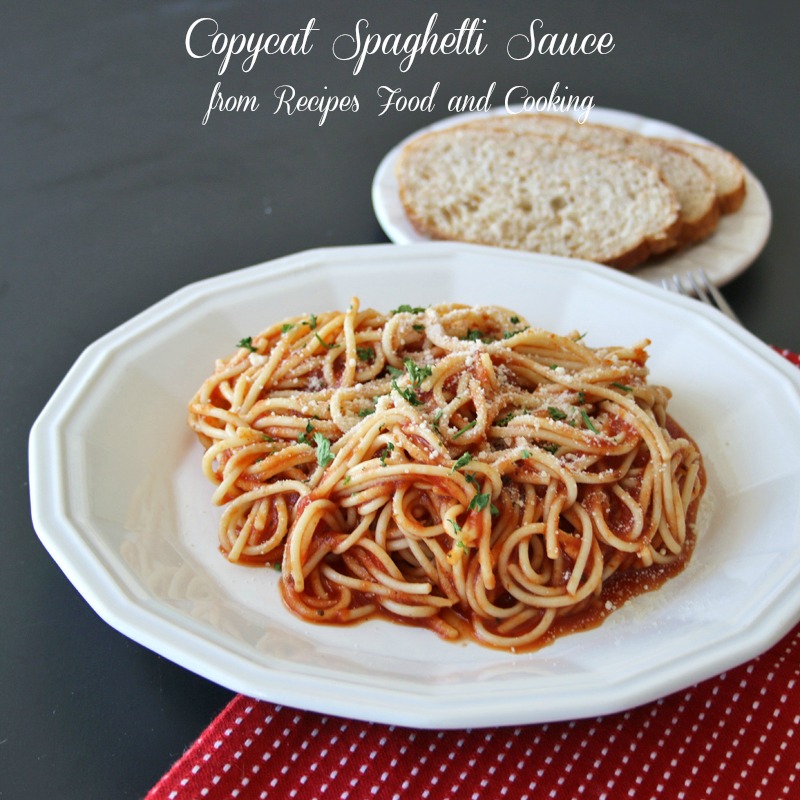 Copycat Spaghetti Sauce
This is supposed to be a clone of Italia's Gardens Spaghetti Sauce, whatever it is, it is delicious and oh so simple. I got this recipe years ago from my Aunt Janet on some sticky notes and for some reason I never lost track of it. I finally put it on a recipe card when I found it in my recipe box the other day. This sauce is very simple to make and despite the lack of lots of seasoning, this sauce works. My favorite meat sauce recipe has 4 tablespoons of basil in it alone. Kids love it, heck even I love it! There is no meat in it and it isn't a sauce I want to add it to either.
I was invited last week to a blogger luncheon that was given by Tuttorosso Tomatoes and hosted by Lydia Gray and Beth Richwine (#TuttorossoFamiglia) I couldn't wait to get home and make this sauce using their tomato paste. I have always known that all canned tomatoes were not created equally but until last Friday I never knew what a difference there was. I've never really been brand loyal when it came to tomatoes, now I know why sometimes when I'd make sauce I needed more spices or sugar added to it than I usually used. I once made chili that was so bitter because of the tomatoes I used that I threw it out. I had 3 people coming for lunch that day too. Do you know how bad those tomatoes had to be for that to happen? I've learned there is a huge difference in tomatoes from one brand to another.
It was interesting to learn the story behind the brand and we were shown a tape about how they harvest and process the tomatoes. Tuttorosso Tomatoes  has a brand new website too that is a lot of fun and filled with some wonderful recipes.
One of the things we did was to sample 8 different tomato brands. They opened the cans of whole tomatoes in front of us and then let us sample them all. The first thing you notice is the inconsistency of the whole tomatoes from brand to brand. Just looking at the tomatoes themselves revealed a huge difference. Some were broken, others crushed or had skins still on them. Several of them made me reach for a water bottle after tasting them. The organic tomatoes tasted the worst to me and it was what I would call a name brand tomato. It certainly was one of the most expensive. There was no doubt that the Tuttorosso Tomatoes were the best, not only in taste but appearance also. Sorry these are not the greatest pictures, I forgot my CF card for my camera and had to use my phone. But even with the out of focus picture you can see how perfect the can of whole Tuttorosso Tomatoes were.
We then were served a lunch that every course featured Tuttorosso Tomatoes, even the dessert at the Publix Cooking School. We started off with a gorgeous appetizer of a tomato and artichoke bruschetta, followed with a tomato cream soup and half of a grilled cheese. That was followed by a Hunter Stew and dessert was Candied Tomatoes over a Sweet Cornbread Crumble. If you are wondering how that was, it really worked.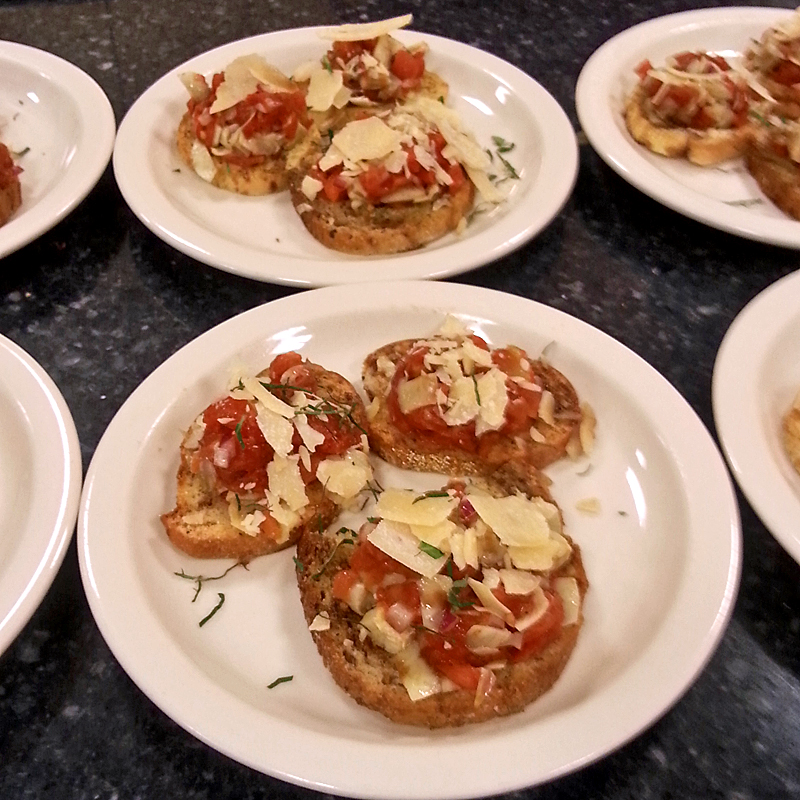 After lunch we were given swag bags full of products and a beautifully crafted wooden spoon. It has their name on it and also "The most important ingredient is you".  I think everyone must have some story about a dinner with spaghetti sauce, I know I do. Many years ago I babysat my 2 nieces because their dad was in the hospital and I knew my sister wasn't going to have time to cook so I made them a huge pot of spaghetti sauce to take home. They got a few blocks from my house when a 14 year old boy who had taken his mothers car for a joy ride, hit them. One of my nieces had the sauce on her lap and it went flying everywhere! When the police got there they were only concerned about my nieces being hurt because they were covered in sauce and and he thought they were injured. In his defense, it was nighttime or I'm not sure he would of thought that. It wasn't funny at the time but as the years pass we laugh about it now. What's your favorite sauce story? Leave me a comment below (by November 26, 2014) and I'll send one lucky person your own Tuttorosso wooden spoon that is sure to become a heirloom at your house.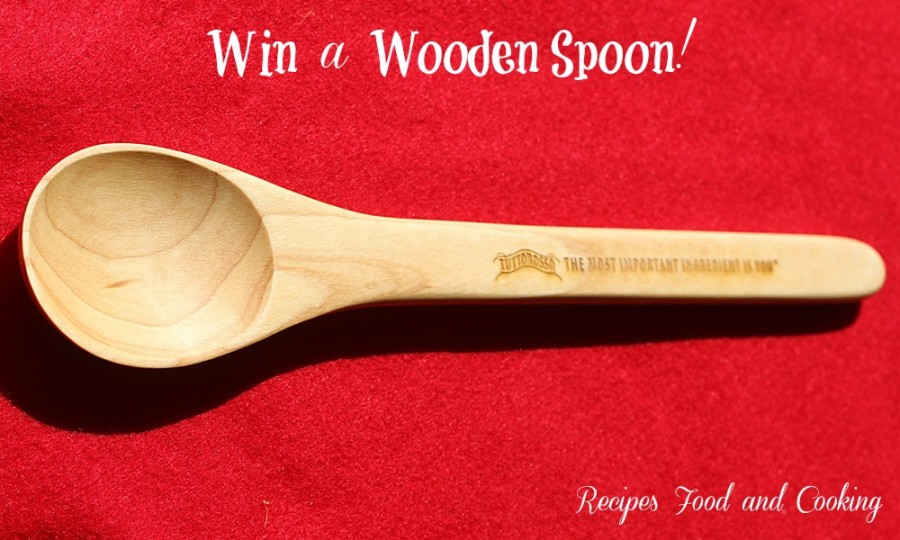 All said it was a great morning and I learned that I am only buying Tuttorosso Tomatoes from now on. I used them again today to make my tomato sauce for Spaghetti Pie and Lasagna which I'll share with you real soon.
Copycat Spaghetti Sauce
Prep time:
Cook time:
Total time:
Copycat spaghetti sauce recipe from Italian Gardens.
Ingredients
3 cups tomato paste
1 qt. water
1/2 cup onion
1/2 cup sugar
1/2 teaspoon black pepper
1 1/2 teaspoons salt
1 teaspoon dried basil
1/2 teaspoon garlic powder
Instructions
Combine all of the ingredients in a large pot. Stir to combine everything.
Cook over medium heat for at least a hour until it thickens to a sauce consistency.
Note: All of the opinions expressed in this post are my own and I was not required to post about Tuttorosso Tomatoes as an incentive for attending the luncheon.
Maybe you'd like to try?