Slightly spicy seafood stew full of vegetables and lobster, shrimp and cod.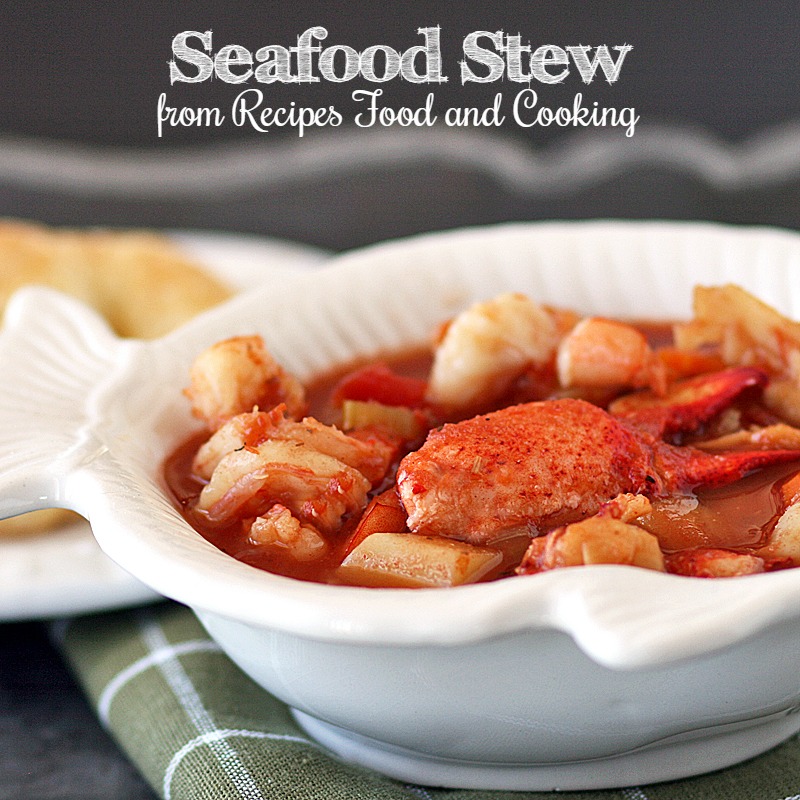 Seafood Stew
I am officially on a path to eat healthier. That is the hardest thing for me about being a food blogger, all of the food you have around. It doesn't help either that I am not cooking for a family so that the joy can be shared. I give a lot of it away but I'm going to start doing even more of that. Does that mean that I am going to stop making all of the sugary recipes that I make now, no way! Anything in moderation isn't bad for you it's when you don't practice restraint that it can get you in trouble. For years I have made excuses, that ends now.
This seafood stew is so healthy. There is no additional fat added to it. All of the vegetables were cooked in the tomato broth. For the seafood I used a mixture of lobster, shrimp and cod. You can use any mixture you want or pick just one type of seafood, you need about a pound total for this dish. Trader Joe's sells a great package of mixed seafood in their freezer case. I cooked the broth for about 45 minutes and then added the seafood and removed it from the heat 5 minutes later so that the seafood wouldn't toughen.
Seafood Stew
Prep time:
Cook time:
Total time:
Slightly spicy seafood stew full of vegetables and lobster, shrimp and cod.
Ingredients
1 lb. mixed seafood (I used lobster, shrimp and cod)
1 28 oz. can crushed tomatoes
1 28 oz. can water
4 - 6 cloves of garlic
1 1/2 cups celery
1 1/2 cups onions
1 1/2 cups carrots
1/4 cup chopped shallots
2 cups potatoes
1 teaspoon salt
1 teaspoon pepper
1 teaspoon basil
1 teaspoon Greek seasoning
1 teaspoon Sriracha sauce (optional)
Instructions
Add the chopped vegetables except potatoes to a large dutch oven. Add the tomatoes and water. Add the seasonings.
Cook over medium low heat until vegetables are tender, about 20 - 25 minutes.
Add the potatoes, cook until they are tender, about 15 minutes. Add the Sriracha sauce if using.
Add the seafood, cook for about 5 minutes and remove from heat.
Maybe you'd like to try?