Apple Cider Caramel Carmelitas are made with homemade apple cider caramels, chocolate and a buttery oat crust.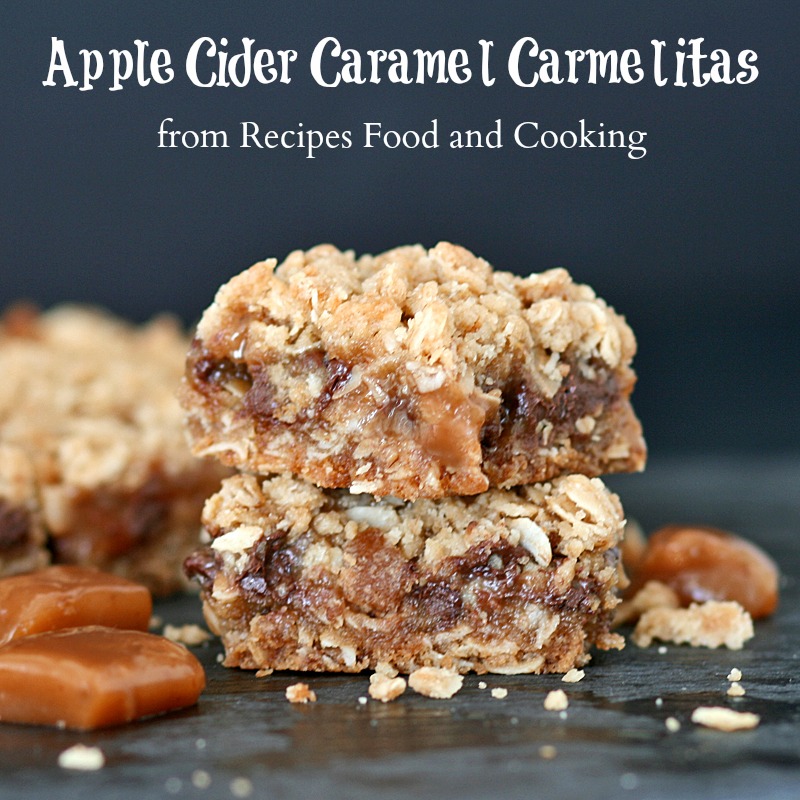 Apple Cider Caramel Carmelitas
I've had this  recipe on mind for more than a month ago and decided it was finally time to make it. I had made some apple cider caramels this week and decided to use them in these easy to make bar cookies. There is no mixer needed for this recipe, it can be all mixed up by hand. These are so good, they have a buttery oat crust with caramel; and chocolate.
If you don't have time to make the cider apple caramels which by the way taste just like eating a caramel apple, bought caramels can be used. You'll need about 32 caramels. If you make the cider caramel recipe you'll need about 2/3rds of it for this and that will give you a few leftover to snack on.
Apple Cider Caramel Carmelitas
Prep time:
Cook time:
Total time:
Buttery oat topping and crust with a chocolate and caramel filling.
Ingredients
Apple Cider Caramels
4 cups apple cider
1 teaspoon ground cinnamon
8 tablespoons (1 stick) butter, cut into chunks
1 cup granulated sugar
1/2 cup light brown sugar, packed
1/3 cup heavy cream
Carmelitas
32 caramels, unwrapped (such as Kraft) or 2/3 of the recipe above
1/2 cup heavy cream
1 cup all-purpose flour
1 cup old fashioned rolled oats
3/4 cup packed light brown sugar
1 teaspoon baking soda
1/4 teaspoon salt
1/2 cup butter
1 teaspoon vanilla extract
1 cup semi-sweet chocolate chips
Instructions
Apple Cider Caramels
Boil the apple cider in a saucepan until it is reduced to about a 1/2 cup. Watch carefully towards the end as it can burn quickly. When large bubbles start to form, this is when you need to watching and stirring it. This takes about 40 minutes.
Remove the pan from the heat and stir in the butter, sugars and heavy cream. Put back on the burner over medium heat. Stir often to keep it from burning. Cook until it reaches 252 degrees on a candy thermometer. Stir in salt and cinnamon.
Have a 9 x 9 pan lined with parchment paper ready. Pour mixture into pan. Cool for at least 2 hours before cutting into pieces. Refrigerating will speed the process.
To Make the Carmelitas
Unwrap the caramels if using store bought or cut into pieces 2/3 of the cider caramels above. Add to a microwave safe dish with the cream. (use 1/2 cup heavy cream with store bought caramels or 1/3 cup heavy cream with the cider caramels) Melt in the microwave and stir until creamy, about 1 minute.
Melt the butter in the microwave. Add vanilla to butter.
In a bowl combine the oat, flour, baking soda, salt and sugar. Stir until mixed together. Pour the butter mixture over and stir until all is coated with the butter. Put half of the mixture in the bottom of an 8 x 8 pan that was lined with parchment paper. Press down. Bake at 350 degrees for 8 - 10 minutes.
Immediately add the chocolate chip on top of the crust. Pour the caramel mix over the chocolate chips. Top with the remaining oat mixture.
Bake for 25 minutes or until golden brown. Let set for at least 2 hours before cutting. If you are in a hurry put them in the refrigerator after it has been out of the oven 30 minutes.
Cut into squares to serve.
Maybe you'd like to try our Pecan Turtle Bars?