Salmon Cakes are made with chunks of salmon, green onions, sweet peppers and celery. These were seasoned with a little ranch dressing.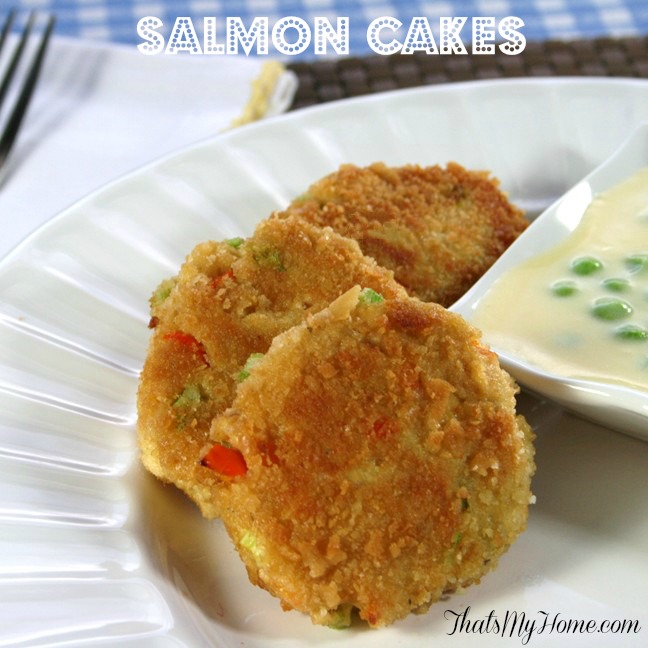 Salmon Cakes Recipe
Here is an oldie but goodie recipe. I saw a can of salmon in my lazy susan today and decided right away it was time to make salmon cakes. I usually buy it in the pouches now because it is all ready to use, I got a few cans recently at a really good price so I picked up a couple. I decided right away no more canned, the pouches or fresh is the only way I am buying it. I opened up a pouch of it also and was really surprised that there was such a big difference in the quality of the 2 products.
Salmon patties are easy to make, be sure to finely chop your vegetables or they won't get done. These cook fairly quickly. You can also lightly brown them and put them in the oven for 10 minutes.
I served them with some roasted potatoes. Oven roasted potatoes couldn't be easier. I cut my potatoes into 6 or 8 pieces depending on the size of them. Preheat your over to 450 degrees. Spray a cookie sheet with cooking spray. Place your potatoes on the cookie sheet and give them a quick spray. Then I use about a tablespoon of oil for every 3 potatoes. Salt and pepper them well. Add a little additional spice to them if you want like garlic, seasoning salt or even basil or curry powder depending on what you are serving them with. These potatoes bake in about 15 minutes, turn them over one time.
As you can see in the picture I also served these with some creamed peas in light cheddar cream sauce. I love dipping the salmon in the creamy goodness against the crunch of the peas. Weird I know but I grew up eating them that way at my grandmothers house. She would also serve the creamed peas over toast for a light lunch.
Salmon Cakes with Roasted Potatoes
Prep time:
Cook time:
Total time:
Salmon Cakes are made with chunks of salmon, green onions, sweet peppers and celery. These were seasoned with a little ranch dressing.
Ingredients
2 pouches salmon
1/3 cup finely chopped mini peppers
1/3 cup finely chopped green onions or sweet onion
1/3 cup finely chopped celery
2 eggs - beaten
1 cup cracker crumbs
3 tablespoons ranch dressing or mayonnaise
black pepper
Oil for frying
Instructions
Chop all of your vegetables finely.
Add the salmon and vegetables to a mixing bowl. Break up the salmon with a fork.
Add the beaten eggs, 1/2 cup cracker crumbs, dressing and black pepper to taste. Stir until mixed together.
Place remaining cracker crumbs on a plate. (you may need a little more)
Make patties using about 1/3 of a cup of the salmon mixture. Place in the cracker crumbs.
Heat a pan with the oil and place patties in pan when it is hot. Cook over medium heat until browned and cooked through out. (You can also place them on a cookie sheet and bake them for 10 minutes at 350 degrees after you have lightly browned them.) Drain on a paper towel before serving.

Salmon Cakes with Roasted Potatoes
Maybe you'd like to try?