Cordon Bleu Pizza with a garlic cream sauce, chicken breast, ham strips, green onions and Italian cheeses.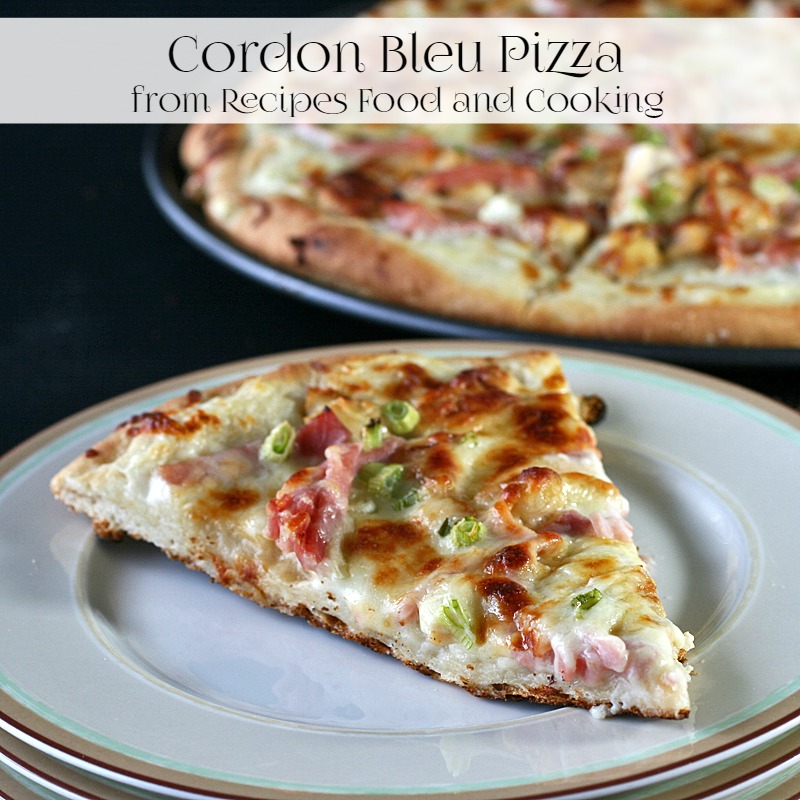 Cordon Bleu Pizza
Love, love this pizza. It is ready pretty quickly too when you use Fleischmann's Pizza Yeast for the dough. I was sent the yeast by Fleischmann's for an upcoming post I am doing so tonight was test night so I could see how this yeast worked. This was the crispiest crust on a homemade pizza I have ever made. This yeast is different than regular yeast because you don't have to wait for it to raise to make the pizza. Just mix it up, knead it for about 4 minutes and roll or pat the dough out on your pizza pan. Because this yeast has dough enhancers in it when you make the crust it won't bounce back or shrink like a dough using regular yeast will do. I really like the yeast and can't wait to make some more pizza's tomorrow.
Only this time I'm going to do as the directions say to do. When I did this dough I just did what I would do for any kind of yeast dough. I made it before I wanted it and covered it to let it raise. After I had the pizza tonight I googled the pizza yeast to see what others were saying about it. I learned then I didn't need to let it raise.  Now what is even worse about this  tale is Fleischmann's even sent me a really nice 8 x 11 laminated card on how to make the dough.  I'm reading it now…. LOL and women talk about men who won't stop to get directions.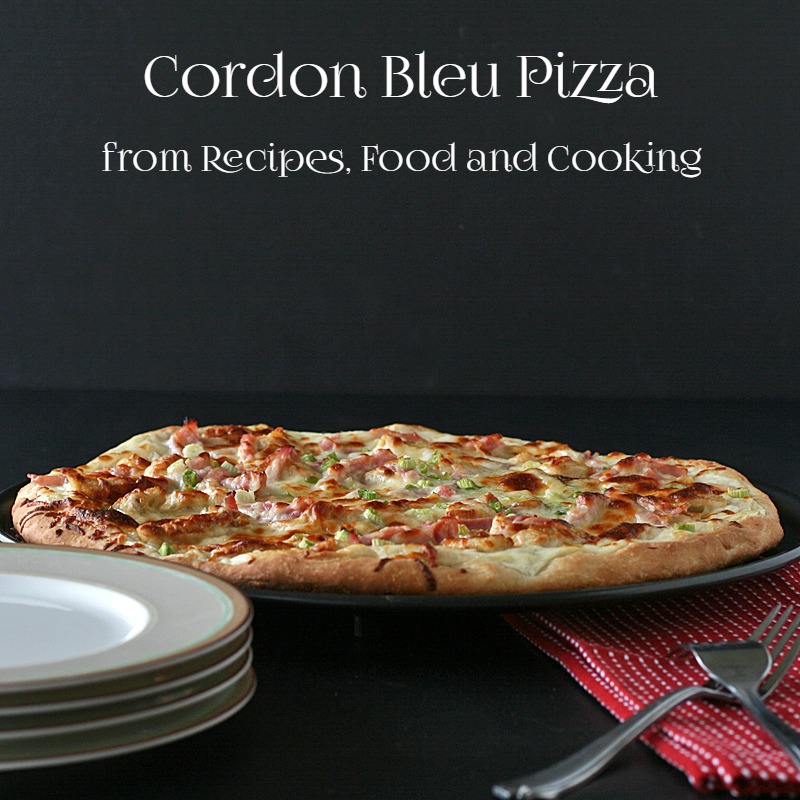 Cordon Bleu Pizza
Prep time:
Cook time:
Total time:
Ingredients
Dough
1 package Fleischmann's Pizza Dough Yeast
1 3/4 - 2 1/4 cups flour
1 1/2 teaspoons sugar
3/4 teaspoon salt
2/3 cup very warm water
3 tablespoons oil
White Sauce
2 tablespoons butter
2 tablespoons flour
1 1/2 cups milk
2 minced garlic cloves
1/2 teaspoon salt
1/3 cup parmesan cheese (optional)
Topping
3/4 lb. chicken breast
salt and pepper
1/4 lb. sliced ham
3 green onions
1 1/2 cups Italian cheese
Instructions
Make the white sauce, melt the butter in a saucepan. Add the garlic and salt. Stir constantly while adding the milk. When it is thick stir in the parmesan cheese. Sit aside to let cool slightly.
Dice the chicken into bite size pieces. Spray a frying pan with cooking spray. Add the chicken and brown on both sides. Season with salt and pepper.
Cut the ham into thin strips. Chop the green onions. Set aside.
Combine 1 cup of flour, yeast, sugar and salt in a large bowl. Add water and oil. Mix together for about 1 minute. Add another 1/2 cup of flour gradually until it forms a ball. Add additional flour if needed.
Spoon the dough out onto a floured surface. Knead the dough for about 4 minutes until dough is soft and elastic.
Roll out the dough into a 12 inch circle.
Press the dough out onto a pizza pan. Add the toppings.
First add the white sauce. Then spread the chicken on top. Add the sliced ham, then the cheese. Sprinkle green onions on top.
Bake at 450 degrees for about 10 minutes.
One more thing on this dough, you're going to see a wide range on the flour amount. This is because of several different reasons. One, flours are different even when they all say All Purpose. It can be different because of the wheat that was used for it, winter or summer wheat are 2 of the different ones. It can also depend on how it is stored. I had forgotten and left a bag out on my shelf in the carport this summer. It was there about a month. That flour had packed itself down from the humidity. It really needed to be sifted to use it. It formed tiny balls that wouldn't dissolve when mixed into something or into water. This bag of flour by the cup was very heavy, I am guessing that a cup of it would of equaled 1 1/3 cups if I had weighted it. This is one of the reasons that professional bakers measure by weights. A good rule to remember when using flour from a canister or even from a bag is to fluff the flour up a bit before using it. I do this by scooping a cup into it and then pouring it slowly back to the bag or canister. I do this several times before I measure it.
This pizza uses a white sauce instead of pizza sauce enhanced with a little bit of garlic and parmesan cheese. My toppings on this pizza was chicken breast bites, ham and green onions with an Italian cheese topping.
Maybe you'd like to try one of our other Pizzas?