Snickers Chocolate Cookie Bars are big, delicious bars full of snickers.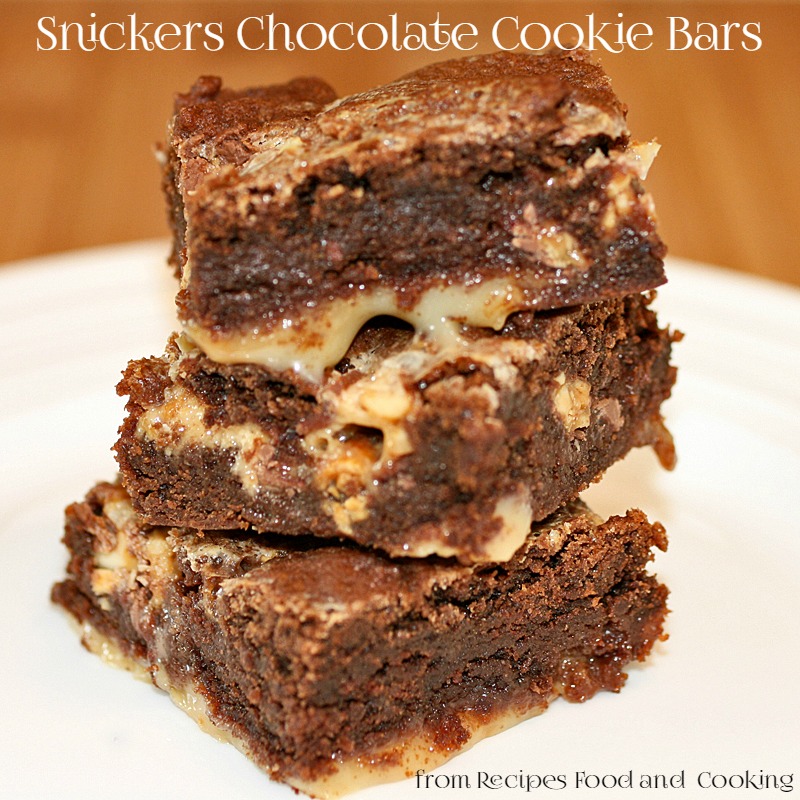 Snickers Chocolate Cookie Bars
Tonight a couple of my cousins and my aunt are coming for a couple of days. I am not sure what time they are going to get here so we are having dessert for dinner tonight. This is one of the things I have made and will share the rest with you later. I have truffles to dip in a few and a cake to bake.
This is a wonderful cookie recipe and easy to make. I would double it if you need a big batch of cookies and that way you use up the can of condensed milk. You can use whatever kind of candy you want, peanut butter cups, rolos, milky way and I bet butterfingers would be great also. Whatever you decide to use I know these cookies will be devoured!
Visit me on Facebook, and like me if you want to know when new recipes are posted.
I am also on Pinterest.

Snickers Chocolate Cookie Bars
Prep time:
Cook time:
Total time:
Big delicious chocolate bars full of Snickers.
Ingredients
1/2 cup butter, melted
1 large egg
3/4 cup light brown sugar, packed
1/4 cup granulated sugar
2 tablespoons water
1 tablespoon vanilla extract
1 1/2 cups all-purpose flour
1/3 cup unsweetened cocoa
1/2 teaspoon baking soda
pinch salt
1 1/2 cups diced Snickers
about 1/2 cup sweetened condensed milk
Instructions
Preheat oven to 350 F. Line an 8 x 8 inch baking pan with parchment paper, set aside.
In a large microwave-safe bowl, melt the butter, about 1 minute. Cool slightly. Add the egg, sugars, water, vanilla, and stir or whisk vigorously to combine, about 1 minute.
Add the flour, cocoa powder, baking soda, optional salt and stir until just incorporated. Dough will be quite thick and dense.
Reserve about 2/3 cup dough; set aside. Turn remaining dough out into prepared pan, smoothing it lightly with a spatula. Evenly sprinkle the Snickers over the dough. Crumble the reserved cookie dough over the top in irregular, marble-sized chunks. Pour sweetened condensed milk over the top.
Bake for about 27 to 30 minutes, or until center is mostly set.
Allow bars to cool in pan for at least 3 hours before slicing and serving.
Yield: one 8-by-8-inch pan, 9 to 12 squares