Apple Fritter Monkey Bread is bites of apples, enrobed in caramelized nuggets of sweet bread and then topped off with cream cheese icing.

Apple Fritter Monkey Bread
I love apple season and this recipe is one of the recipes why. Bites of apples are enrobed in caramelized nuggets of sweet bread and then topped off with cream cheese icing. You seriously have to try this recipe! You will want to use the biggest bundt pan you have, this one I used needed to be larger because I had enough of the dough mixture left to make these 4 giant Apple Fritter Monkey Bread Muffins.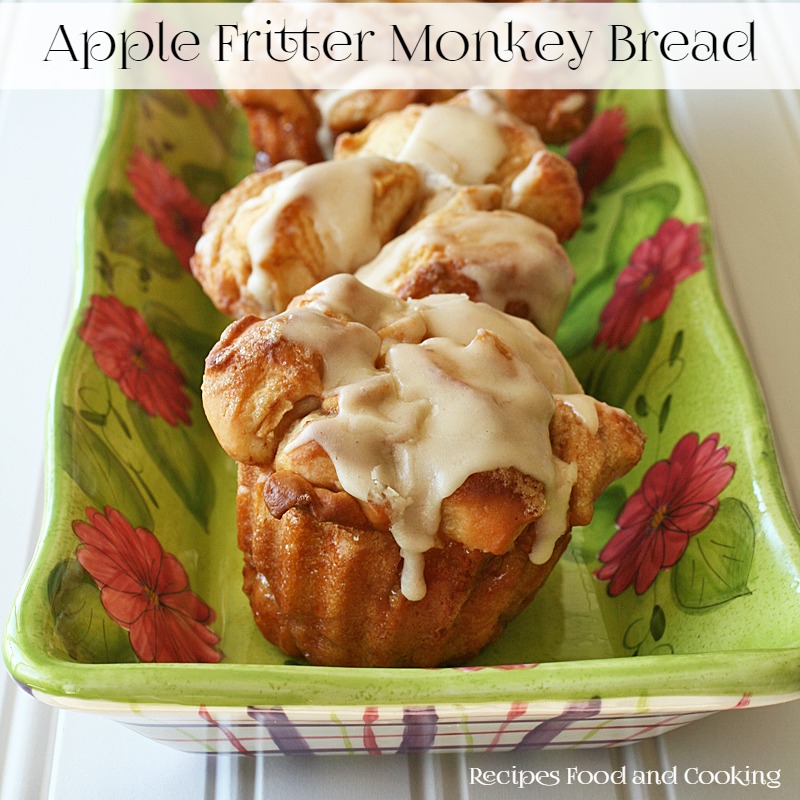 These were baked in the Jumbo Wilton Cupcake Pan. I also would be sure to put a cookie sheet under the bundt pan because I had some of the caramel bubble out of the pan. It would of been a real mess if I wouldn't have done that, not to mention that burning caramel on the oven floor is no where near as heavenly as the smell of cinnamon, apples and bread is.
This recipe makes a lot, next time I would tempted to make 2 out of the recipe and freeze the second one before baking. Now I just want to show you up close just how much caramel goodness there is with this recipe.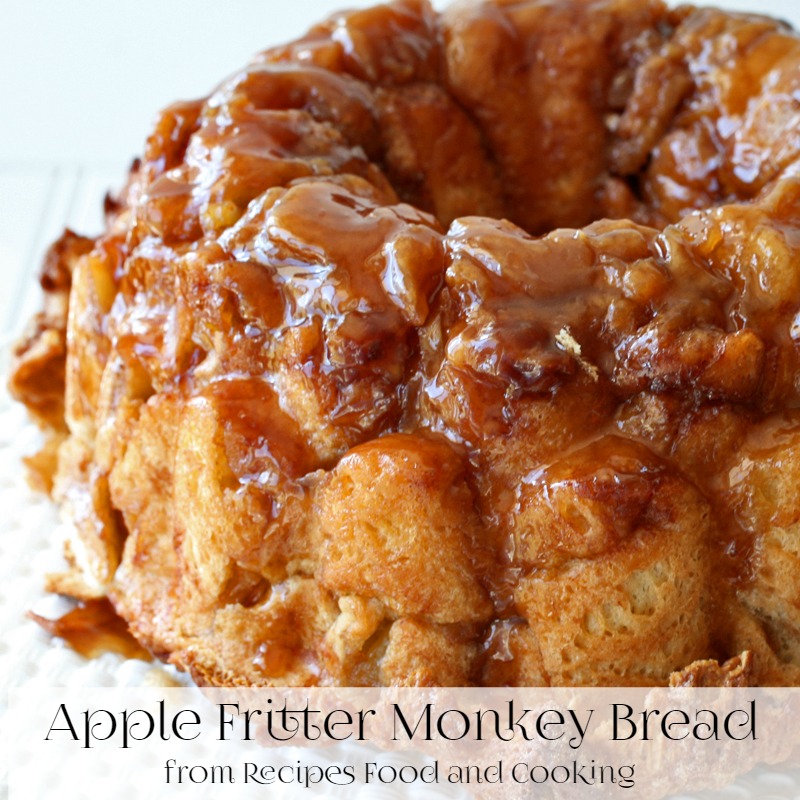 Apple Fritter Monkey Bread
Prep time:
Cook time:
Total time:
Bites of apples are enrobed in caramelized nuggets of sweet bread and then topped off with cream cheese icing.
Ingredients
Bread
2 1/4 teaspoons active dry yeast or 1 package
1/4 cup warm water
1 1/4 cups warm milk
1/3 cup butter, melted
2 large eggs
1/4 cup white sugar
1 teaspoon salt
5 cups all purpose flour
Coating Mixture
1 cup unsalted butter, melted
1 1/4 cup white sugar
2/3 cup light brown sugar
1 teaspoon pure vanilla extract
1 tablespoon cinnamon
Apple Mixture
3 apples, peeled and diced in small pieces
3 tablespoons white sugar
1 teaspoon cinnamon
Icing
2 cups confectionery sugar
4 tablespoons cream cheese
2 tablespoons butter
2 tablespoons milk
1 teaspoon vanilla
Instructions
Add the yeast, warm water and 1 teaspoon of the white sugar in a small bowl. Mix together and let sit for 5 minutes until mixture is bubbly.
Add the milk, eggs, butter, remaining sugar to a mixing bowl. Beat until combined.
Stir in the yeast.
Add the flour and salt. Mix with a dough hook until well combined. If needed add a little more flour, Knead with a dough hook for 7 - 9 minutes. Dough will pull away from the sides of the bowl and become soft and supple. Cover dough and let raise until doubled.
Peel the apples and add with the sugar and cinnamon in a small bowl. Cover and set aside.
Melt the butter for the coating mixture. Add the rest of the coating ingredients and mix together, set aside.
Place dough on a floured surface. Roll our into a 16 x 16 square. Place a third of the apple mixture on 2/3 of the dough. Fold over the piece that doesn't have apples on it over the apple mixture. Roll out dough again and repeat 2 more times. This doesn't need to be perfect, you are going to be chopping the dough into small pieces. Your goal is to incorporate the apples into the dough.
Flatten dough out again and cut into 1 1/2 inch strips. Cut the strips into 1 1/2 inch squares. Roll the pieces the best you can and dip into the coating mixture. Place the balls in a greased bundt pan. Fill to about 60% full. Do not overfill. If you have extra place in another pan. Cover and let raise until doubled.
Bake at 350 degrees on a cookie sheet for about 40 minutes. Check at 35 minutes. Baking time is going to depend on the size of your bundt pan.
While monkey bread is baking mix together the Icing ingredients. Put on Monkey Bread while still warm.
Maybe you'd like to try?