Tender, delicious vanilla cupcakes bursting with raspberries, topped with raspberry buttercream and decorated with chocolate hearts.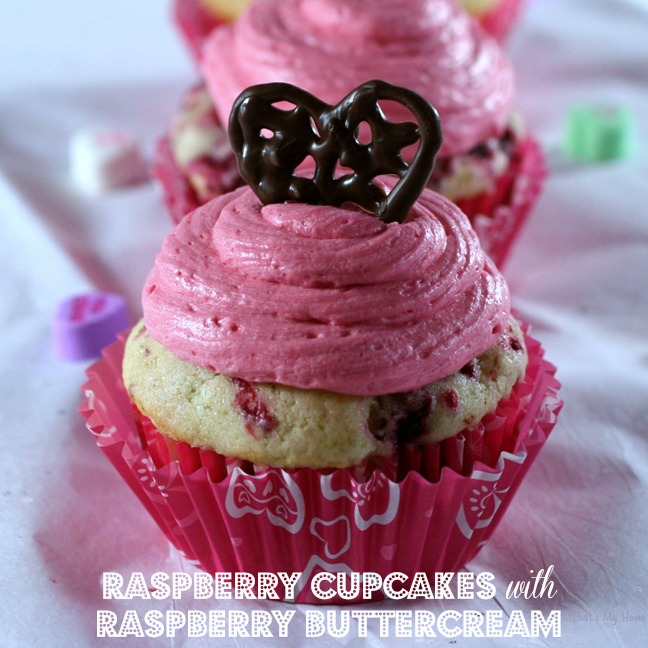 Raspberry Cupcakes with Raspberry Buttercream Recipe
Do you have a raspberry lover in your life? If you do these cupcakes might just be the perfect Valentine's Day treat. I had a real fun time making them. It was one of those mornings that whatever could go wrong did. First I had the eggs and sugar going in the mixer, the oven heating and went to gather the rest of the ingredients. When I went to grab the baking powder I couldn't find it. I searched everywhere and then it dawned on me I had taken a box full of baking stuff to Florida when I went over Christmas and left the box there. Yep, baking powder and vanilla in Florida. So I turned my oven off and ran (drove) to the store for baking powder. I get home, get going again and when I go to add the last cup of flour my mixer got stuck and flour went everywhere. So then I had to estimate how much had gone flying to finish.
This recipe makes a great cupcake, close to a pound cake kind of texture but not heavy like one. The only thing I will do when I make them again is to add some real vanilla bean in it to burst that vanilla flavor even more. These were good as they are but would be over the top if you used some real vanilla bean into them. I used the leftover raspberries in the buttercream and I am not a big frosting lover but the frosting bursts with raspberry flavor. I almost like the frosting better than the cupcakes. Yep, I just said that for those of you that know me well.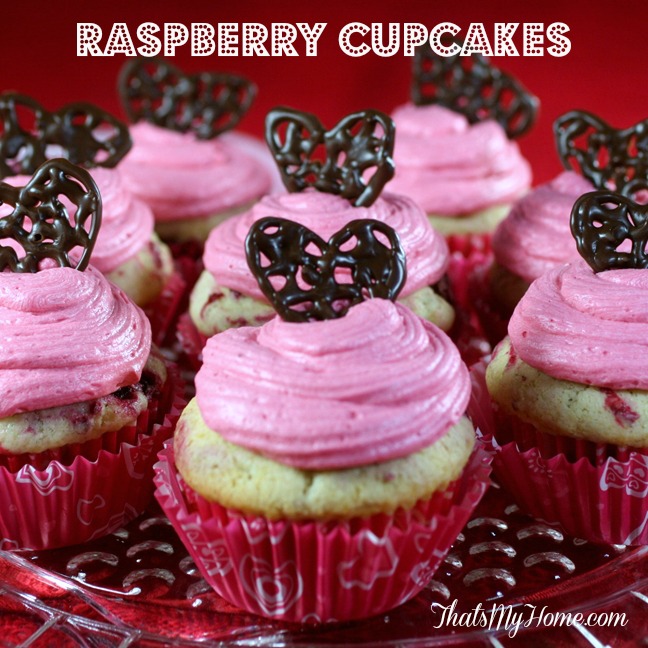 I decided to decorate the cupcakes with chocolate hearts. They are so easy to do. I used a small heart cookie cutter and traced it 20 times on a piece of parchment paper. I added a small amount of chocolate to a squeeze bottle and microwaved it at half power to melt it. Turn over the parchment paper. I taped mine to a small bread board so I could put them in the freezer to harden quickly. Squeeze the chocolate out around the heart outline and then fill it in with squiggly lines or you could fill the entire heart in. Either way works well.
Raspberry Cupcakes with Raspberry Buttercream
Prep time:
Cook time:
Total time:
Tender, delicious vanilla cupcakes bursting with raspberries, topped with raspberry buttercream and decorated with chocolate hearts.
Ingredients
3 cups all purpose flour
1 tablespoon baking powder
1 teaspoon salt
1 2/3 cups sugar
3/4 cup butter – room temperature
3 large eggs – room temperature
2 teaspoons vanilla
1 cup buttermilk (scant 1 cup of milk with 1 tablespoon vinegar)
2 cups raspberries
Instructions
Preheat oven to 350 degrees.
Put butter and sugar in your mixing bowl fitted with the wire whisk. Beat together until light and fluffy.
Add eggs one at a time and mix in thoroughly before added another egg. Add vanilla.
Mix together the flour, baking powder and salt.
Add 1/3 of the flour mixture and 1/3 of the buttermilk. Mix until incorporated. Repeat 2 times.
Fold in raspberries with a spatula. Scoop out batter into cupcake liners.
Bake for 18 - 20 minutes or until cupcakes spring back when touched lightly in the center. Cool.
Note: I used a package of frozen raspberries to make these. One package is enough for both the cupcakes and frosting. You need 3 cups of raspberries to make this recipe.
Raspberry Buttercream
1/2 cup butter – at room temperature
3 cups confectioner's sugar
1 cup raspberries
1 teaspoon vanilla
dash of salt
2 – 3 tablespoons milk – as needed
Mash the raspberries. Put them in sieve to remove the seeds.
Add the butter and 1 cup of the confectioner's sugar in your mixing bowl with a wire whisk. Mix until thoroughly mixed together. Add the juice from the raspberries, vanilla and a dash of salt. Mix together and add the remaining confectioner's sugar. Add milk if it is too thick. Beat the frosting for about 5 minutes until light and fluffy. Pipe on cupcakes.