My favorite at Christmastime, these are the perfect bite. They have a buttery pie shell with a sweet pecan filling.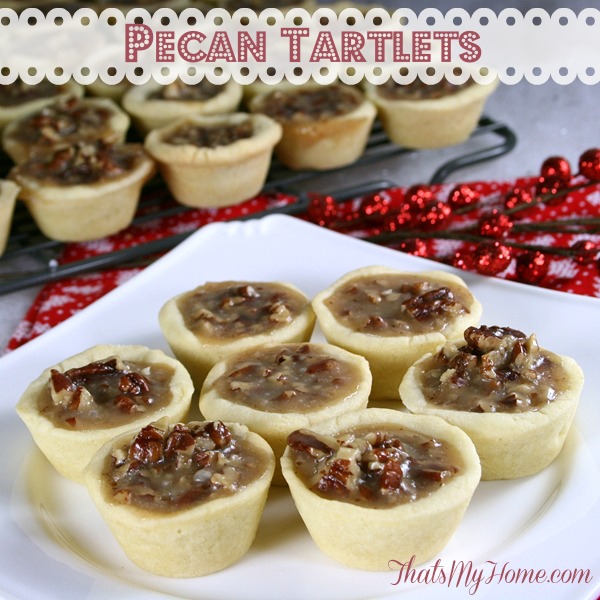 Pecan Tartlets
This is my favorite cookie recipe and I think it is an old bake off recipe. If I could only make one kind of Christmas cookie this would be it. I know it isn't a cookie but it is cookie size and looks gorgeous on the cookie tray. The easiest way to make the shells for these is with a tart tamper.
It makes life so much easier with this kitchen tool. You want to make sure that you don't use too much dough or you won't have room for the filling. I have learned to use a ball of dough a little less than the size of a walnut or do as I do and weigh it. I use .06 oz. for each one. If you double the recipe which I do I get 58 mini tarts. One of my mini tart pans is a little larger than usual so I think you could get 60 of them if you weigh the dough out. Usually I get 48 when I don't weigh the dough. I cook the filling before I make the dough which gives it time to cool which I have found keeps them from oozing the filling out that last 5 minutes of baking time.
Pecan Tartlets
Prep time:
Cook time:
Total time:
Pecan tartlets taste just like pecan pies, only better!
Ingredients
Shell:
1/2 C. butter
1/2 C. sugar
1 egg
1 t. almond extract
1 3/4 C. flour
Filling
1 C. confectioner's sugar
1/3 C. corn syrup
1/2 C. butter
1 C. chopped pecans
Instructions
Dough
Mix butter and sugar together. Add egg and almond extract. Mix in flour.
Divide dough into 24 equal pieces. Press each into the bottom and up the sides of a mini muffin pan.
Bake at 350°F. for 10 minutes until lightly brown.
Filling
Mix ingredients in a medium saucepan. Bring to boil and cook for 1 minute. Fill shells.
Optional: Top with a pecan half.
Bake at 350°F. for 5 minutes. Cool in pan for 1 minute. Remove tarts from pan and cool on a rack.