Thanksgiving Dinner for the New Cook, crock pot turkey, how to make mashed potatoes, sweet potato casserole and pumpkin pie cupcakes.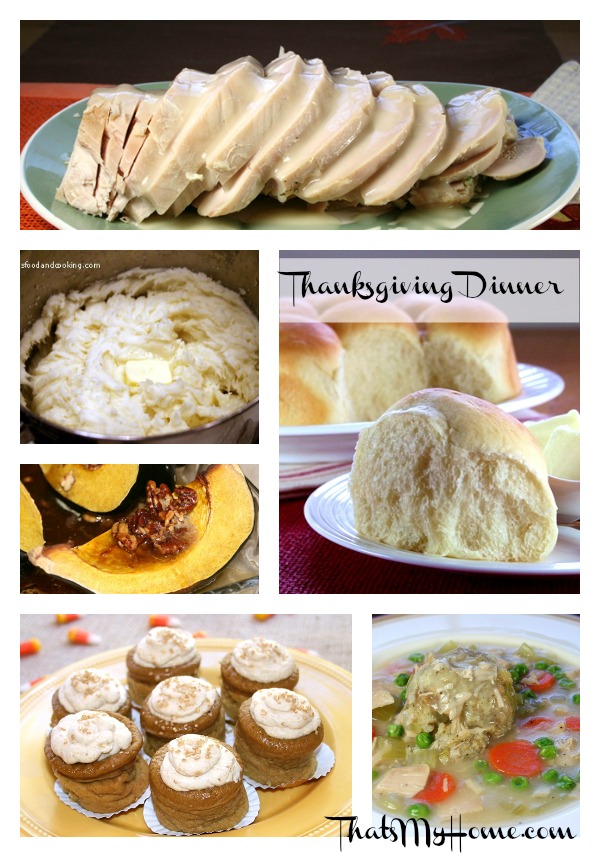 Thanksgiving Dinner for the New Cook
Have you ever cooked Thanksgiving Dinner before and this year you have to? It can be quite daunting for a new cook but the recipes I have chosen for this beginners Thanksgiving Dinner for the new cook should really help. Maybe you've been asked to bring a side dish and you are all in a panic over it. Don't stress, it really is all about being with family and friends. Oh yeah and then the food!
Are you one of those people who can't make mashed potatoes without lumps? I have a how to make mashed potatoes article in my cooking tips section. I actually dry my potatoes before I mash them, intrigued? Go see what I mean, it really does help towards making fluffy mashed potatoes.
Don't need to cook a whole turkey? This easy to do Brined Turkey Breast is made in the crock pot and I have yet to have dried out turkey breast doing it this way and you get lots of broth for gravy or soup later.
This acorn squash is the perfect side dish and so easy to do.
Here's a great recipe for Sweet Potato Casserole with a crunchy cookie topping. You can prepare them the day before and pop them in to oven 45 minutes before serving.
I made these Pull Apart Dinner Rolls a few weeks ago and you can make them ahead of time and freeze them, follow the directions in the recipe.
Time for dessert? These Pumpkin Pie Cupcakes can be made the day before also.
Leftover Turkey? Try this Turkey Stuffing Soup the day after.