Pumpkin Pie Cupcakes, creamy pumpkin and spices baked in cupcake form, topped with whipped cream.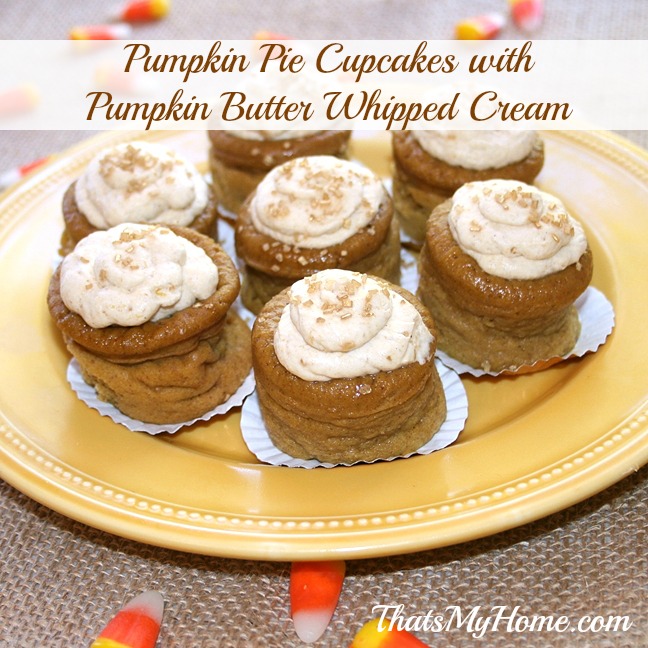 Pumpkin Pie Cupcakes
I have another pumpkin recipe for you tonight. I had a pumpkin kind of week last week. I still have 2 more pumpkins to roast but am going to give it a break until we get closer to Thanksgiving before I share another one, I promise! This is similar to a pumpkin pie but without the crust, I topped it with a sweetened whipped cream that was flavored with? you guessed it Pumpkin Butter. I sure am glad I made that stuff, I am using it everywhere lately. I never realized it was that versatile…. LOL.
You could make these in a cupcake pan but if you do I would cut circles of parchment for the bottom and spray the pan really well so they will come out easier. I found the greatest pan a month ago for mini individual cheesecakes, it has removable circle bottoms. It worked perfectly for these pumpkin cupcakes. Don't use paper liners, they won't pull free cleanly. Silicone ones will work also.
Pumpkin Pie Cupcakes
Prep time:
Cook time:
Total time:
Creamy pumpkin and spices baked in cupcake form, topped with whipped cream.
Ingredients
1 15 oz. can pumpkin puree
1/4 cup sugar
1/2 cup brown sugar
2 large eggs
1 teaspoon vanilla extract
3/4 cup heavy cream
2/3 cup flour
2 teaspoons cinnamon
1/4 teaspoon salt
1/4 teaspoon baking powder
1/4 teaspoon baking soda
1 cup heavy cream
1/4 cup pumpkin butter or confectioner's sugar
Sanding sugar - optional
Instructions
Preheat oven to 350 degrees. Line 12 cup muffin tins with silicone or use an individual cheesecake pan with removable bottoms.
Mix the pumpkin, sugar, brown sugar, eggs, vanilla extract and cream.
Add the flour, spices, salt, baking powder and baking soda to the mixture.
Fill each muffin cup with 1/3 cup of the mixture.
Bake for twenty minutes or until centers are set. Cool. Remove cupcakes from pan and refrigerate.
Put heavy cream in a mixing bowl. Beat with a whisk attachment with pumpkin butter or sugar until soft peaks form. Put whipped cream in a pastry bag and pipe on top. Dust with sanding sugar if using.
How about our
Pumpkin Dump Cake
?