Savory Pot Roast for 2 with roasted carrots and potatoes are a meal made in one pot.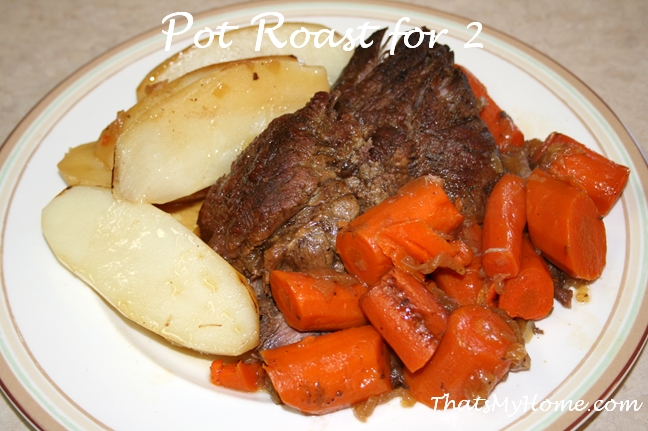 Pot Roast for 2 Recipe
One of the hardest things about being single is cooking for 1 or 2 people especially when you've been used to cooking for many. One of the things I get the hungriest for is pot roast. Yesterday while grocery shopping they had just marked down a bunch of the meats and included were about 10 beef flat iron steaks all under $4.00 apiece for about 2 lb. packages. It seems that about every few years the powers that be change the names of certain kinds of beef cuts in an attempt to make them sell better. I am convinced this is one of those cuts. I came home and googled "beef flat iron steak" and most of what I could find said to cook it on the grill and marinate it. There was even a tag on the package that said great on the grill.
I took the meat out of the package and I am looking at it and I decided right then that I was going to cook it like I would a pot roast and see what happened. I am so happy I did. This makes the best little pot roast for 2 people and you'll even have some leftovers for the next day. I wish now I had bought more than the 3 I did buy. I think this cut of beef would be good in the slow cooker also. The gravy was very good also.
I listed in the recipe a beef bouillon cube. A can of beef stock would be better. I actually use a commercial product made by Minor's. I love the stuff. You can get it at stores like Gordon's and some restaurant suppliers. It is so good and the first ingredient in it is beef, not salt. It is a great product and last forever in the refrigerator. I also use their chicken base.
A note on the gravy, it is hard to tell you exactly how much water to add to make it. It will depend on how tight the lid is in what you are baking in as to how much evaporation there is. With this roast I got about 1 1/2 cups of gravy with adding the water. You're also going to notice I made a lot of carrots. That is because my 2 dogs love them and since they are good for them I always do an extra one for them.
[amd-zlrecipe-recipe:61]
Pot Roast for 2
Prep time:
Cook time:
Total time:
Serves:
Serves 2 with leftovers
Savory Pot Roast for 2 with roasted carrots and potatoes are a meal made in one pot.
Ingredients
1 beef flat iron steak
1 onion
½ cup water
4 carrots
2 - 3 potatoes
salt and pepper
1 beef bouillon cube
Gravy
3 tablespoons flour
½ cup water
oil
Instructions
Brown the beef with a little oil in a pan. Salt and pepper well. Add sliced onions and start to brown them. Add about ½ cup of water. Add the carrots. Cover and bake at 300 degrees for an hour.
Add the potatoes and if needed a little more water. Cover and cook for another hour.
Remove roast, carrots and potatoes from pan. Put the pan on the heat and bring to a boil. Stir in the gravy mix, half first and see how thick the gravy is. If needed add the rest. You may want to add a little more water, it is going to depend on how much liquid you have in the pan. Taste and add salt and pepper if necessary.
How about Meat Loaf?