Cinnamon apples rolled in spring rolls and deep fried. Sprinkle with powdered sugar. Yummy Apple Pie Rolls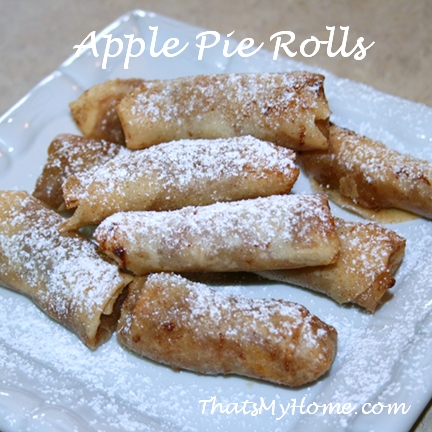 Apple Pie Rolls
It is a crisp fall day and that always makes me think of apples and pumpkins. I have had making these little apple rolls on my mind for a week and they finally made it to the top of the pile today. This is a perfect dessert for 2 people or 10, just increase the number of apples you use. I used 2 apples and got 9 apple rolls.
I used a Granny Smith and a Gala apple because that is what I had and I like the flavor of the gala a lot in pies especially with the crispness of the granny smith apples. Whatever apples you use just make sure they are a cooking apple.
Some of the more common apples we find in grocery stores. There are many more that are good for cooking and lots of regional apples. One of favorite New England apples is a Gravenstein. Mutsu's are becoming a little more common and it is one of my all time favorite apples for baking and cooking, it's great raw also.
Braeburn – Sauce
Sweet, aromatic, tall shape, bright color
Cortland – Pies, Sauces
Crisp, larger than 'McIntosh'
Fuji – Baking
Sweet and juicy, firm, red skin
Gala – Dried, Cider
Mild, sweet, juicy, crisp, yellow-orange skin with red striping
Granny Smith – Baking
Moderately sweet, crisp flesh, green skin
Jonagold – Pie, Sauce
Tangy-sweet, Yellow top, red bottom
Jonathan – Sauce
Tart flesh, crisp, juicy, bright red on yellow skin
McIntosh – Sauce
Juicy, sweet, pinkish-white flesh, red skin
Rome Beauty – Baking, Cider
Mildly tart, crisp, greenish-white flesh, thick skin
Winesap – Sauce, Pie, Cider
Very juicy, sweet-sour flavor, winey, aromatic, sturdy, red skin
Apple list from almanac.com

Apple Pie Rolls
Prep time:
Cook time:
Total time:
Cinnamon apples rolled in spring rolls and deep fried. Sprinkle with powdered sugar. Yummy Apple Pie Rolls
Ingredients
2 apples
3 tablespoons sugar
1/2 teaspoon cinnamon
2 tablespoons water
1/2 teaspoon cornstarch
spring roll wrappers
oil for frying
Instructions
Chop your apples up in tiny pieces. Add them to a small saucepan with the sugar and cinnamon. Cook about 10 minutes, stirring frequently over medium heat until apples are tender.
Mix the water and cornstarch together and add to apples. Cook until thicken and take off the heat to cool.
To wrap the rolls, put a heaping tablespoon in the center of the spring roll wrapper. Fold in the 2 sides. Then fold over the end closest too you and roll the mixture up tightly in the spring roll wrapper. Tuck the filling into a cylinder as you roll. Wet your finger with a tiny bit of water and seal the edge at the top to the roll. Repeat.
Preheat oil to 325 degrees. Fry several at a time about 3 minutes until lightly browned. Put on a paper towel to drain.