Fresh summery peaches in a caramel brown sugar sauce baked with a moist cream cheese cake.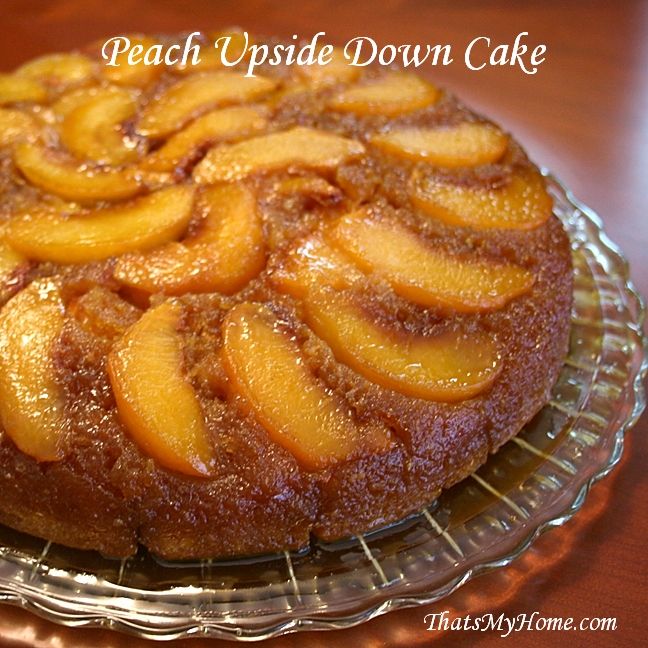 Peach Upside Down Cake
Fresh peaches are one of my favorite summer fruits. I could eat them all day long I think, instead I decided to try turning them into upside down cake and some french toast that I will share with you later.
This cake has a few steps to it but they go quickly. I can tell you the end result is really tasty so totally worth making this recipe.
To start you need to blanch the peaches in boiling water. This will let you peel the skins off easily. It takes less than a couple of minutes to do after the water is boiling. When the skin changes colors from the bright skins peaches have to dull your peaches will be ready to come out of the water. I usually do mine just over a minute. If the first peach you try to peel isn't easy to peel you can put the peaches back in the boiling water for another minute. You aren't trying to cook the peaches with this step, just making the peaches easier to peel without wasting any of the peach flesh.
Next you are going to make a quick caramel to put the peaches in. Add 1/2 cup of sugar to the bottom of a cast iron pan. Turn the heat to medium until the sugar starts to melt. Turn down the heat a little (this depends on your stove), you don't want to burn the caramel. When it has turned add your butter into the pan and stir off of the heat. This makes a perfect bed to seat those peaches in.
The cake itself it pretty straight forward. It makes a thick batter and it will be a little difficult to spread, that's just the way this batter is. You will a tender crumb, moist cake when it bakes.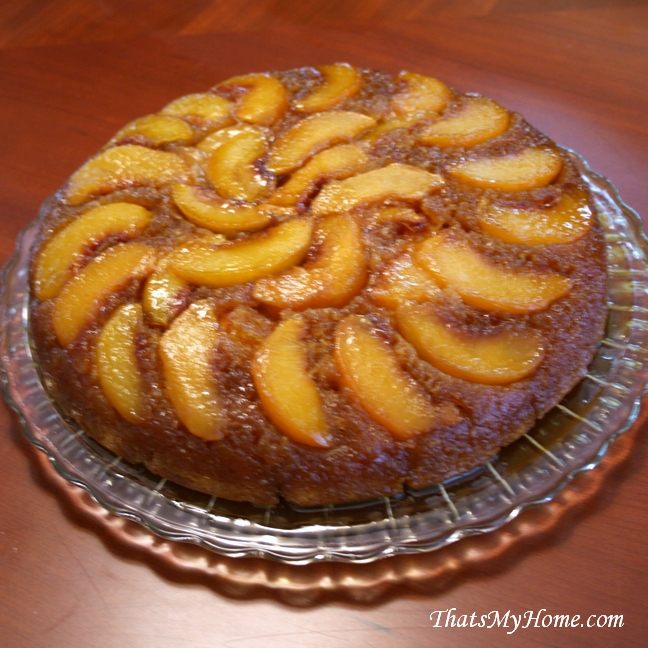 Let the cake set in the pan for at least 45 minutes. If you turn out the cake onto the serving platter too soon you will loose all of that great caramel sauce with the cake. Serve with whipped cream if desired.
Peach Upside Down Cake
Prep time:
Cook time:
Total time:
Fresh summery peaches in a caramel brown sugar sauce baked with a moist cream cheese cake.
Ingredients
4 medium peaches (about 1 1/2 lb.)
2 tablespoons fresh lemon juice (about 1 large lemon)
1/2 cup firmly packed light brown sugar
1 1/4 cups granulated sugar, divided
1 cup cake flour
1/4 teaspoon salt
3/4 teaspoon baking powder
1/4 teaspoon baking soda
3/4 cup butter, at room temperature and divided
1 teaspoon vanilla
2 large eggs
1/2 cup cream cheese, at room temperature
Whipped cream for serving, if desired
Instructions
Put a large pan of water on stove and bring to a boil. Add peaches. Heat for about 1 minute. Place in a colander and run cold water over peaches. Peel peaches. Cut into 1/3 inch slices. Add lemon to bowl with peaches.
Add 1/2 cup granulated sugar to a cast iron skillet. Heat over medium low heat until sugar melts and turns a caramel color, about 10 minutes. Add 1/4 cup butter. Stir until mixed together off of the heat. Add sliced peached on top in a concentric circle. Make a circle of peaches on the inside. Sprinkle with the 1/2 cup brown sugar. Set aside and make the cake batter.
Mix together the cake flour, salt, baking soda and baking powder.
Cream together the butter, sugar and cream cheese until light and fluffy. Add eggs and blend in well. Stir in flour mixture.
Dollop the cake batter on top of peaches and brown sugar. Spread out the best you can in the cast iron skillet. (mine went almost to the edges but not quite)
Bake at 350 degrees for 30 minutes or until lightly browned and done in the center. Let set in pan for about 45 minutes and then turn cake over in pan onto a serving dish.
Cut cake into wedges using a serrated knife. Top with sweetened whipped cream, if desired, and serve immediately.
How about?