This easy overnight dough will make a crispy crust pizza with little work.
Overnight Pizza Dough
This is one of the easiest pizza dough's I have ever made. You do need to make it ahead of time so it has time to let the dough develop. You can mix this dough together with a spoon, then just cover it until you are ready the next day, no kneading either! See I told you easy.
When you are ready to make your pizza I usually just pat it out with my hands or you can roll it out with a rolling pin. This dough is a very soft dough and easy to work with. You may need to use a little more additional flour.
A trick I use because I like a really crisp crust is to make my pizza on the back of a sprayed cookie sheet. When it is half done I slide it off of the pan, just like you see in the picture below. Then I slide it back on to take it out of the oven.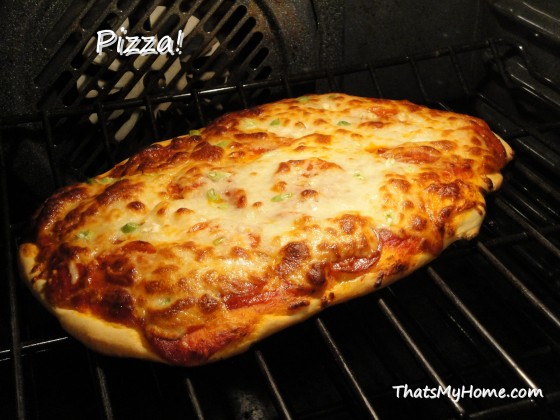 Pizza, Pizza! Make Overnight Pizza Dough
Prep time:
Cook time:
Total time:
This easy overnight dough will make a crispy crust pizza with little work.
Ingredients
3 cups bread flour
2 teaspoons sugar
1 teaspoon instant or rapid rise yeast
1 1/3 cups ice water
2 Tablespoons olive oil
1 1/2 teaspoons salt
Instructions
Put all the ingredients in a bowl. Mix it together until everything is blended. You want it to be a little sticky. Cover and let set at least 12 hours - 24 is better. The dough at this point should have doubled in size and be light and airy, and full of big bubbles
Add a little flour to get it out of the bowl, I usually at this point knead it for less than a minute just to pull everything together before I shape the dough. I also use a little olive oil on the back of the cookie sheet before I shape the dough on it. It helps to make the crust crispy.
Note: At this point you can refrigerate for up to 3 days.
Follow me on
Pinterest