Navy beans slow cooked with bacon and molasses to make a delicious side dish of baked beans.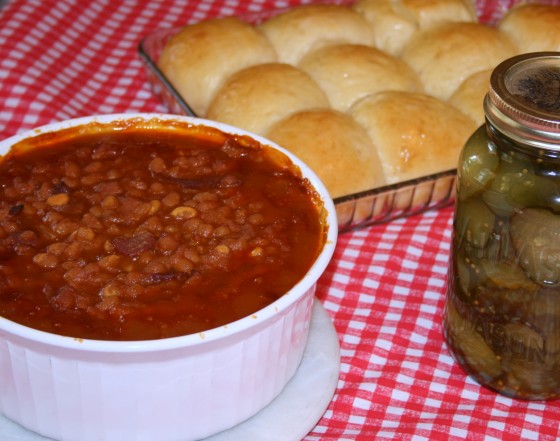 Have you ever made baked beans from scratch? It is really easy and you can use your crock pot if you want or do them on the stove except for the final baking. I cooked mine one day on the stove and then refrigerated them overnight before baking to let all of the flavors get thru the beans. This is one of those dishes that the longer it cooks the better they are.
Did you know that the fresher the dried beans are the quicker they will cook? You wouldn't think it would matter but it does. Never salt your beans either until they are tender, salt will toughen them.
I like to pre-fry my bacon before adding them to the beans. You could also use a piece of salt pork which is really good in baked beans. Another optional item in your baked beans is sweet relish, I sometimes add it also. I first saw relish added to baked beans in bbq places in the south and do like the flavor it adds.
Baked Beans
Prep time:
Cook time:
Total time:
Navy beans slow cooked with bacon and molasses to make a delicious side dish of baked beans.
Ingredients
1 lb. dry navy beans
water
1/3 - 1/2 lb. bacon
1 cup ketchup
1/2 cup brown sugar
1 onion - chopped
2 garlic cloves minced
4 tablespoons molasses
4 tablespoons yellow mustard
1 teaspoon each salt and pepper
Instructions
Cover the beans with water and soak overnight or put them on the stove and bring to a boil. Take off heat and proceed with recipe after 30 minutes.
Make sure the beans are covered with water and bring to a boil. Cook for about 2 hours or until beans are tender. Cut bacon into one pieces and lightly fry. Add to the beans, with a little of the bacon fat.
Add remaining ingredients. (This is when I would put them in the crock pot.) If continuing on the stove cook for at least another hour and then taste to make sure the seasoning is correct for you. Put the beans in a baking dish and bake for 45 - 60 minutes until hot and bubbly. (If using the crock pot put on low and cook for 6 hours.)
Maybe you'd like to try?