Clone of the Taco Bell Mexican Crunch Wrap, only better! Sure to become a family favorite.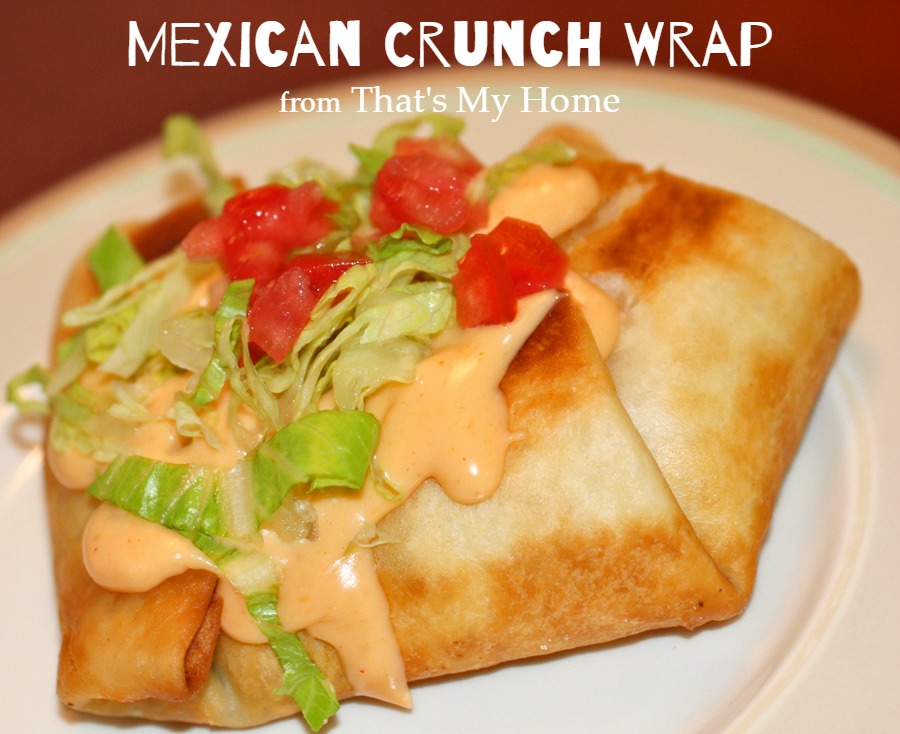 Mexican Crunch Wrap
Continuing with Cinco de Mayo weekend I made a Mexican Crunch Wrap similar to the one you can get at Taco Bell. The cheese sauce alone with this recipe is going to be made many times in this household now that I have tried it. I love cheese and corn chips, who doesn't? The stuff in the cans however has never appealed to me, way to many chemicals. If I was making the cheese sauce below for chips I would add another tablespoon of seasoning and milk to thin it down to a dipping consistency.
I bought small corn tortillas and they were too big to be able to fold the flour taco over enough to seal it, so cut it down to about 5 inched before frying them if you are using this method instead of tostatas.
Mexican Crunch Wrap
Prep time:
Cook time:
Total time:
Clone of the Taco Bell Crunch Wrap, only better! Sure to become a family favorite.
Ingredients
Beef Mixture
1 lb. ground beef
1 cup water
4 tablespoons Penzey's Taco Seasoning or package taco mix
1/2 cup chopped onion
handful fresh cilantro
For the nacho cheese sauce
1 1/2 tablespoons butter
1 tablespoon cornstarch
1/2 cup milk, plus more if needed
2 tablespoons water
2 tablespoons cream cheese
1 1/2 cups grated Cheddar cheese
few drops Tabasco or 1/2 teaspoon hot sauce
1 teaspoon seasoning from taco sauce
For the Crunch Wrap
6 10-inch flour tortillas, warmed
6 tostadas or 6 corn tortillas cut to 5 inches around and quickly fried
1 cup sour cream
2 tomatoes, chopped, tossed with 1/4 cup taco sauce
2 cups shredded lettuce
Cooking oil, for frying
Instructions
Make beef filling: Stir the water into the ground beef. Cook stirring often until browned. Add onion and whichever seasoning mix you are using. Add an additional 1/2 cup water and cook mixture for 10 minutes over medium-low heat.
Make cheese sauce: Melt butter in a saucepan. Add cornstarch. Stir in milk, water and keep stirring until smooth. Add cream cheese, cheddar cheese, taco seasoning and hot sauce. Stir until cheeses are melted and creamy. If needed add more milk.
To make crunch wraps: place 1 flour tortilla out on a cutting board. Add a spoonful of the meat mixture to the center and top with a similar size spoonful of nacho cheese. The amount you add is up to your
personal preference, but make sure to evenly distribute the meat and cheese sauce between all 6 tortillas. Top the meat and cheese mixture with a tostada, and then place 1 tablespoon of sour cream on top. Add a sprinkle of the marinated tomatoes and shredded lettuce on top and then, working counter clockwise, fold the edges of the flour tortilla up over the meat, cheese, tostada, tomato, and lettuce pile. Continue to fold until it is completely wrapped and in the shape of a hexagon.
Heat another medium skillet over high heat and add 2 inches of oil. Fry the Crunch Wrap on each side for about 1-2 minutes, until it gets a nice golden brown crust. Serve with a side of taco sauce, shredded lettuce and tomatoes.
Enjoy!
How would you like to try our