Date Nut Bars are delicious big bars full of dates and pecans.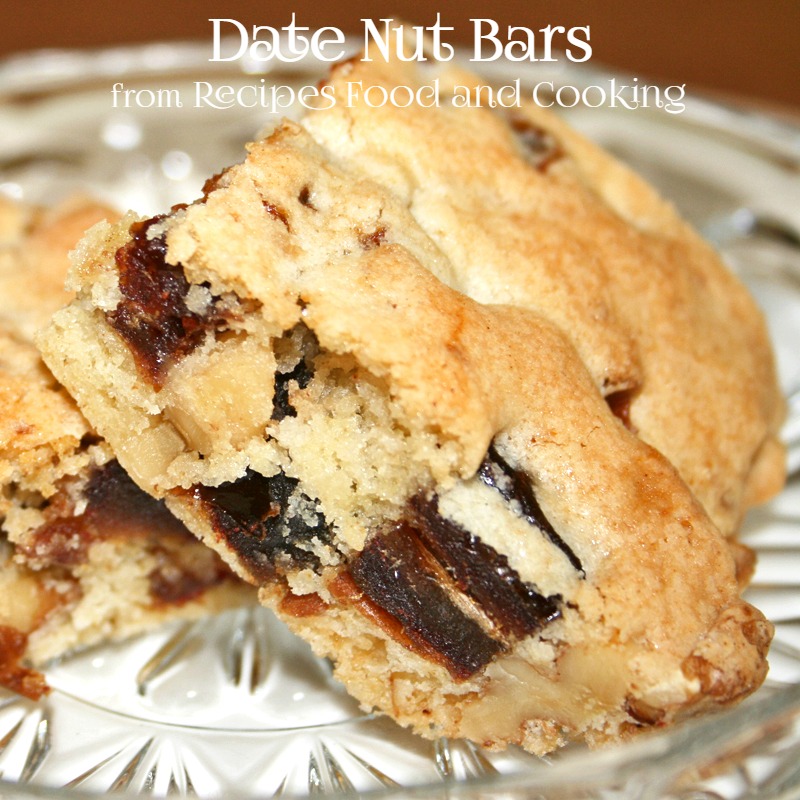 Date Nut Bars
I am using up the last of my stash of Medjool dates, I have just enough left to make a batch of my grandmothers date nut cookies which I hope to make sometime this week. I was hungry for a good date cookie but didn't have the time to make grandma's so I tried this recipe instead. It did not disappoint. I have tried several recipes for date bars over the years but never found one I would make again until this one.
Dates are among the sweetest fruits in the world?. Did you know that 95 percent of Medjool dates grown in the US, are grown in California's Coachella Valley, a two-hour drive northeast of San Diego? Medjool dates are also known as the "King of Dates". When you are picking out dates you want ones that are plump looking and a shiny glossy skin. Store dates at room temperature in an airtight container for several months or refrigerate for up to a year.
Date Nut Bars
Prep time:
Cook time:
Total time:
Delicious big bars full of dates and pecans.
Ingredients
8 ounces (1 1/2 cups) diced pitted dates
1 tablespoon rum
1 cup (140 g) flour
1 1/2 teaspoons baking powder
1 cup sugar
1/2 teaspoon sea salt
2 large eggs, at room temperature
1 tablespoon melted butter, salted or unsalted
1 tablespoon hot water
1 teaspoon vanilla extract
1 cup toasted pecans, chopped
Instructions
Toss the dates in the rum and let them sit for a few hours.
Preheat the oven to 350ºF (175ºC). Line a 9-inch (23 cm) square pan with foil and coat the inside with non-stick spray.
In a small bowl, whisk together the flour and baking powder.
In a large bowl, whisk together the sugar, salt, and eggs until smooth. Mix in the butter, hot water, and vanilla, then stir in the flour mixture. Use a spatula to stir in the dates (and any liquid) and the pecans.
Scrape the mixture into the prepared pan and bake for 25 to 30 minutes, or until the top is golden brown and a toothpick inserted in the center comes out clean.
Let date bars cool, then lift out the bars. Peel away the foil and cut into squares.
Storage: The bars will keep for up to four days at room temperature, or can be frozen for up to two months.
Adapted from The Homesick Texan Cookbook (Hyperion) by Lisa Fain
Perhaps you'd like to try our?