Pork Tenderloin Stew full of carrots, potatoes and corn.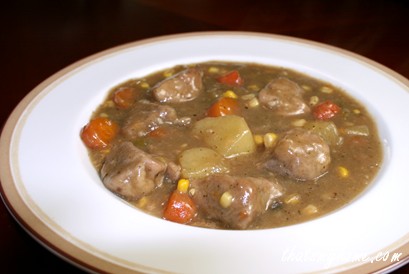 Pork Tenderloin Stew
I made this stew the other day, it's perfect for a winter day. It is great the day you make but even better the next day as most stews are. You can add any vegetables you want, I added mushrooms to this one because I had some in the refrigerator I needed to use up. You can cook it on the stove or in the oven at 350, totally up to you.
Pork Tenderloin Stew
Prep time:
Cook time:
Total time:
Ingredients
1 pork tenderloin
2 tablespoons oil
2 tablespoons flour
salt and pepper
1 medium onion - chopped
3 carrots - cut into chunks
2 stalks celery- cut into chunks
3 potatoes - cut into chunks
2 ears of corn taken off the cob
1/2 cup peas
4 cups water or chicken broth
1/2 teaspoon poultry seasoning
3 tablespoons flour
1/4 cup water
Instructions
Cut the pork tenderloin into chunks, salt and pepper the pieces and roll in the flour. Add the oil to a dutch oven and when it is hot brown the tenderloin. When it is browned remove it to a bowl, cover and put in the fridge. Add the celerly and onions to the pan and saute for a couple of minutes. Add the carrots and the water or chicken broth. Let cook until vegetables are tender. (about 30 minutes)
Add the remaining vegetables and the meat back into the pot. Cook for 15 minutes, then thicken with the flour and water. Adjust seasonings to taste.
Maybe you'd like to try our?