This turtle tart has a graham cracker crust, a layer of chocolate, pecans, a layer of homemade caramel, more chocolate and pecans!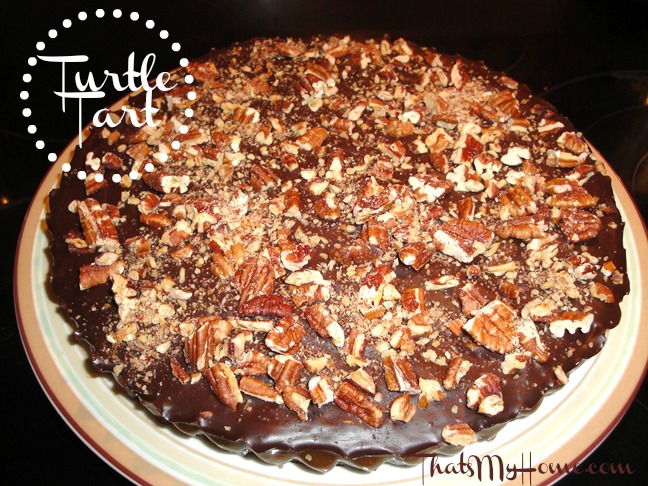 Turtle Tart from Flour Bakery's Cookbook
This is so good. It comes from the cookbook Flour by Joanna Chang. Flour Bakery is in Boston, actually Cambridge and it is fantastic! Actually there are 3 in Boston also. When I lived in Boston there was only the one and it was in a quaint little neighborhood in Cambridge. I couldn't make a trip to Cambridge without stopping at Flour.
I was elated when Joanna Chang came out with a cookbook and now she 2 of them. The first one is one of my go to cookbooks. I still have to buy the second one. When I remake this the one thing I will do it to add a sprinkling of sea salt to the top.
Turtle Tart from Flour Bakery
Prep time:
Cook time:
Total time:
This turtle tart has a graham cracker crust, a layer of chocolate, pecans, a layer of homemade caramel, more chocolate and pecans!
Ingredients
Turtle Tart
For the Crust:
9 whole graham crackers, broken into pieces - we used half chocolate graham crackers
2 tablespoons granulated sugar
6 tablespoons unsalted butter, room temperature
pinch of salt
For the Layers:
4 ounces good bittersweet chocolate, chopped
2 cups chopped pecans, toasted
1 cup granulated sugar
1 cup whipping cream
1/8 teaspoon salt
1/2 teaspoon vanilla extract
2 1/2 tablespoons unsalted butter, room temperature
6 ounces milk chocolate, roughly chopped
Instructions
Preheat oven to 350 degrees F. Spread pecans on a rimmed baking sheet.
Place the graham crackers and sugar into a food processor, blend until the crackers are fine crumbs. Add in the butter and blend until all ingredients are fully incorporated. Firmly press the graham cracker mixture into the bottom and sides of a 9 inch removable bottom tart pan. Bake the pecans and the tart crust in the oven. The crust should take about 10 minutes to become golden and firm. The pecans will be done when they are fragrant and deeply golden, this should take about the same time. Cool completely.
In a glass bowl, microwave the bittersweet chocolate in fifteen seconds intervals stirring vigorously in between each time. It should take about a minute to a minute and fifteen seconds. After one minute there will be small unmelted pieces, but stirring should help melt those pieces with the residual heat of the melted chocolate. If this does not happen, microwave again, but be careful not to burn the chocolate. After the chocolate is melted, pour it over the graham cracker crust and sprinkle a cup and a half of the toasted pecans over the chocolate. Cool completely.
Mix the vanilla, 1/8 tsp of salt and 3/4 cups of whipping cream together in a small bowl. Set aside. Also have 2 1/2 tablespoons of butter set aside.
In a sauce pan with high sides, mix together 1/4 cups of water and 1 cup sugar. Over a medium heat, dissolve the sugar in the water fully. Turn the heat to medium-high. Without stirring, boil the sugar until it becomes a medium-dark amber color. The mixture is now a caramel. This process may take from 6 to 8 minutes. Remove from heat. Add in the whipping cream mixture and butter that were set aside. Be very careful, as the caramel may boil up. On a low heat for approximately a minute or two, stir the mixture until it is smooth. Pour the caramel over the tart and allow the tart to cool, until the caramel is set, in the fridge.
Using the same method as before, melt the milk chocolate and remaining 1/4 cup of whipping cream. Poor this mixture over the tart and sprinkle with the remaining pecans.
Chill tart and serve.