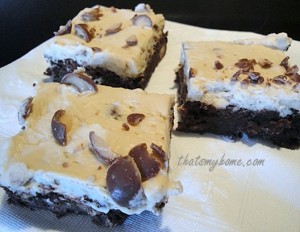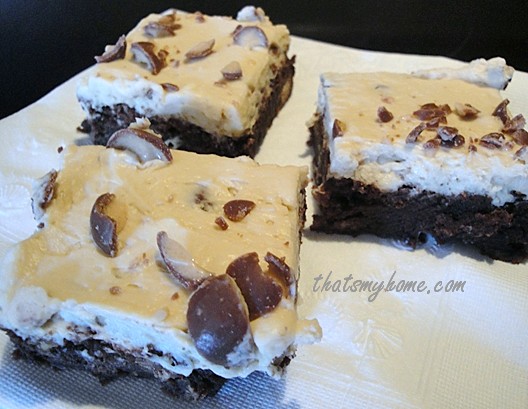 Whopper Brownies
Whopper Brownies
Prep time:
Cook time:
Total time:
Ingredients
Whopper Brownies
1 3/4 cup flour
3/4 cup Ovaltine
1/2 teaspoon baking powder
1/2 teaspoon salt
1 11.5 oz bag semisweet chocolate chips
1/2 cup (1 stick) butter
3 eggs
3/4 cup light brown sugar
2 teaspoons vanilla
1 1/4 cup Whoppers, roughly chopped
Malted Vanilla Frosting
1 cup (2 sticks) butter, room temperature
1 cup confectioners' sugar
1/2 cup malted milk powder
1/4 cup milk
2 teaspoon vanilla
1/2 teaspoon salt
Instructions
Preheat oven to 350 degrees F. Grease a 9X13 pan for later.
Thoroughly combine the flour, Ovaltine, baking powder, and salt in a medium bowl. Set aside.
Place chocolate chips and butter in a large, microwave safe bowl. Microwave the chocolate in fifteen seconds intervals stirring vigorously in between each time. It should take about a minute to a minute and fifteen seconds. After one minute there will be small unmelted pieces, but stirring should help melt those pieces with the residual heat of the melted chocolate. If this does not happen, microwave again, but be careful not to burn the chocolate.
Thoroughly incorporate the eggs, vanilla, and brown sugar into the chocolate. Slowly begin adding the flour mixture. Stir in one cup of Whoppers.
Pour mixture into greased pan and bake for approximately 25-28 minutes or until a toothpick inserted into the center comes out clean, but be mindful of the Whoppers in the mixture. Cool completely on a wire rack before frosting.
Malted Vanilla Frosting
On low speed in an electric mixture with a paddle attachment, beat together the butter and sugar until fully incorporated. Increase speed to high and beat for about three minutes or until light and fluffy.
After scraping down the sides of the bowl, add the remaining ingredients and mix on low until all ingredients are incorporated. Increase speed to medium and beat for three minutes or until frosting is very light.
After brownies have cooled, frost and sprinkle with the remaining Whoppers.