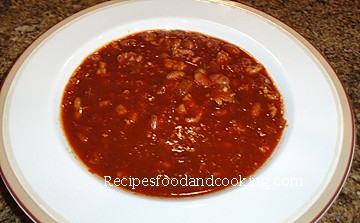 Well, as you can see I have trouble keeping up this blog. I have decided to take a new approach for me and blog about Weight Watchers recipes. I decided to start the new year with an attempt to eat healthier and I love the fact I don't have to count calories, just points. I signed up online and have a set of wonderful tools to use to convert recipes I have so that I know how many points are in each one.
Tonight for dinner I made chili only instead of ground beef used ground turkey breast. This chili recipe now is 4 points per serving and my husband loved it. In fact he can't wait to have it again tomorrow. For dessert I saw a recipe for some Raisin Turnovers and I just wasn't going there but liked the basic part of the recipe so I changed the raisins to apricots and cooked the filling just a little. We loved it! I want to try dried apples next. I may be on to something here.
Turkey Chili
Prep time:
Cook time:
Total time:
Ingredients
4 cup(s) canned tomato sauce with tomato tidbits
8 Tbsp minced onion
2 cup(s) celery
20 oz Jennie-O Turkey Store Extra lean ground breast
4 cup(s) Bush's Chili beans - mild (pinto bean)
3 Tbsp chili powder
3 cup(s) water
1 tsp table salt
1/2 tsp black pepper
1/2 tsp Ground cumin
2 Tbsp sugar
Instructions
Brown turkey. Add remaining ingredients except chili beans. Cook for 1 hour and stir in chili beans. Cook another 30 minutes minimum over low heat. Adjust seasonings to taste.
Note: I use Penzey's spices and they have a wonderful spice called Chili Con Carne and I use 2 Tablespoons of that also. We like our chili a little spicy.
POINTS® Value: 4
Servings: 8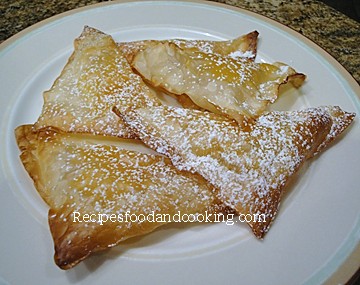 Apricot Won Tons
12 half dried apricot halves
2 item(s) Nasoya Won Ton Wrappers
1 Tbsp chopped pecans
1/2 cup(s) water
Cut up apricot halves into small pieces, cover with water. Cook until water evaporates and makes a thick, chunky paste. Cool.
Place a scant teaspoon of filling on each wrapper. Wet the edges of 2 sides. Fold over and seal filling in wrapper.
Bring a pot of water to a boil. Place half of the wontons in boiling water for about a minute. Drain on paper towels. Repeat with remaining turnovers.
Place on a baking sheet that has been sprayed with Pam. Bake at 400 degrees for 8 – 10 minutes or until lightly browned.
POINTS® Value: 2
Servings: 2
There is just a sprinkling of confectioners sugar on these turnovers.
I hope you enjoy these recipes!