Incredible Oatmeal Cookies are chewy, soft and moist even the next day.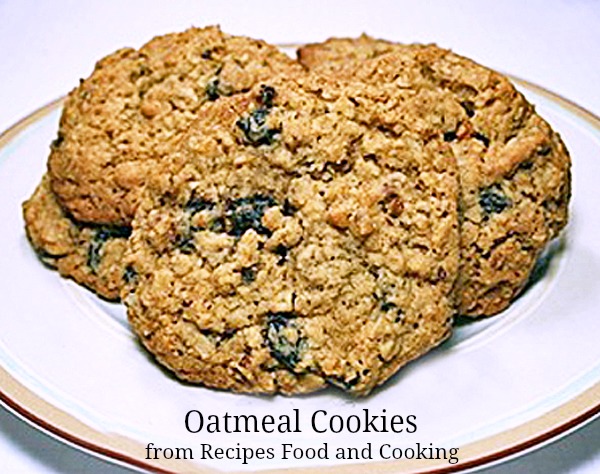 The other day I was doing some surfing and happened upon a message board where they were discussing Oatmeal Cookies. A few years ago when I was at the King Arthur store I bought some Oatmeal Cookies and they were the best I have ever eaten. I had never been a big fan of oatmeal cookies, most seemed too dry to me. That cookie at King Arthur put me on a quest to remake that cookie. I've tried many recipes since then and until now none compared. It still isn't that cookie but it is really good. I baked them yesterday and even today they are soft and moist. ( Sorry for the bad pic, I need to make these again. The picture doesn't do these cookies justice)
Incredible Oatmeal Cookies
Prep time:
Cook time:
Total time:
Soft, chewy and moist oatmeal cookies, even the next day.
Ingredients
2 cups flour
1 teaspoon baking soda
1 teaspoon baking powder
1 teaspoon salt
1 teaspoon cinnamon
Cream
1 cup butter
1 cup light brown sugar
1 cup white sugar
2 extra large eggs
2 teaspoons vanilla
3 tablespoons Karo syrup
Stir in
3 cups Old Fashioned oatmeal
1 1/2 cups raisins
1/2 cups chopped pecans
Instructions
Soak the raisins in boiling water for a couple of minutes, drain and let cool before adding. I used regular oatmeal and put it in the food processor after measuring it to chop it up a little.
Preheat oven to 350°. Whisk dry ingredients; set aside. Combine wet ingredients with a mixer on low. To cream, increase speed to high and beat until fluffy and the color lightens.
Stir the flour mixture into the creamed mixture until no flour is visible. Chop oatmeal in food processor. Now add the oats, raisins and pecans; stir until mixed together.
Fill cookie scoop with dough.
Drop 2-inches apart onto baking sheet sprayed with nonstick spray. I put 9 cookies on a half sheet pan.
Bake 11-13 minutes (on center rack), until golden, but still moist beneath cracks on top. Remove from oven; let cookies sit on baking sheet for 2 minutes before transferring to a wire rack to cool.
Maybe you'd enjoy some Biscoff Oatmeal Cookies?