Moms Apple Pie made with brown sugar and sour cream. Best apple pie ever!
Moms Apple Pie
Last week I went home and spent some time with my mom. It was my dad's annual deer hunting trip. Because the Michigan game was on Saturday we made an apple pie and chocolate chip cookies for the tailgate party before the game. My mom makes her apple pie different than most, she uses all brown sugar and sour cream in it. It makes a delicious pie.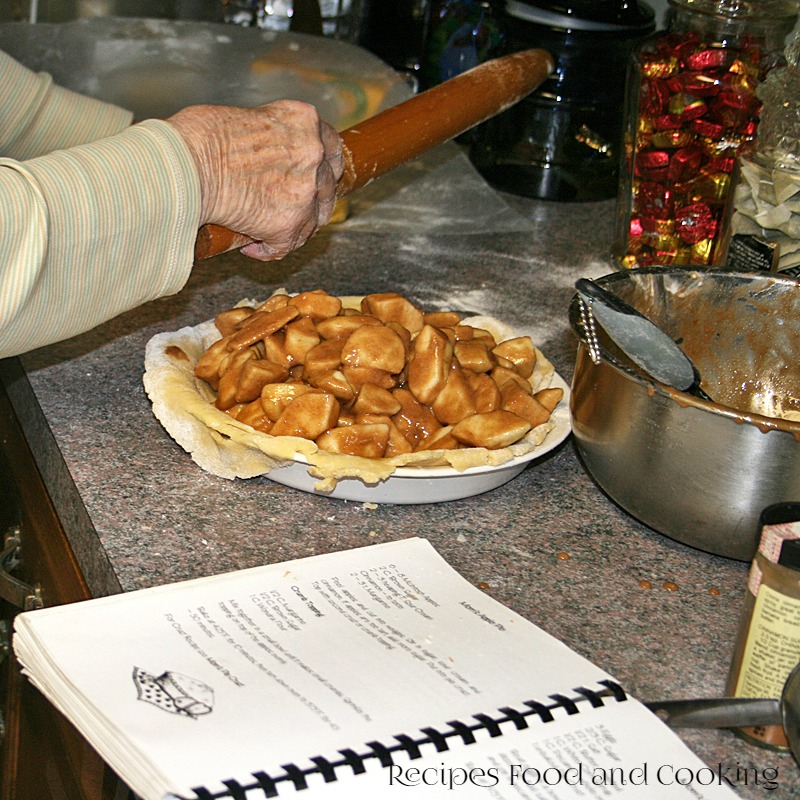 Mom makes her pie crust out of Wondra flour. Unless I buy regular flour she never even keeps it in the house. She uses Wondra in everything. I can't tell you how many times I have brought 2 lb. boxes of flour across the country to her. My last grocery store that carried near me no longer carries it as of this month so we may only have the canisters available from now on.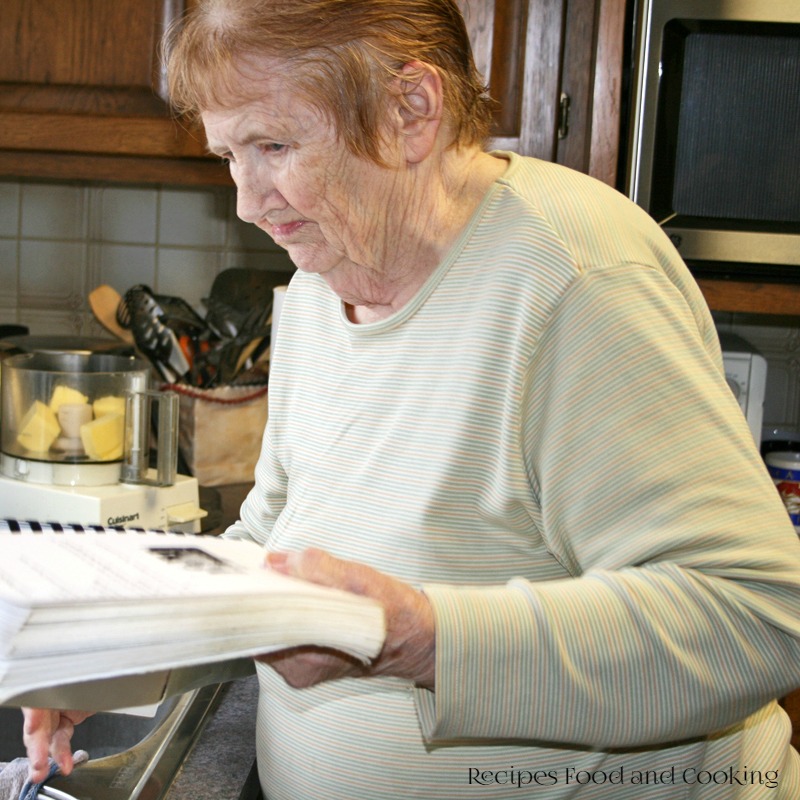 This is my mom, these pictures were taken shortly after she'd been diagnosed with cancer. This is one of my favorite kitchen pictures I have of her at that time. If you enjoy cooking with your mom, take lots of pictures. Someday you will cherish them as much as I cherish this one. Actually I have a whole series of pics from this day including her shaking her finger at me when she'd had enough of my picture taking, not that it did any good. My mom is holding the cookbook we wrote together for our family. She wrote over 50 pages of family history for the book and it contains over 200 recipes. It took me 2 years to put it all together but it was worth every minute. My mom was known for her apple pie and chocolate chip cookies. She was a huge Michigan fan and for years baked apple pies and chocolate chip cookies for every home game tailgate party in Ann Arbor.
I gave you her crumb topping with the recipe. To make the pie as you see it here you will need a double pie crust.

Mom's Apple Pie
Prep time:
Cook time:
Total time:
My mom's apple pie, best ever!
Ingredients
6 -8 McIntosh Apples
2 C. Brown Sugar
3 heaping T. Sour Cream
2 t. Cinnamon - heaping
2 - 3 T. Butter
Single Pie Crust
Crumb Topping
1/2 C. Margarine
1/2 C. Brown Sugar
1 C. Wondra Flour
Instructions
Prepare a single pie crust. Crimp edges and set aside.
Peel apples and cut into wedges. Stir in sugar, sour cream and cinnamon. If apples are too tart, add more sugar. Put into pie crust. Top with second crust or crumb topping.
Topping: Mix together in a small bowl until it makes small crumbs. Sprinkle the topping on top of the apples evenly.
Bake at 425°F. for 10 minutes, then turn down oven to 375°F. for 45 - 50 minutes.
Maybe you'd like to try our
Rhubarb Pie
?
This was also baked at my mom's house.