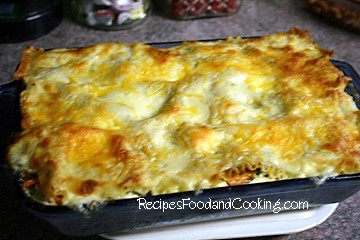 My mom was hungry for vegetable lasagna while I was home so I decided to make it for her and make some for the freezer. It is a fairly easily recipe to make but it does take quite a bit of time due to all of the steps involved.
First you want to make a cream sauce and add monterey jack to it to taste. I made about 10 cups for a 9 x 13 pan and 3 8 x 8 pans.
I also used a head of cauliflower, a bunch of broccoli, a pound of carrots and a large bag of frozen spinach for my vegetable mixture. You want to blanch of the vegetables first and then mix together. I added enough of the cream sauce to bind it together. Set aside.
I then added to a bowl about 30 oz. of cottage cheese, 2 cups of parmesan cheese, 3 eggs, salt and pepper. I seasoned the mixture with some basil.
Boil your lasagna noodles, I used 1 1/2 packages. To assemble the lasagna, layer the noodles, the vegetable mixture, cottage cheese mixture, cream sauce and some additional cheese. I did 3 layers total.
Heat the oven to 350. Bake for at least an hour. Mixture will be bubbly and lightly browned.
I'll post a single recipe the next time I make it. This is one of those dishes I make without a recipe so I have never written amounts down.