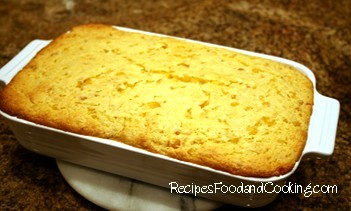 I signed up for a recipe scrapbooking class at a store near my house and not only do I bring home 4 great scrapbook pages, I bring home great recipes. We even get to taste the dishes at the end of class. I'm not sure which is the best part. So tonight I made 2 of the dishes we had at class the other night. I've had different versions of the corn casserole but I really like the creamy texture of this one. I did change the recipe a tad and added an egg.
Delicious Corn Casserole and Baked Potato Casserole
Prep time:
Cook time:
Total time:
Ingredients
One 15 1/2 oz. can whole kernel corn - drained
One 14 1/2 oz. can cream style corn
One 8 oz. box Jiffy Mix
1 cup sour cream
One egg
1/2 cup butter - melted
Instructions
Preheat oven to 350.
Add all of the ingredients listed in a mixing bowl. Mix until combined. Pour into a greased 8 x 10 inch casserole dish.
Bake for about 60 minutes. Start checking at 55 minutes. Center will set and edges should be brown.
The other dish we had was a potato casserole.We also had 2 desserts and a pinto bean casserole that I am going to make later this week. The pinto bean casserole I had never seen before and I loved it. It would make a great pot luck casserole this winter. Here's the recipe for the potato casserole I did make…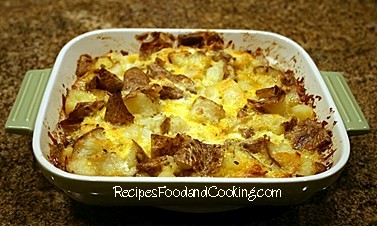 Potato Casserole
4 large baked potatoes
1 stick butter – the original recipe called for 2
3/4 cup sour cream
1 1/2 cups sharp cheddar cheese
chives
salt and pepper
Bake potatoes as you normally would. When the are cooked cut into bite size chunks, leaving skins on. Place in a greased casserole dish. (I used a 9 x 9)
Add butter, sour cream, cheese, chives, salt and pepper.
Bake at 350 for 60 minutes.
Enjoy!