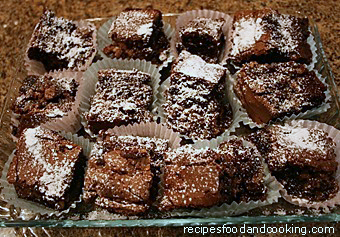 Walnut Brownies
This is a very different brownie recipe, thanks to the topping mixture. They are very rich so cut them in small servings.

Scrumptious Walnut Brownies
Prep time:
Cook time:
Total time:
Ingredients
1 cup butter (2 sticks) melted and cooled to room temperature
2 cups granulated sugar
2 teaspoon vanilla
4 eggs
3/4 cup cocoa
1 cup flour
1/2 teaspoon baking powder
1/4 teaspoon salt
Nut topping:
3 eggs, beaten
3 tablespoons melted butter
3 teaspoon vanilla
2 1/4 cup brown sugar, packed
3/4 teaspoon salt
3 cups finely chopped walnuts
Instructions
Preheat oven to 350 degrees. Grease 13 x 9 x 2-inch baking pan.
Melt butter in microwave; cool to room temperature. Stir in sugar and vanilla. Beat in eggs one at a time. Beat in cocoa. Beat in flour, baking powder and 1/4 teaspoon salt. Pour into prepared pan.
Combine all ingredients for nut topping except for walnuts and mix thoroughly. Fold in walnuts. Spread nut topping over brownie batter, being careful to cover edges completely. Some of the topping will sink to the bottom of the batter to create a caramelized bottom.
Bake at 350 for 40 to 45 minutes until toothpick comes out with crumbs.
For neatly cut brownies, score the brownies shortly after removed from the oven.
Cool completely, then finish cutting.
Yield: 24 pieces.